While this might sound like another exotic mortgage gone wrong, it's actually a new program geared toward making the city of Detroit better, not worse.
And somewhat ironically, it is a ridiculously high LTV mortgage with few underwriting requirements that is being utilized to get a downtrodden city back on its feet.
I'm referring to the "Detroit Neighborhood Initiative," launched today by the Neighborhood Assistance Corporation of America (NACA) and Bank of America.
It's basically a rehabilitation mortgage, similar to the FHA 203k loan, with a mortgage that exceeds the property value because renovation funding is included.
In order to qualify for the 150% LTV funding, home buyers need to purchase a property through the Detroit Land Bank's site, Buildingdetroit.org. Otherwise, the LTV is capped at 110%, which is still pretty solid.
NACA's Best in America Mortgage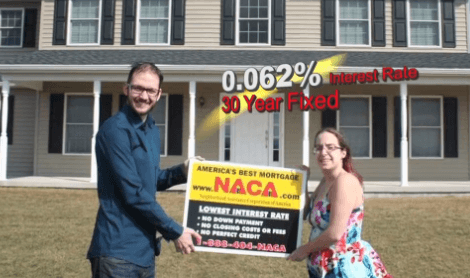 The new initiative works with NACA's existing "Best in America Mortgage," which doesn't require a down payment, closing costs, points, fees, or credit score consideration.
There's also no income limit, despite the program being geared toward those with low-to-moderate income.
And the interest rates are below market; 3.5% on a 30-year fixed and 2.875% on a 15-year fixed.
It probably sounds too good to be true, but they claim to have $13 billion to lend to those interested.
In fact, one lucky couple got a rate of 0.062% on their 30-year fixed mortgage, which since I last checked, is the lowest interest rate known to both woman and man.
I believe the ultra low rates are achieved via buy downs, with one percent of the loan amount reducing the interest rate by .25%.
The program is available in 40 markets throughout the United States, but caps the LTV at 110%.
Detroit Stabilization Program
Assuming borrowers complete the NACA pre-purchase home buyer program, they can qualify for one of these loans at up to 150% LTV if they purchase and renovate a home in Detroit.
They cite an example where a borrower buys a home for $5,000 from Detroit Land Bank and rolls in $55,000 for renovation costs.
Because the home would typically only appraise for $40,000, a LTV of 150% is necessary to get the job done.
This hypothetical borrower would still enjoy a monthly mortgage payment below $400, including taxes and insurance, on a 30-year mortgage, and under $600 on a 15-year fixed.
NACA argues that this would be "significantly less" than a homeowner would pay to rent.
Bank of America will be providing the mortgages in an effort to rebuild Detroit's classic homes and neighborhoods.
For those interested, there will be a workshop on Saturday April 25th from 9:30 AM until 1 PM at Pure Word Missionary Baptist Church in Detroit, Michigan.
While it sounds like a great idea, it only works if Detroit home prices actually continue to gain in value.
There's a lot of hope in the hard-hit city, but no guarantee of a revival. If home prices stagnate or fall, homeowners will be holding a mortgage that again may exceed the true value of the property.
Late last year, NACA and BofA also launched the critically acclaimed Wealth Building Home Loan (WBHL), which is a low-priced 15-year fixed that allows for faster home equity building at an affordable price.
(photo: Stan Wiechers)