In a rather surprising move, United Wholesale Mortgage president and CEO Mat Ishbia is set to acquire the Phoenix Suns and Phoenix Mercury.
The deal is reportedly valued at somewhere near $4 billion, per sources who spoke to ESPN.
The sale would be a record high for an NBA franchise, well above the then NBA-record of $2.35 billion for the Brooklyn Nets back in 2019 to Joe Tsai.
It comes at an interesting time, with mortgage volume down markedly from a year ago thanks to significantly higher mortgage rates.
But it could be a way for Ishbia to diversify his assets and not be fully reliant on mortgage lending.
Ishbia to Purchase the Phoenix Suns for Around $4 Billion
As noted, Ishbia will reportedly acquire the Phoenix Suns and WNBA franchise Phoenix Mercury for around $4 billion, per ESPN.
And while he might be best known as the owner of United Wholesale Mortgage, the largest wholesale mortgage lender in the country, he has a lot of basketball ties.
For one, he was a walk-on at Michigan State, one of the best college basketball programs in the nation.
Additionally, he was part of the Spartans' 2000 National Championship winning team, though his playing time was very limited.
Back in the summer of 2021, he inked a "name, image and likeness" (NIL) deal for UWM with Michigan State, offering $500 per month to MSU athletes during the 2021-2022 season.
Prior to that, UWM made a deal with the Detroit Pistons to feature their logo on the left front strap of official team jerseys for the 2021-22 NBA season.
So it's abundantly clear the man loves basketball, and is now taking a huge leap forward via NBA/WNBA ownership.
Assuming the sale goes through, it will mark the end of the Robert Sarver era dating back to 2004.
Before that, the team was owned by Jerry Colangelo, who sold it to Sarver for what was then also a record $401 million.
Ishbia joins Rocket Mortgage founder Dan Gilbert as an NBA owner, with the latter acquiring the Cleveland Cavaliers in 2005.
Ishbia Has Led a Mortgage Broker Revolution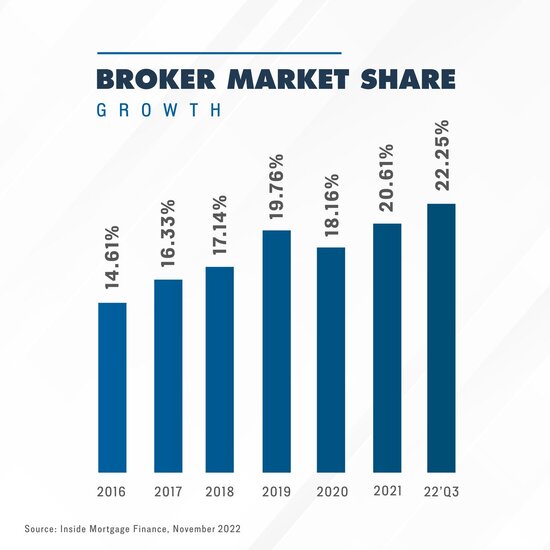 After the mortgage crisis in the early 2000s, mortgage brokers were often the ones blamed for what transpired.
The general argument was that the quality of loans originated via the wholesale channel (brokers) were worse than those from the retail or correspondent channel.
At the time, many wholesale mortgage lenders closed shop, and large banks shut down their mortgage broker channels.
But over the past several years, the mortgage broker has returned in a big way, and now holds the highest market share since 2009.
Per a slide shared recently on Twitter by Ishbia, mortgage broker share rose to 22.25% in the third quarter of 2022, up from just 14.61% in 2016.
It was apparently as high as 35% in 2006 before the housing market crashed, but then fell below 10% for many years thereafter.
Ishbia's UWM operates exclusively via the wholesale lending channel, meaning you can only work with them via an independent mortgage broker.
They do not have a retail operation that caters to consumers, unlike some of their competitors that do business via both channels.
Despite this, UWM became the nation's largest mortgage lender during the third quarter of 2022.
Ishbia's company was able to originate about $33.5 billion in home loans, significantly more than their crosstown rival Rocket Mortgage, which funded $25.6 billion.
Of course, their big numbers are only a reflection of a three month period. It remains to be seen if they can take the top spot over a full 12 months.
If they do, it would be quite the feat given their 100% devotion to mortgage brokers.
As for the Phoenix Suns and Mercury, they should be in good hands, with an owner that has a true basketball pedigree.
(photo: Chilli Head)