These days, prospective home buyers are spending a lot more time looking at homes virtually rather than in person.
This was a trend before COVID-19 reared its ugly head, and one that has only been exacerbated by the pandemic.
Ultimately, much of the home buying process can be conducted online, just like anything else these days.
However, you probably still want to see the property in person because you're buying a house, not a burrito.
The question is, how many homes should you look at before making an offer?
The Typical Home Buyer 'Views' Eight Properties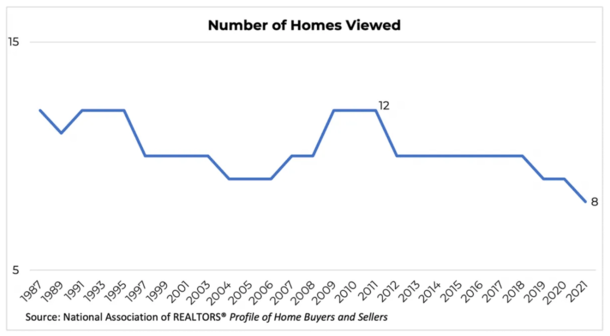 First, let's talk about what the norm is based on some data from the National Association of Realtors.
The real estate agent group recently noted that home buyers viewed a median eight homes before purchasing a property last year.
This was down from 12 homes between the years 2009 and 2011, when the market was cold, and slightly less than the nine homes viewed during the prior housing boom from 2004 to 2006.
Further back in the 80s and 90s, the median was closer to 12 homes as well.
While eight might not seem like a lot, it's actually even less in the real world. By real world, I mean not on your smartphone.
Of those eight properties, three were viewed online-only, meaning the buyer didn't actually check them out in person.
They viewed those properties by way of virtual tour or virtual open house. So when it comes down to it, the typical home buyer stepped foot in just five homes.
That might not seem like a lot when making such a major decision, but who says you need to visit home after home?
Thanks to advancements in technology, you can get a very good feel for a home without viewing it in the physical world.
And instead of running all around town, you can narrow down your list a lot faster and be a more efficient home buyer.
In reality, today's home buyer probably actually views a lot more homes than the home buyer of the past. They just view them from the comfort of their own apartment or home.
Back in the day, it was difficult to see a bunch of properties, whether virtual (on a window advertisement at a real estate agent's office) or in-person.
Today, you can view hundreds of properties in a single afternoon.
You May Only Need to See One Property in Person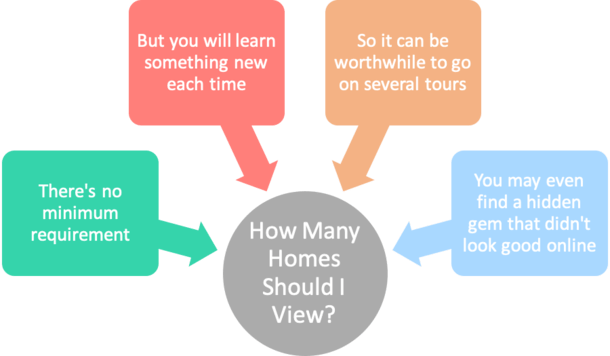 As noted, the modern home buyer has a ton of free tools and data at their fingertips to view available inventory without getting off the couch.
This means they can see a ton of properties in their desired area online, view countless photos, check out maps, analyze the street view, compare school ratings, and much more.
In effect, these buyers can create a short-list of homes they actually want to see in person as opposed to virtually.
A lack of inventory and a highly competitive housing market are also probably pushing down the number of in-person viewings.
In the end, it might turn out that the first property they see in person is "the one," literally.
There's no rule that you have to see five homes, or 10 homes, or any number of homes. If you happen to find the winner on the first try, congrats!
If it takes you 10 or 20 tries, well, it takes you 10 or 20 tries. This might boil down to luck, and/or the amount of research you put in using online tools beforehand.
By the way, home buyers in 2021 were very big on tech, with 95% using the internet to search for a home, and 51% finding their home online.
This compares to 80% and 24% in 2006, respectively, showing just how impactful the internet has become in every aspect of our lives.
[What's the best mortgage for first-time home buyers?]
Viewing More Homes Can Be Beneficial for Several Reasons
While you may not need to see more than a single home in person, there are advantages to viewing multiple properties.
Each time you visit a property, you'll learn something. You may learn something about your personal taste, or something about architecture.
You'll have conversations with the real estate agent, where you can ask questions and up your real estate acumen.
By viewing more homes, you'll quickly figure out what the real deal breakers are, and what the must-haves are.
You may learn more about a particular neighborhood, or something about the lot, or an easily overlooked issue like street noise.
Remember, a photographer can highlight the good and remove the bad, all thanks to angles.
It's also very difficult to assess the condition of a property without viewing it in person, which explains why most home appraisals require an in-person visit.
You might get a good sense of a home while scrolling through listings on the Redfin or Zillow app, but if a picture says a thousand words, and a video a million, how about real life?
It's almost like a dating app – it looked good online but once you decided to meet up, well, you know…
To sum things up, there is no right or wrong answer here, but if you've got the time, it doesn't hurt to check out additional properties.
You may even find a hidden gem or something you could have overlooked, simply because it didn't "show well" online.
And that could give you a leg up on the competition, which is especially important these days in this hot housing market.
Read more: When should I start looking for a house?