If you've got a home equity line of credit (HELOC), you've likely seen your interest rate rise significantly over the past year and change.
The reason being is HELOCs are tied to the prime rate, which moves in lockstep with the fed funds rate.
Since early 2022, the Federal Reserve has raised its target rate 11 times, pushing the prime rate up from 3.25% to 8.50%.
This means homeowners with HELOCs have seen their rates increase 5.25% in just over a year.
But here's the good news; we could already be looking at peak HELOC rates and relief as soon as early 2024.
The Odds of Another Fed Rate Hike Are Now Lower Than a Fed Rate Cut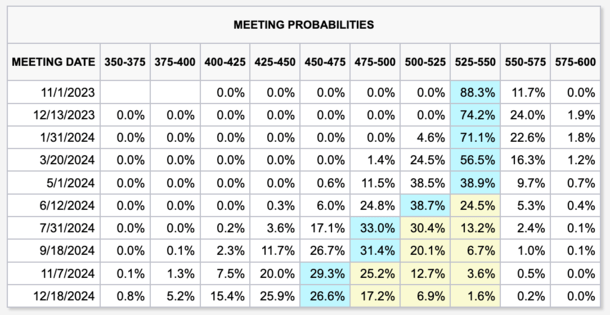 While the financial markets are dynamic and always subject to change, data is now signaling that the Fed rate hikes are done.
And even better, that a rate cut is on the horizon in early 2024.
The CME FedWatch Tool, which tracks the likelihood that the Fed will change its target rate at upcoming FOMC meetings, no longer has additional rate hikes as odds-on favorites.
Instead, it has a rate cut as the most probable next move slated for the June 2024 Fed meeting.
In the meantime, rates are largely expected to remain unchanged, though a rate cut could arrive even sooner.
These percentage probabilities are based on interest rate trades by major brokers in the market for overnight unsecured loans between depository institutions.
As noted, the forecasts are subject to change (and do change constantly), but the data appears to be tipping more and more in favor of rate cuts instead of hikes.
In the chart above, you can see that rates are expected to be unchanged during the next five Fed meetings (light blue boxes).
But in June 2024, the odds are now on a 0.25% rate cut, with a 38.7% likelihood, versus them holding steady at 24.5%.
Interestingly, even a .50% rate cut has higher odds at 24.8%, meaning the odds of a cut are pretty strong by then.
Depending on how things pan out, a rate cut could come even sooner, with a 0.25% cut holding odds of 38.5% in May vs. holding steady at 38.9%.
If we look at total probabilities, there's a better chance of rates easing vs. hiking by the March 2024 meeting.
And it continues to get rosier and rosier for interest rate cuts through the end of 2024.
HELOC Rates Could Be 0.75% Lower by Late 2024
All said, the fed funds rate could end 2024 in a range of 4.50% to 4.75%, which would be nearly 1% below the current range of 5.25% to 5.50%.
Because the prime rate is dictated by the Fed's hikes and cuts, that would push HELOC rates down by the same amount, so 0.75% if these odds come to fruition.
It might not spell major relief, but it would be some relief. And monthly payments would begin falling for the many homeowners holding these adjustable-rate second mortgages.
HELOC rates are determined by combining a pre-set fixed margin and the prime rate, which we know can adjust up or down.
So a hypothetical borrower with a margin of 1% currently has a HELOC rate of 9.50%, factoring in the current prime rate of 8.50%.
If these rate cuts do materialize, and the prime rate falls to 7.75%, they'd eventually have a rate of 8.75%.
This would result in a lower monthly payment and less interest due, and perhaps peace of mind seeing their rate fall as opposed to rise for a 12th time in less than two years.
What About Mortgage Rates and Fed Rate Cuts?
While the fed funds rate does not dictate mortgage rates, it can play an indirect role.
Simply put, if the fed funds rate starts falling because the economy is slowing, it could signal lower long-term rates over time.
That would result in lower mortgage rates as well, as a cooler economy and lower inflation can bring down bond yields.
Additionally, more certainty from the Fed could also result in a narrower mortgage rate spreads, which have nearly doubled in recent years.
So we might also conclude that first mortgage rates, along with HELOC rates, are nearing or at their peak too.
Of course, mortgage rates might take some time to come down and could remain "sticky" at these new higher levels.
Still, any relief is welcomed at this time with 30-year fixed mortgage rates approaching 8% levels.
The good news is we might be finally seeing peak interest rates this cycle, though there's still reason to be cautious as economic data continues to flow in.
Any surprises could derail these current estimates, though they do seem to be finally moving more decisively in the right direction.
Read more: How to compare HELOCs among lenders.