A new study from the Urban Institute reveals that women are better at paying the mortgage despite receiving less favorable terms than men.
This despite the fact that they receive higher mortgage rates because of weaker credit profiles, which logic tells us would lead to higher default rates.
Single Women Hold a Fifth of All Mortgages


On average, just over a fifth of all mortgages consist of a female-only borrower, and it is this group that pays the most for a mortgage.
Using HMDA data for mortgages originated between 2004 and 2014, the researchers found that the average mortgage rate for a female-only borrower was 5.48% versus 5.41% for male-only borrowers.
It was also higher in situations where a female had a male co-borrower (5.25%), compared to 5.12% when the male had a female co-borrower (the most common scenario).
But it appears lenders made out (or messed up) because females displayed lower default rates than their male counterparts.
Women Default Less on the Mortgage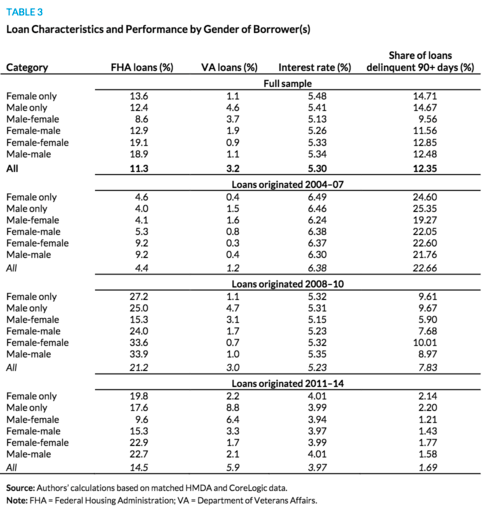 The default rate for female-only borrowers between 2004 and 2007 was 24.6% compared to 25.4% for male-only borrowers.
From 2008-2010, the default rates were 9.6% versus 9.7%, respectively, and the same pattern held steady from 2011-2014.
In case you were wondering, default rates for couples are "considerably lower" than sole borrowers, as you can see above.
For the record, women-only borrowers also get denied the most.
Why Do Women Pay More for Their Mortgages?
So we know women default less than males and also get denied more often for mortgages, but why are they paying more for these mortgages?
Well, one issue is that female-only mortgage borrowers tend to have lower credit scores. Additionally, more of the mortgages doled out to female-only borrowers have been defined as subprime, which is a FICO score below 620.
Perhaps more importantly, more than one-third of female-only borrowers are minorities, and nearly half live in low-income communities.
The good news is that the single women only overpay by an average of $150 per loan. The bad news is they shouldn't have to pay anything extra. And worse, women are denied mortgages despite "superior payment performance."
The Urban Institute says this means the risk measures in place today aren't adequate, and are effectively leading to disparate denial rates.
It sounds like the FICO score is under fire again…it was during the most recent housing crisis too. Essentially, lenders relied too heavily on credit scores and got burned in the process.
In this case, it seems women aren't getting the credit they deserve because they're performing better than their credit scores indicate.
Interestingly, women tend to put down more than men as a form of risk aversion – they're also less likely to apply for an adjustable-rate mortgage, likely for the same reason.
The female-only loan-to-value ratio (LTV) averaged 75.07% over the full sample period compared to 77.63% for male-only borrowers.
Still, they wind up with higher loan size/income ratios relative to single men.
The takeaway here is that weaker credit scores don't translate perfectly to higher default rates, but mortgages are still priced higher for lower-credit score borrowers.
Just another reason to stay on top of your credit scores to ensure you receive the best pricing out there, regardless of how good a borrower you turn out to be.
(photo: amboo who)