There's yet another mortgage disruptor in town, the latest goes by the name of "Morty."
Sounds like a play on the word mortgage…or someone's last name, like Mortimer. Think Trading Places.
Anyway, like many other new entrants to the home loan industry, they claim to offer the "modern, online mortgage."
This means leveraging technology to make the home loan process a lot easier, and less painful. And hopefully cheaper too!
Let's find out more to see if they can change the mortgage landscape as we know it.
How Morty Works
You start by building a so-called "financial profile," which includes things like your income, assets, employment, along with the subject property information.
The Morty platform apparently allows you to automatically link this information, and doing so means you should receive accurate quotes. Kind of reminds me of how Quicken's Rocket Mortgage works.
The problem with the current setup is that standard quoting engines assume you're telling the truth, or at least providing accurate details.
Once all the paperwork comes in the quote might be higher, or entirely invalid depending on the differences.
Ideally, Morty is able to catch all the gotchas during this information gathering process so you can go into underwriting with confidence you'll actually be approved.
I went ahead and filled out the form on the Morty website to get started and it asked a few basic questions, such as my name, e-mail address, transaction type, and property location.
Unfortunately, that's as far as I got. Not sure if the site was completely live when I checked it out, or if I entered a state where they don't do business.
Morty Is a Mortgage Broker On a Larger Scale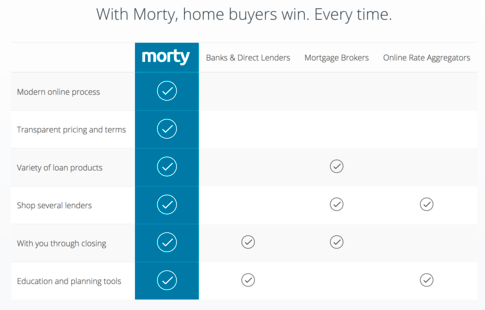 Once your financial profile is complete, you'll be able to compare loan options from a variety of different lenders.
Yes, Morty is a mortgage broker located in New York City, so you've got multiple banks to choose from here.
Originally, they worked with 10 mortgage lenders in 10 markets across the United States.
Those 10 states included Colorado, DC, Florida, Georgia, Maryland, New York, North Carolina, Oregon, Tennessee, and Virginia, per NMLS records.
Today, they are licensed in 44 states and the District of Columbia. The only excluded states are Arizona, Hawaii, Massachusetts, Missouri, Nevada, and Utah.
It's unclear if and when they'll roll out to all 50 states, but time will tell.
In terms of where their lender network stands today, they say they provide access to over 1,500+ loan options.
So you should have a decent array of programs, lenders, and wholesale mortgage rates to choose from.
When they launched in 2016, they initially focused on helping home buyers via conventional loans.
Recently, Morty added support for jumbo loans up to $2 million loan amounts and financing for investment properties as well.
If you previously closed a home purchase loan with Morty, they say they can assist with a mortgage refinance transaction.
So it appears refinances are limited via the platform, though that could change in the future. But they definitely seem focused on home buyers for now.
In terms of specific loan programs, they offer 15-year, 20-year and 30-year fixed-rate mortgages, along with 10/6, 7/6, and 5/6 ARM mortgages.
Morty Acts as Your Guide Throughout the Loan Process
Once you find an offer you like, you're able to proceed with the backing of Morty. They claim to stay with you through closing to ensure there aren't any hiccups.
And if there are any unexpected turns along the way, they'll be around to get you through them.
Essentially, they aspire to be the mortgage broker for the modern age seeing that traditional brokers are generally one-person shops with limited technology, though that too is beginning to change.
Morty is not a direct lender, but rather a "kind of fancy mortgage concierge." They work with lenders on your behalf to help you close your loan.
As you can see from the chart above, they seem to think typical mortgage brokers lack transparent pricing and terms, while also working in the Stone Age. Or at least not with a modern online platform.
The question though, or perhaps the million-dollar question, is if they can uphold their pledge when working with third-party lenders that may still be stuck in the Dark Ages.
I suppose the inherent problem with being a mortgage broker is that you're always going to be at the mercy of the banks and lenders you work with.
If they drop the ball for whatever reason, it's not necessarily the broker's fault…but they still represent the borrower and have to bear the consequences.
An online mortgage banker actually has full control of the process, whereas a broker only has some control.
It sounds like they are bringing the process up to speed for the digital age, but there might be some growing pains as the mortgage industry slowly marches toward this inevitability.
Read more: Clara wants to be your hipster mortgage lender.