A little over a year ago, I wrote that HARP had received its final extension. I affixed the word "probably" to the end of it because the program kept getting extended over and over.
It reminded me of one of those "final day to save" sales…that seem to gather dust as the sale never actually ends.
Well, it turns out HARP has indeed been extended again, though this really is the last time. Seriously.
We know this because Fannie Mae and Freddie Mac have introduced their permanent replacements, which will go live once HARP is finally put to rest on September 30th, 2017.
In fact, HARP is only getting this bonus extension to bridge the gap to the new streamline refinance programs being offered by the pair next October.
Update: I spoke too soon. The FHFA extended HARP once again until December 31st, 2018, but this is the last extension, for real this time. Honestly!
That being said, let's learn more about HARP's permanent replacements, which will now go live on November 1st, 2018.
Fannie Mae's High Loan-to-Value Refinance Option
While the complete requirements have yet to be published, Fannie Mae did release a fact sheet regarding its so-called "High Loan-to-Value Refinance Option."
The program, like HARP, will give underwater homeowners the opportunity to refinance their mortgages to take advantage of lower mortgage rates, assuming low rates are still around in late 2017 and beyond.
There won't be any LTV restrictions other than the fact that it must exceed the maximum LTV for a limited cash-out refinance. In other words, the LTV needs to be high…
Additionally, the mortgage being refinanced must not have been previously delivered as a Fannie Mae Refi Plus (HARP) loan.
So the borrower must either have used HARP, refinanced out of it, and then back into this product, or simply not used HARP in the past to be eligible.
The good news is that unlike HARP, there is no cutoff date to participate, and borrowers can refinance more than once via this program. You may recall that there was no reHARPing allowed.
Borrowers must also benefit from the High Loan-to-Value Refinance in at least one of the following ways:
– Reduced monthly mortgage payment (including principal and interest)
– Lower interest rate
– Shorter amortization period
– More "stable product," such as from ARM to FRM
The mortgage must be seasoned, meaning borrowers must have made at least 12 payments since Fannie Mae acquired the loan. Additionally, no lates are permitted in the six months prior to refinance, and only one 30-day late is permitted during the previous 12 months.
Only Fannie Mae mortgages can be refinanced via this program.
Freddie Mac Enhanced Relief Refinance
Brother Freddie Mac also unveiled details of its long-term streamline refinance solution known as the "Enhanced Relief Refinance."
This program basically mirrors the Fannie Mae program in its entirety, though your loan has to be owned by Freddie Mac.
One key difference is that the loan needs to have been seasoned for 15 months instead of 12.
Additionally, the LTV limits are spelled out in detail. As far as maximum LTVs go, if it's a fixed-rate mortgage there is no maximum, if it's an ARM the max is 105%.
The table below displays the minimum LTV limits: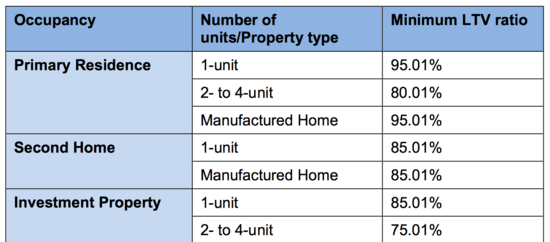 These are basically the cutoffs where you wouldn't be able to get a mortgage from Fannie or Freddie because the LTV would be too high, so they make perfect sense.
Other than that it appears to be exactly the same, other than the name. It too will go live in November 2018once HARP is finally phased out. It replaces the Freddie Mac Relief Refinance Mortgage (Open Access).
Like HARP, there will not be a minimum credit score requirement or a maximum DTI ratio, and an appraisal shouldn't be required.
The mortgage being refinanced must be owned or securitized by Freddie Mac and have a note date on or after October 1st, 2017. It cannot be a Freddie Mac Relief Refinance Mortgage.
Are We Banking on Another Crisis?
While it's great that there's going to be a long-term refinance solution available to those who find themselves underwater on their mortgages, it does seem a bit peculiar at the same time.
To me, it says we're probably going to see another crisis in the near-term future where homeowners will need some form of systematic payment relief.
The fact that it will be built into the mortgage finance system is troubling, though you could argue that it's good to have a safety net. There's just that dilemma of how people act when they know there's a safety net beforehand…
In its statement, the FHFA (which oversees Fannie and Freddie) said the new streamline program will be "more targeted than HARP," which I interpret as more limited in availability.
They added that giving responsible borrowers (those current on their mortgages) the chance to lower their rates reduces credit risk exposure for the pair.
Perhaps it'll come in handy once all those 1% down mortgages come home to roost.