Just like that another year has passed, well almost, so it's time once again to look forward to what the next 365 days might bring.
Will 2019 be a winner for mortgage rates, or will home buyers and refinancers face more agony like they did in 2018?
As always, I compile predictions and data from the leading mortgage and real estate industry groups to come up with the annual forecast.
This year I'll also include my own prediction to provide even more insight (or confusion) to the situation. Let's dive in!
2019 Mortgage Rate Prediction Chart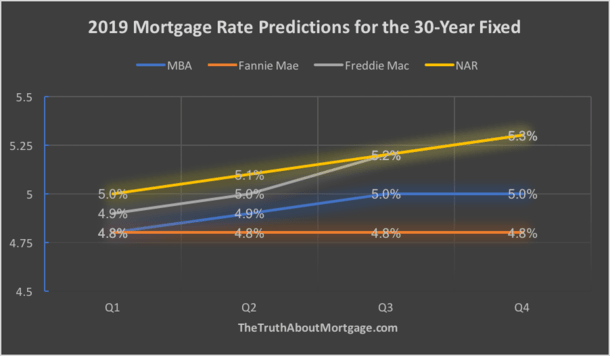 The chart above shows 2019 mortgage rate predictions from the MBA, Fannie Mae, Freddie Mac, and NAR.
They're basically the biggest players in the residential mortgage space so they should have a good idea as to where rates may go, though like any other prediction, it might turn out that nobody gets it right.
Note that these predictions come from the last release of 2018 from these trade groups, and that they update their forecasts throughout the year, often monthly.
MBA 2019 Mortgage Rate Forecast
We'll start with the Mortgage Bankers Association and their monthly Mortgage Finance Forecast.
Each month, they adjust their expectations for things like housing starts, home sales, home prices, mortgage origination volume, and most importantly, mortgage rates.
Specifically, they detail where they think the 30-year fixed rate will land each quarter, based on Freddie Mac's average rate, which is based primarily on home purchase transactions.
This is what 2019 looks like on a quarterly basis:
First quarter 2019: 4.8%
Second quarter 2019: 4.9%
Third quarter 2019: 5.0%
Fourth quarter 2019: 5.0%
As you can see, they expect a mild increase in fixed mortgage rates next year, though not a ton of movement.
At the moment, the 30-year fixed is pricing around 4.75% or so, depending on the lender, so we're talking a mere .25% bump in rate in 2019.
That's great news for home buyers who are already contending with higher asking prices that seem to be eating into purchasing power.
Fannie Mae 2019 Mortgage Rate Forecast
Now let's check in with Fannie Mae, which also releases a monthly economic and housing outlook that includes mortgage rate predictions.
They expect the following:
First quarter 2019: 4.8%
Second quarter 2019: 4.8%
Third quarter 2019: 4.8%
Fourth quarter 2019: 4.8%
Mortgage rates surpassed the key psychological 5% threshold in 2018, but it appears they won't do the same in 2019, per Fannie Mae's assessment.
They've got a pretty boring (and steady) 4.8% forecast for the 30-year fixed in all four quarters next years.
That should be welcome news for home buyers and potentially even some of those who have yet to refinance, and it means mortgage rates should be lower next year than they've been for a good chunk of 2018.
Interestingly, they lowered their numbers from a month earlier in light of the recent economic developments. They had been predicting rates over 5%, but no longer.
Still, that rather fickle forecasting means anything is on the table in 2019 so buyer beware.
Freddie Mac 2019 Mortgage Rate Forecast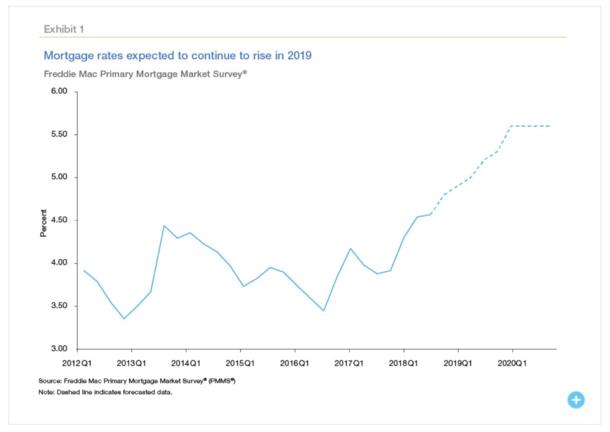 Aside from releasing a weekly mortgage rate report, Freddie Mac also makes predictions via its monthly outlook.
Here are their latest mortgage rate predictions for 2019:
First quarter 2019: 4.9%
Second quarter 2019: 5.0%
Third quarter 2019: 5.2%
Fourth quarter 2019: 5.3%
Brother Freddie has slightly higher mortgage rate estimates for 2019, though they still appear favorable to all.
Early in 2019, they expect the 30-year fixed to average between 4.9% and 5%, before rising slightly to 5.2% in the third quarter and then 5.3% by yearend.
Assuming it plays out that way, most folks wouldn't be too upset. Again, it would amount to a very marginal bump from current levels.
One caveat is Freddie's outlook is dated from November, so there's a very good chance they'll adjust their expectations even lower in their next release. I will update the post accordingly.
NAR 2019 Mortgage Rate Forecast
In their 2019 National Housing Forecast, they said the 30-year fixed would average 5.3% throughout the year and eventually reach 5.5% by year-end.
But their monthly economic outlook is a bit more conservative in that department.
Here is their 2019 mortgage rate projection:
First quarter 2019: 5.0%
Second quarter 2019: 5.1%
Third quarter 2019: 5.2%
Fourth quarter 2019: 5.3%
As you can see, they expect mortgage rates to inch up each quarter by very fine margins and end the year only slightly higher.
Depending on loan amount, the rise could be pretty unsubstantial if noticed at all. That's wonderful for prospective home buyers who are already grappling with high asking prices.
And NAR tends to err on the side of higher…perhaps to keep the pressure up on fence-sitting home buyers.
Zillow 2019 Mortgage Rate Forecast
In their 2019 predictions post, the data analytics company (oh and they're a mortgage lender and iBuyer now too) predicted that the 30-year fixed would rise to 5.8% in 2019.
That sounds pretty aggressive, especially in light of recent pullbacks in the stock market, but you never know.
Still, it would represent an increase of about 1% from the current 4.75% to 5.8%. Let's hope they aren't right!
The caveat here is that their forecast came before the economy began to show more serious cracks, and even recession fears, so they'd probably lower their numbers fairly substantially if they were to revise them.
Trulia 2019 Mortgage Rate Forecast
Then we have Trulia's forecast, which sees mortgage rates hitting 10-year highs in 2019.
Fortunately, interest rates have been very low over the past decade, so it sounds a lot worse than it really is.
They don't mention a specific rate in their 2019 Housing Market Outlook, just that rates on the 30-year fixed have been below 5% since the end of the Great Recession.
Ostensibly, that means they expect the 30-year product to climb above 5% in 2019, which wouldn't be all that surprising since it already surpassed those levels earlier this year, before correcting somewhat.
They believe higher mortgage rates will exacerbate "an already supply-constrained and high-priced housing market."
My Forecast for Mortgage Rates in 2019
I predict mortgage rates to be mostly flat (on average) in 2019 after what was a pretty wild year for rates in 2018.
However, I do expect a decent amount of movement up and down along the way, which should provide good opportunities for those who keep an eye on things.
We've seen a lot of big moves in the stock market recently, and I expect the same to be true of mortgage rates.
While swings up and down are highly likely, there's also a good chance rates will return to their baseline levels, which could be around 4.75% on the 30-year fixed.
But that doesn't mean they might not jump up to 5% or higher at certain times during the year, or fall down to 4.625% or 4.5% either. Or even lower!
In summary, mortgage rates shouldn't pose any sort of threat to real estate in 2019, despite what we all thought a month ago. This is an excellent development, especially if home prices flatten out and inventory improves.
Of course, if mortgage rates drop in 2019 the seller's market may return in force.
Read more: 2019 mortgage and real estate predictions.
(photo: Marco Verch)