Might 2023 be good to mortgage rates? If you believe the latest Housing Forecast from Fannie Mae, then yes.
Most everyone knows 2022 has wreaked absolute havoc on mortgage rates, with the 30-year fixed up more than 225 basis points from a year earlier.
This, combined with rising home prices, has eroding affordability to the point of being at its worst since prior to the previous housing boom (and eventual bust).
But lately mortgage rates have seen some relief after pushing 6%, and they could even fall back into the 4s next year.
That would be huge for the flagging mortgage industry, and also a boon to home builders attempting to unload new inventory.
Mortgage Rates Might See Some Relief in 2023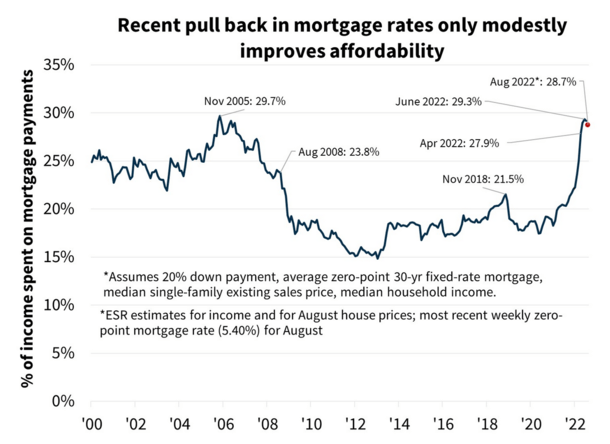 In Fannie Mae's previous Housing Forecast (for July), they expected the 30-year fixed to average 5.1% in 2023, which actually doesn't sound too bad.
But their latest release has rates down to 4.5% for 2023, with rates drifting from 5.1% in the third quarter of 2022 to 4.4% in the second half of 2023.
Assuming that comes to fruition, the mortgage industry, along with home buyers and the home builders, could see some serious relief.
After all, many builders have had to cut prices or scale back on building altogether, while prospective buyers have pulled out of purchase contracts.
If mortgage rates fall back to the mid-4% range, there'd likely be a surge of demand and an uptick in home sales once again.
It would also improve affordability markedly, which has worsened considerably to pre-bubble territory.
In light of these new forecasts, Fannie Mae expects total originations to hit $2.29 trillion in 2023, a $66 billion increase from last month's forecast.
Of course, that would still be below the $2.47 trillion forecast for 2022.
They expect 2022 mortgage refinance volume to total $769 billion, up $13 billion from a month ago, driven by these lower anticipated mortgage rates.
And 2023 volume is slated to be $592 billion, up $74 billion from the prior estimate.
This is good news for existing homeowners with high rates, along with mortgage lenders that rely heavily on refinance loans.
Unfortunately, home purchase loan volume has been cut by $74 billion to just over $1.7 trillion for 2022.
This is due to a downward revision to the housing forecast and lower home sales price data for the second quarter.
The forecast for 2023 purchase loan volume remains mostly unchanged at just under $1.7 trillion.
84% of Homeowners Have Mortgage Rates at Least 1% Below Current Rates
While a rise in refinance demand is expected if mortgage rates do in fact fall back into the 4% range, it might not be enough to save many lenders.
The reason is most homeowners have rates at least 100 basis points below prevailing rates, per Fannie.
This is based on Freddie Mac's recent average of 5.22% for a 30-year fixed. So a full 84% of mortgage holders have rates of 4.22% or lower.
In other words, they probably aren't refinancing anytime soon, if ever. At the same time, this "lock-in" effect means they also probably won't move.
That should keep home prices propped up, even if there is some downward pressure on the housing market overall.
At the same time, lower mortgage rates in 2023 could help many recent home buyers snag a lower rate.
This is why it could make sense to take out an adjustable-rate mortgage while fixed rates are high.
And while you're at it, you may not want to pay discount points if the hope is to refinance within a year. After all, you won't want to pay upfront for savings you never actually see.
Of course, this is if Fannie's forecast comes true. It's always possible mortgage rates could go the other way too.
Home Prices Still Expected to Rise 4.4% Next Year
Lastly, despite all the housing market crash talk, Fannie Mae forecasts a 4.4% rise in home prices in 2023.
Of course, that's well below the pace of 16% for 2022 and 18.9% for 2021. It's essentially flat in comparison.
And potentially negative if you consider inflation. But it still defies the fears of a severe housing downturn and points more to a cooling housing market driven by affordability.
Remember, millions of homeowners aren't going anywhere because of their low, fixed-rate mortgages.
And home builders are sitting on a bunch of empty lots. This limits housing supply, which continues to be near historic lows despite some recent upticks.
So while you will see listing prices come down, and bidding wars become less common, property values likely will still climb higher next year.
If mortgage rates really do retreat back to the mid-4% range, we could even see a hot housing market next spring.