Sound the alarm. A severe housing downturn may now be in the cards in the United States.
That is, if you believe the latest commentary from credit rating agency Fitch Ratings.
To be clear, they actually said "the likelihood of a severe downturn in US housing has increased."
They still believe such a scenario is not probable, and instead we'll see a more moderate pullback in the housing space.
That mostly affects home builders, who are already struggling, though it could lead to a decline in home prices.
Real Estate Crash vs. Correction vs. Housing Recession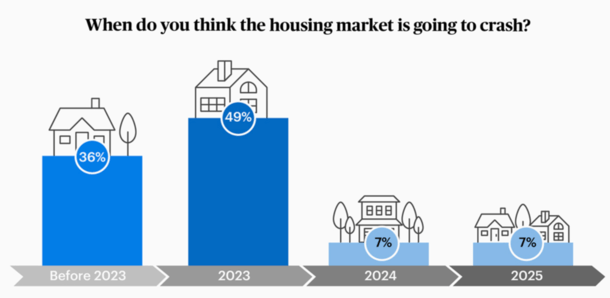 There's been a lot of negativity in the housing market lately, as I said there would be a while back.
We have entered a negative news cycle regarding real estate, mortgage rates, and the economy at large.
Back in June, economist Mark Zandi of Moody's, another credit rating agency, said we were in a housing correction.
What he meant by that was that we finally arrived at the tail end of the housing boom. In other words, the good days were over.
This was mostly led by a doubling in mortgage rates, creating an affordability crisis that stalled home price gains.
Still, many market watchers believe home prices will continue to rise, at least nominally. Once factored for inflation, they might be flat or technically lower.
And of course, certain markets will be impacted more than others, namely those that saw unsustainable run-ups over the past several years.
Also this week, the National Association of Home Builders (NAHB) said higher construction costs have ushered in a "housing recession."
What this means is less housing starts, price reductions, flagging demand from prospective home buyers, and fewer home sales.
So to tally it up, we've got a housing correction and a housing recession, and the fear of a real estate crash on the horizon.
Many Americans Actually Want a Housing Crash So They Can Buy a Home

Interestingly, many Americans want a housing crash, per a 1,000-person survey from ConsumerAffairs.
The company found that 78% believe the housing market will crash soon and 63% want it to.
If we're talking just a housing correction, 80% want one. Overall, 27% prefer a housing correction over a housing crash.
This would allow for a gradual pullback in home prices, allowing new buyers to enter the market without putting existing owners at risk of losing their homes.
Gen Z want a housing crash (84%) or correction (86%) more than any other generation so they can purchase a home.
As to when this could all happen, 36% believe a crash will take place before 2023, with 49% calling a 2023 crash.
For a long time, I've called a 2024 peak in real estate, based on historical cycles that go back a couple hundred years.
But I've questioned a massive downturn, as have other economists like Zandi, pointing to key buffers in the market.
Those include a lack of housing supply, high-quality mortgages (most owners have 30-year fixed loans) with rock-bottom interest rates, and a lack of speculation.
If we factor in the notion of a housing recession where home builders stop constructing new homes, that puts further strain on supply constraints.
So in a sense, it means even fewer available homes, which could bolster property values and protect us from a severe housing downturn.
Nearly Two-Thirds Would Need to Sell Their Home If a Recession Hit?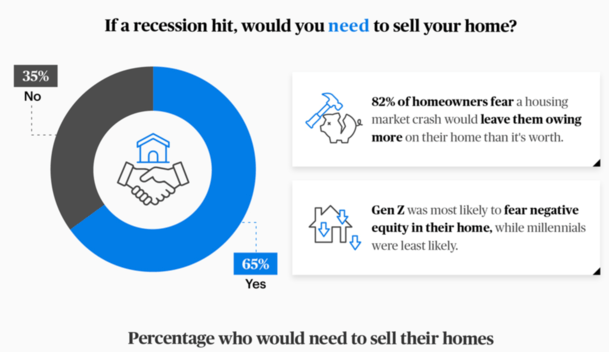 While I do believe today's housing market is much, much different than the one seen in 2006-2007, we still need to be on the defensive.
For example, some 65% of homeowners would apparently "need to sell" if a recession hit. By the way, we are kind of already in a recession.
Assuming that actually happened, which I don't buy into, the real estate market would likely crash.
After all, we'd see a flood of distressed sales, such as short sales and foreclosures, hit the market.
This would be a scenario very similar to what was seen back in 2008, which sparked the Great Recession.
But again, I suspect most homeowners today can weather the storm better thanks to their low fixed-rate mortgages. And their sizable home equity positions.
Back then, homeowners were grappling with falling home prices, adjustable-rate mortgages resetting higher, and a total lack of home equity, and often times underwater mortgages.
Additionally, three in four respondents said they'd buy a home if the market crashes, which limits the downside risk.
This is why I still believe a housing correction is more in the cards, in which home prices simply cool off.
And again, once you factor in inflation, home prices may not even fall nominally in a lot of places.
Also note that all this fear and loathing is happening at a traditionally slow time of year for the housing market. And mortgage rates may go down again.
To sum things up, I believe the housing market got way ahead of itself lately and is correcting back to a more balanced position.
This means fewer bidding wars, the return of contingencies, and more reasonable listing prices. It doesn't mean a fire sale or even necessarily a good deal on a home.