While there are a lot of new faces and startups in the mortgage industry, few companies have stood the test of time, especially with the Great Recession rearing its ugly head in the early 2000s.
But one mortgage company, Houston, Texas-based Cornerstone Home Lending, has been serving its communities since 1988.
The direct-to-consumer retail lender has more than 30 years of experience doling out home loans to satisfied customers, but also takes the time to embrace new technologies as evidenced by their smartphone app.
Cornerstone Home Lending Fast Facts
Retail mortgage lender based in Houston, Texas
Founded in the late 1980s by Marc N. Laird and Judy Belanger
Licensed in 41 states with 200 offices in 22 states
Over 500 loan officers and 1,500 team members
Funded roughly $6 billion in home loans during 2019
As noted, Cornerstone Home Lending, or CHL for short, has been around a while, much longer than the average mortgage company these days.
They claim to rank #30 nationally in annual home loan volume, and 10th nationally among independent mortgage companies.
In their latest full year, they closed about $6 billion in homes, with a home purchase loan share of roughly 72%.
The rest were home refinance loans, with about 10% of that share containing cash out to the borrower.
A good chunk of their total production consisted of conventional home loans (60%), with another 15% FHA loans, 13% jumbo loans, and 11% VA.
Most of the loans closed last year were 30-year fixed mortgages, though they also originated 15-year fixed mortgages and 7/1 ARMs as well.
Some 30% of total lending volume took place in their home state of Texas, which comes as no surprise.
They currently lend in 41 states and DC, but aren't available in Connecticut, Georgia, Hawaii, Illinois, Massachusetts, New Jersey, New York, Rhode Island, and Vermont.
Applying for a Mortgage with Cornerstone Home Lending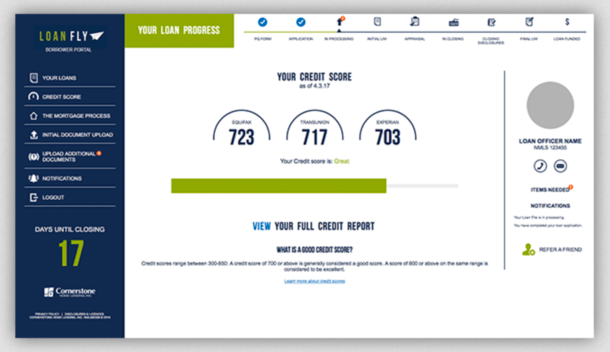 You have the option of getting pre-qualified via their website or smartphone app
Visiting a branch office if one is located near you
Or calling them directly to go over a loan scenario and get pricing
To get the ball rolling, you can either visit their website and navigate to the "prequalify" page, or download their smartphone app called LoanFly and then click on "prequalify."
Both methods require you to fill out a short form with just your contact information, at which point you'll be contacted by a loan officer.
They say you can get pre-qualified for a mortgage in as little as 15 minutes during normal business hours.
From the LoanFly app, you can also request a mortgage rate or a callback from a loan officer.
Alternatively, you can call Cornerstone Home Lending directly to get pre-qualified or to discuss a loan scenario. Or visit a local branch office if one is located near you.
Branches appear to be located in the following states: AK, AR, AZ, CA, CO, FL, MD, MO, MS, MT, NC, NM, NV, OK, OR, TX, UT, VA, WA, WI, WY
It's unclear if you can actually apply for a mortgage on your own, which is often an option with the most tech-savvy mortgage lenders these days.
Once in contact with a loan officer, they can walk you through the loan process and answer any additional questions you may have.
After your loan has been submitted, you can use the borrower portal to check loan status, upload documents, and satisfy conditions, via the app or the website.
Cornerstone Home Lending Loan Options
Home purchase loans and refinance loans (including cash-out refinances)
Conventional loans backed by Fannie Mae and Freddie Mac
Government loans backed by the FHA, USDA, and VA
Jumbo home loans
Fixed-rate and adjustable-rate options available
Cornerstone is currently approved and in good standing with Fannie Mae and Freddie Mac, along with the FHA, VA, and USDA.
They offer both home purchase loans and refinance loans, but it's unclear if they offer second mortgages or home renovation products.
The details on their website are a bit scant when it comes to loan options, though they do mention the loan types above, along with jumbo loans.
Additionally, you can get a fixed-rate mortgage or an adjustable-rate mortgage, with varieties like a 30-year fixed or 15-year fixed, and a 5/1 ARM or 7/1 ARM.
So all the usual stuff but nothing too fancy by the looks of it. They say their loan officers have access to hundreds of loan products, which means there's probably more than what's listed on their website.
Cornerstone Home Lending Mortgage Rates
Cornerstone doesn't advertise its mortgage rates online so we don't know where they stand pricing-wise.
The only thing they say is that they offer "ultra-competitive rates," which begs the question, why not share them?
Additionally, there's no information regarding lender fees, so we don't know if they charge a loan origination fee, underwriting fee, and so on.
If and when getting a quote from Cornerstone Home Lending, be sure to compare it to other lenders to see how competitive they are.
There are literally thousands of mortgage lenders out there to choose from, so put in the time if you want a great rate with low closing costs.
Cornerstone Home Lending Reviews
First off, they've got incredible reviews on Zillow, with a 4.96-star rating out of 5 based on feedback from nearly 2,500 past customers.
What's nice about the Zillow reviews is you can see who the customer worked with, click on that individual's name, and get all their reviews as well.
This is helpful with large mortgage companies that have tons of employees since experiences can vary greatly from one loan officer to the next.
Many of the Zillow reviews indicated a lower mortgage rate than expected, while many said the closing costs were as expected.
On BirdEye, they've got a 4.9-star rating based on about 800 reviews, so they seem to be consistently highly-rated.
They also list a bunch of customer reviews right on their website, which seem to the most recent ones available.
Cornerstone Home Lending is BBB accredited since 1997 and currently has an A+ BBB rating. Their customer reviews on the BBB aren't great, which is the norm for BBB customer reviews.
Cornerstone Home Lending Pros and Cons
The Good
Excellent reviews from thousands of past customers
A free smartphone app and online borrower portal
Physical branches in many states where they operate
In-house processing, underwriting, and funding
Average industry tenure of its employees is 10+ years
The Possible Not-so-Good
Not licensed in all states
Unclear if you apply for a mortgage all on your own
Don't list specific loan programs that are available
Do not advertise their mortgage rates or lender fees
(photo: Zeev Barkan)