For those of you still wondering why home prices haven't plummeted, despite significantly higher mortgage rates, it's because there isn't a negative correlation.
A lot of people seem to think that home prices and mortgage rates have an inverse relationship, but it simply isn't true.
Just look at history and you'll see that it's perfectly normal for home prices and interest rates to rise.
Or for both rates and prices to fall in tandem. Ultimately, there isn't a strong correlation either way.
However, home sales certainly slow down when the cost of financing rises, as we've seen this year.
Why Home Prices Go Up In Spite of Higher Mortgage Rates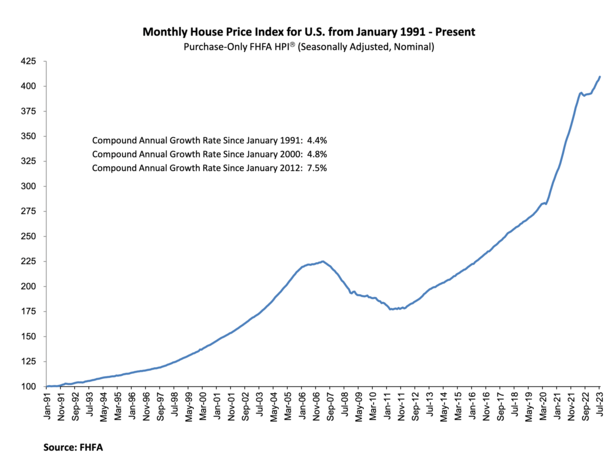 First off, let's look at the current dynamic in the housing market. Both mortgage rates and home prices have risen considerably over the past year and change.
The 30-year fixed has climbed from around 3% to start 2022 to 7.63% today, per Freddie Mac weekly survey data.
Despite this more than doubling in interest rates, home prices increased 4.6% from July 2022 to July 2023, per the FHFA's latest seasonally adjusted monthly House Price Index (HPI).
This is higher than the annual growth rate since 1991, which seems like a head-scratcher. How could home prices outperform with mortgage rates surging?
Well, higher mortgage rates generally indicate that the economy is hot, which it most certainly has been over the past year and change.
More jobs and increased wages, coupled with a low interest rate environment, increased the money supply and led to a lot more consumer spending and an increase in prices, home prices included.
Unfortunately, this also resulted in high inflation, which is why the Fed has raised its own policy rate 11 times since early last year.
But this economic strength is what continues to propel home prices higher, coupled with a severe lack of for-sale inventory.
So if you're wondering why 8% mortgage rates haven't sunk the home prices, now you know.
Sales Volume Gets Crushed When Mortgage Rates Rise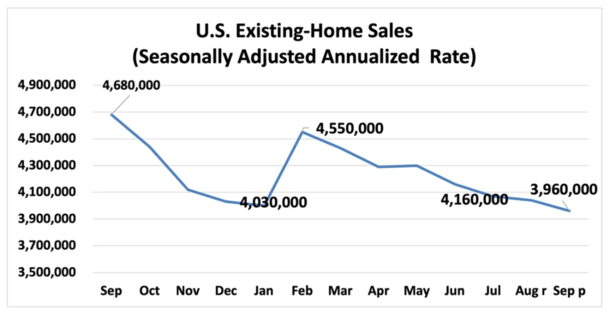 On the other hand, when mortgage rates increase significantly, home sales tend to take a big hit.
This happens for obvious reasons, the main one being a lack of affordability. Fewer home buyers can qualify when financing costs are prohibitively high.
Sure, folks have seen their wages increase and they might have a good job, but their DTI ratios aren't what they used to be.
Per NAR, total existing-home sales fell 2.0% in September from August to a seasonally adjusted annual rate of 3.96 million.
Sales were down 15.4% year-over-year from 4.68 million in September 2022, and are now at their lowest sales pace since October 2010.
For reference, existing home sales exceeded the six million mark back in 2021, the highest level since 2006.
Meanwhile, the inventory of unsold listings was up 2.7% in September from a month earlier, totaling 1,130,000 homes for sale.
But supply was off 8.1% compared with September of 2022, representing just 3.4 months at the current sales pace. That's well below NAR's desired 6-month supply.
However, despite less demand and fewer buyers, the lower number of sales isn't resulting in lower prices.
Instead, we simply have a housing market with low demand and low supply, and not a lot of budging from sellers on price.
That could change as time goes on, but even with mortgage rates around 8% we've yet to see big price declines. And we might not.
When Mortgage Rates Surge Higher, Home Prices Seem to Increase Even More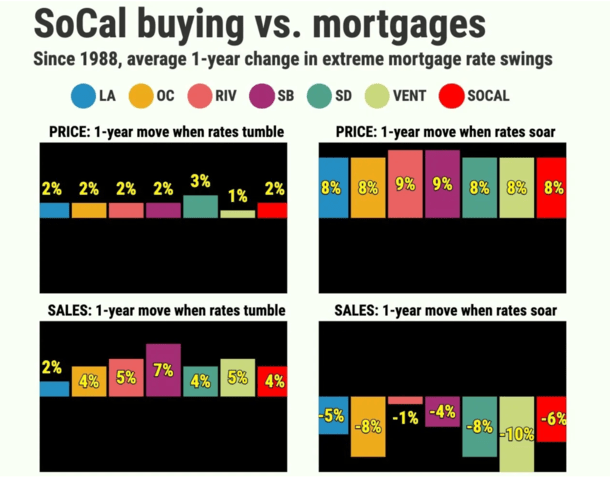 What's perhaps even stranger to the untrained eye is that when mortgage rates swing higher, home prices seem to outperform.
That brings me to an interesting piece written by Jonathan Lansner, who looked at home prices and sales volume in Southern California, and the impact of higher/lower mortgage rates.
He found that median prices have appreciated 4.7% since 1988, but this annual gain in Los Angeles averaged 7.6% when mortgages "were in their steepest jumps."
Meanwhile, when mortgage rates "were in their steepest drops," LA median home prices only experienced 1.6% gains.
So you're telling me high mortgage rates fueled even higher home prices. And declining mortgage rate resulted in falling home prices?
Apparently, yes. As for why, it's the economy! Remember, mortgage rates tend to rise when the economy is doing well.
And they often decline when the economy goes downhill, or falls into a recession, which some believe is overdue at this point.
I wrote a piece a while back regarding this very topic and found that mortgage rates went down during every recession since 1980.
The one exception was the 1973-1975 recession, when 30-year fixed mortgage rates increased slightly from 8.58% to 8.89%.
With regard to jobs, Lansner noted that over the past 35 years, employment grew 2.7% annually in California when mortgage rates "surged," but shrank at a 0.7% annual pace when rates "tumbled."
So maybe just maybe, prospective home buyers will discover that lower mortgage rates are accompanied by lower asking prices, possibly in 2024.
Read more: Mortgage rates and home prices can fall together.