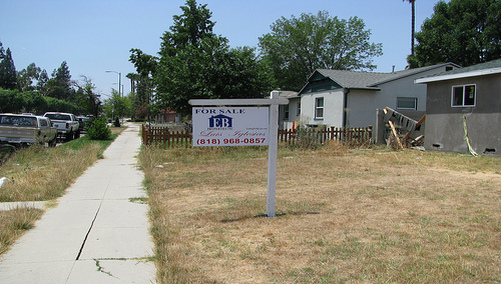 The good news is that a home price bottom is expected by year-end, according to one of the nation's most respected economists.
The bad news, at least for current homeowners, is that prices are set to fall another 11 percent before stabilizing.
Since their peak in 2006, home prices have fallen about 25 percent, per a Moody's Economy.com report issued today, but the end may be near.
"Notwithstanding the intensifying economic gloom, the bottom of the housing downturn is within sight for the nation," said Moody's chief economist Mark Zandi, in a release.
"Presuming we see strong action by policymakers to help support the economy and the housing market, prices will begin to recover by the end of this year."
Of course, Zandi noted that those same policymakers have yet to "break the downward spiral" of rising job losses, frozen credit markets, and record foreclosures.
But with home prices falling to more affordable levels and homebuilder inventory sliding to more appropriate positions, stabilization is within reach.
The report notes that 62 percent of the nation's 381 metro areas will see double-digit declines by the time the market correction is complete.
Declines will exceed 20 percent in about 100 of those areas, with the hardest hit regions of Southeast Florida, California's Central Valley, and Riverside, CA expected to decline by upwards of 50 percent.
On the bright side, 42 markets, mainly in the South, are expected to fall by less than one percent.
Note that this is just a bottom, not a recovery.
"Even if the recession ends late this year, as expected, the subsequent recovery looks to be lackluster. Real GDP is not expected to return to its prerecession peak until late 2010, and the nation will not approach a full-employment jobless rate of 5% before President Obama's term nears its conclusion in 2012," the release said.
"A number of uncertainties in both the housing and economic outlooks remain, and the risks tilt to the downside."