In 2019, one out of every 100 homes were purchased by an iBuyer, short for instant buyer, per a new report from real estate brokerage Redfin.
While it doesn't sound like iBuying is catching on, consider the fact that the number is up nearly double from 0.6% in 2018.
And about 10 times higher than it was back in 2016, when virtually nobody sold their home via an iBuyer service.
Also recognize that iBuying at scale is a very novel concept, and a business that big household names have just recently got involved in.
Some of the larger names in the space include Offerpad, Opendoor, RedfinNow, and Zillow Offers.
Simply put, an iBuyer will purchase your home for a fee somewhat similar to what a real estate agent would charge, only to rehab it and list it weeks or months later to a new buyer.
The advantage is you don't need to find an agent, list it, stage it, hold open houses, and deal with uncertainty from prospective buyers.
In essence, you can consider these iBuyers institutional home flippers.
If they streamline their operations enough to lower costs, they might grow even more popular and eventually displace thousands of real estate agents.
iBuying Most Common in Raleigh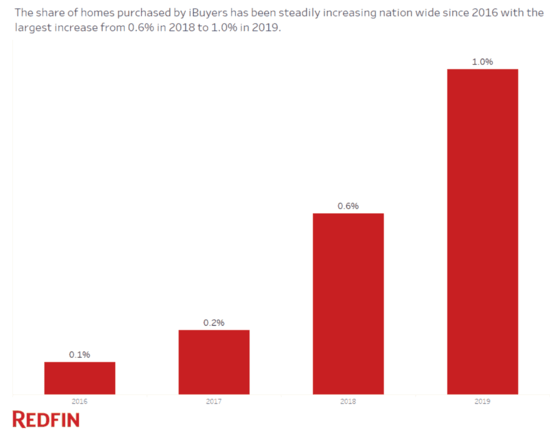 While iBuyers still account for a tiny piece of the overall pie, they snagged a whopping 7.3% share of home sales in Raleigh, North Carolina last year.
That was nearly double the 3.9% share reported in 2018, a testament to both the viability of iBuying and the good fit cities like Raleigh present to such companies.
Per Redfin chief economist Daryl Fairweather, places like Raleigh are "iBuyer sweet spots" because they are affordable, have newer housing stock, and are easy to price because many of the homes reside in homogeneous tract neighborhoods.
Raleigh is also a city poised to see home price growth, another important detail iBuyers have to consider when looking to turn a profit.
Lastly, it has been a pilot city for many iBuyers, who aren't live in all cities across the United States just yet.
Similarly hot was Phoenix, AZ, where iBuyers scooped up 5.9% of homes for sale, followed by Charlotte and Atlanta (tied at 5.2%), and Las Vegas (4.1%).
iBuyers had a market share of 3% or more in 11 markets nationally, and at least 1% share in 21 total markets.
Again, because iBuyers haven't rolled out to all cities nationwide, the numbers are still a bit scattered and lopsided.
In terms of volume, iBuyers purchased the largest number of properties in Phoenix (5,200+), followed by Atlanta (4,300+) and Houston (2,100+).
iBuying Surged in Tucson During the Fourth Quarter
iBuyer market share saw its biggest year-over-year increase in Tucson, AZ, where the number rose from 3.1% of homes in the fourth quarter of 2019 from zero a year earlier.
Again, this may reflect companies moving into new markets, but it also shows how quickly they are gaining traction and beating out traditional agents.
The second biggest increase was in Denver, CO, where the iBuyer share rose to 2.7% from 0.4% the year before.
Despite growing popularity, iBuyer market share did fall year-over-year in select markets, including Las Vegas (-3.4%), Phoenix (-1.2%) and Orlando (-1.0%), compared to Q4 2018.
However, Orlando was the only metro area to see its share fall on an annual basis from 2018 to 2019, declining from 2.6% to 2.2%.
iBuyers Like to Buy Homes on the Cheap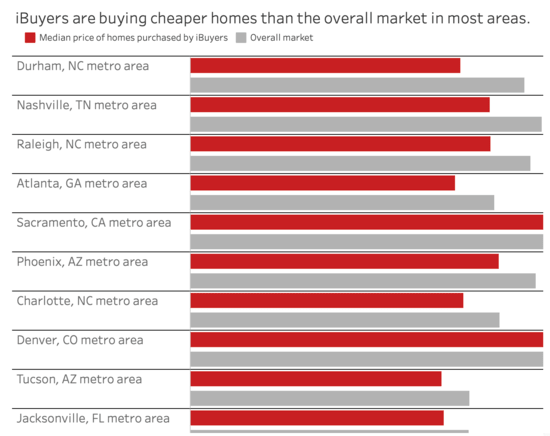 As noted, iBuyers tend to be interested in mid-market homes that are easily bought and sold, but there's still quite a range nationwide.
The most expensive markets in 2019 were Riverside, CA, Denver, CO, and Portland, OR, where these companies purchased homes at a median $391,000, $386,000, and $377,000, respectively.
The cheapest markets included Tucson, AZ, Jacksonville, FL, and Atlanta, GA, where the median was $201,000, $202,000, and $212,000, respectively.
Overall, iBuyers paid a median $269,000 for the homes they purchased, up three percent from 2018, but well below the national median of $306,000 in January.
In every housing market other than Riverside, CA and Orlando, FL, iBuyers paid below the metro-area median.
In terms of unloading the homes once purchased, iBuyers were able to sell homes 15 days faster in 2019 than they did a year earlier, this despite the typical home sale taking two days longer.
iBuyer-owned properties were listed on the market for a median 38 days in 2019, compared to 53 days in 2018.
Meanwhile, a non-iBuyer home spent a median 37 days on the market last year, compared to 35 in 2018.
If iBuyers get better at what they do, it might become a more practical solution for home sellers, assuming these companies pass the savings onto consumers.