There are tons of mortgage lenders out there, certainly too many to count, but Landed Home Loans is a little more unique than the rest.
You see, their goal isn't just to help Americans get a home loan. Their mission is to "help educators buy homes in expensive areas."
And more importantly, to give these individuals "financial security near the communities they serve."
This is a growing problem as popular cities become increasingly expensive, yet still require workers who are traditionally low-paid.
Landed started with educators, but expects to roll out to healthcare workers and first responders, such as police and firefighters, at some point in the future.
How Landed's Shared Equity Down Payment Program Works
Provides a portion of down payment in exchange for future home price appreciation
No monthly payment is required, it is not a loan
Each 1% contributed gives Landed 2.5% of the appreciation (or depreciation) in the home
They are paid back once you sell your property
Unlike traditional mortgage lenders, they offer a shared equity down payment program to increase affordability and eliminate the traditional roadblock of needing a large lump sum of cash upfront.
This is similar to EquityKey and the Unison HomeBuyer program.
It allows home buyers to come in with a 20% down payment, which in turn eliminates the need for private mortgage insurance, and keeps the monthly payment within reach.
Having a larger down payment may also make offers more successful in competitive markets where bidding wars are common.
To that end, Landed pairs you with a so-called "partner agent," which is a local real estate agent from the Landed agent network.
These agents are apparently "high-performing, vetted, trained, and committed to our mission of supporting essential professionals."
Anyway, once you and your partner agent make an offer, you can utilize the shared equity down payment program to get your mortgage.
How Landed Makes Money?
They receive a fee when you use one of their real estate agent partners
Fee is 0.75% of the purchase price, paid for by the agent
Landed also makes an investment in your home in exchange for down payment funds
And receives 25% of the gross appreciation when you sell your home
Once you sell, Landed will get a portion of the appreciation in your home.
For example, if you buy a $500,000 home, but only have $50,000 for down payment, Landed will chip in an additional $50,000.
This gives you a combined down payment of $100,000, or 20% of the purchase price.
In exchange for that $50,000, Landed receives 25% of the investment gain (or loss).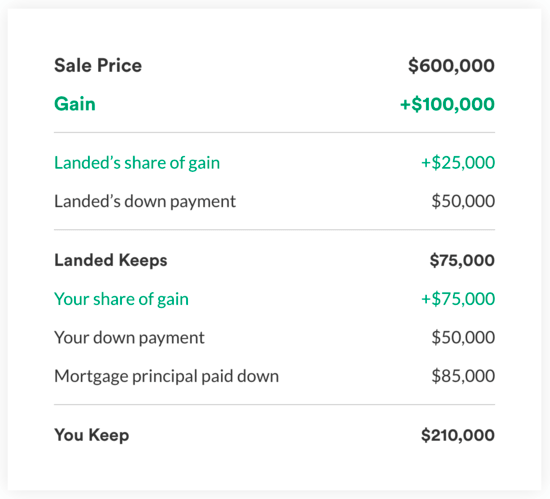 If the home value increases to $600,000, they would receive $75,000 at closing.
If the home were to fall in value to $400,000, and you had to sell, they'd share in the loss by only taking $25,000 of the original $50,000 invested.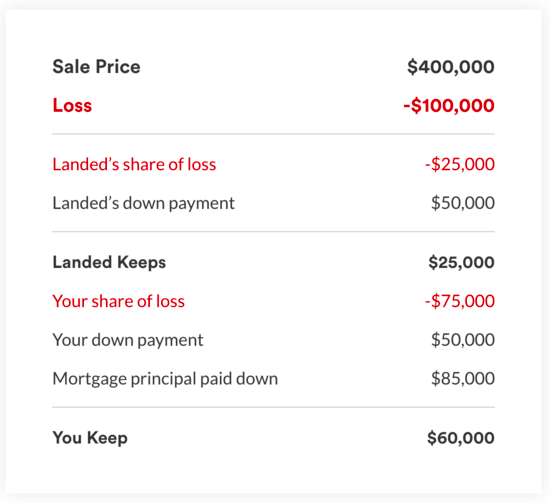 For every 1% Landed contributes toward your down payment, they share in 2.5% of the appreciation (or depreciation, if applicable).
Additionally, Landed receives a fee from the partner agent, which appears to be 0.75% of the purchase price, upfront.
So on our hypothetical $500,000 purchase, they'd receive $3,750, in addition to what they make on their investment.
The beauty is it comes from the agent, not the home buyer, keeping things affordable for those who need it.
You are able to use an out-of-network real estate agent or no agent at all, but if so, you must pay the 0.75% fee, or have it covered by the out-of-network agent.
Landed Home Loans
Launched in March 2020
Joint venture between NewRez and Shelter Mortgage
A Denver, Colorado-based mortgage lender for educators and essential professionals
Aims to streamline loan origination process for its unique customers
Last week, the company also announced the creation of "Landed Home Loans," which is a joint venture between NewRez and Shelter Mortgage, which is a NewRez business division focused on JV lending.
The new company, which is based in Denver, Colorado, will provide a "centralized platform with a customized origination and operations system, designed specifically for its customers."
In other words, they should know exactly how to structure these deals so they breeze through underwriting without any hiccups, given the unique structure of the loan.
Before Landed Home Loans came along, and perhaps still, you could use a participating lender from their network, which included the likes of Bank of the West, Guild Mortgage, and TIAA.
But with Landed Home Loans in the picture, the company has more control over the entire process from start to finish, and stands to make more money with the lending piece in place.
All told, they can make money on the real estate agent fee, the lender fee, and investment in the property over time.
Who Is Eligible for Landed?
You don't need to be a teacher but must work for a school
First-time home buyers and repeat home buyers are acceptable
Must provide a minimum 5% down payment (10% in Bay Area)
Must have 2+ years experience working at any public educational institution
Can get most types of conventional mortgages including fixed-rate and adjustable-rate mortgages
The program is currently available in a handful of traditionally more expensive metros throughout the United States.
This includes Boston, Denver, Los Angeles, Portland, San Diego, San Francisco, Seattle, along with Hawaii and Washington DC.
You must be an employee of a public educational institution in a specific school district in those metro areas. This includes elementary schools, middle schools, high schools, charter schools, colleges and universities.
You must have 2+ years of experience working at any public educational institution (doesn't need to be your current employer), with a year being 20 hours per week for at least 12 weeks during an academic year.
The home must be used as your primary residence for at least a year before you rent it out, and you must stay with your current employer for at least two years after closing.
Lastly, you must qualify for a mortgage with a participating lender, and come in with at least a 5% down payment (gift funds are OK).
Those buying in the Bay Area need at least a 10% down payment.
Why Use Landed to Buy a Home?
In short, Landed makes home buying affordable to folks who might not otherwise qualify due to the large down payment requirement.
Additionally, because of a larger down payment, there is a smaller mortgage left over, which results in a lower monthly payment.
The 20% down payment also eliminates the need for private mortgage insurance, which can add to the cost of the total housing payment.
While a piggyback mortgage could accomplish the same thing, it would require two monthly mortgage payments, potentially putting a strain on affordability.
Lastly, home buyers who come in with a larger down payment may have a better chance of getting their offer accepted in competitive housing markets.
The own downside is you share some of your appreciation with Landed, so when it comes time to sell, your proceeds will be smaller.
But it also means less of your own money is tied up in your home and at risk.
With regard to refinancing, you're able to apply for a rate and term refinance without issue, but they don't want you pulling out cash beyond your original loan amount.
However, if you pay down the loan over time, you can borrow more up to your original loan amount.