Sometimes I'm surprised I miss the most basic of mortgage definitions, seeing that this blog has been around for more than a decade, but alas, I've never written about occupancy specifically.
So without further ado, let's talk about the three main types of occupancy with regard to qualifying for a mortgage because they're pretty important.
Mortgage Occupancy Type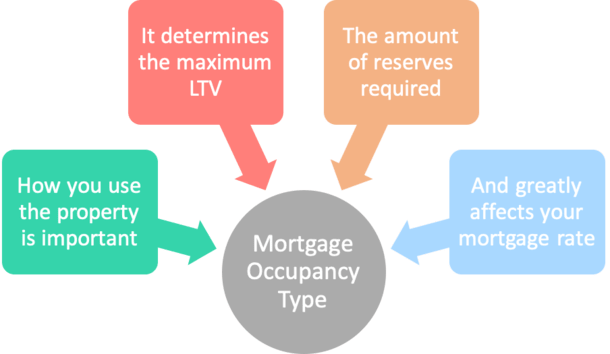 Primary Residence (Where you live)
This is the property you live in all or most of the year
Underwriting guidelines are easiest for this property type
And mortgage rates are the lowest
This is your standard owner-occupied property, a home or condo you plan to live in full time. Or at least the majority of the time. It may also be referred to as your principal residence.
It can be a single-unit property or a multi-unit property, but you must live in it most of the year.
The property should also be reasonably close to where you work, if applicable, and you must sign a form that says you plan to occupy said property shortly after closing.
Now the good news. Since it's your primary residence, mortgage rates are the lowest, and it's also easier to get a mortgage because guidelines are more flexible. This means you can potentially put less down or refinance at a higher loan-to-value (LTV).
We're talking a 3% down payment mortgage, which is pretty much the lowest down payment you can get away with unless the lender has a zero down program, which again would likely only work on a primary residence.
Additionally, you can get all types of different loans, from an FHA loan to a VA loan to a USDA loan. There are few restrictions because it's a property you intend to occupy.
For this reason, unscrupulous borrowers will sometimes try to fudge the occupancy and say they live in the property, even if they don't intend to. This is not a matter to be taken lightly as it constitutes fraud.
If you're a real estate investor, or simply own more than one property, it's imperative that your bank statements and other important documents are mailed to your primary residence each month.
If you claim one house to be your owner-occupied property, but your bank statements and other financial materials are currently going to another one of your properties, it's a red flag.
The mortgage underwriter will surely question the occupancy, and your mortgage application will very likely be declined.
Here's a common scenario. A borrower submits a home loan application for the subject property as their primary residence.
When conditioned to provide verification of assets, they use bank statements from another property they own and the file gets declined for occupancy fraud.
In the eyes of the bank/mortgage lender and the investor, it doesn't make sense for a borrower to send bank statements, cable bills, and other financial statements to a property they don't occupy for the sheer reason it wouldn't make sense if you didn't live there.
Banks and lenders will likely decline a file if it's listed as owner-occupied, or at best they'll counter the borrower to re-submit the loan as an investment property.
Anyway, if the property in question will be the home or condo you plan to reside in, it is considered your primary residence.
Second Home (Where you vacation)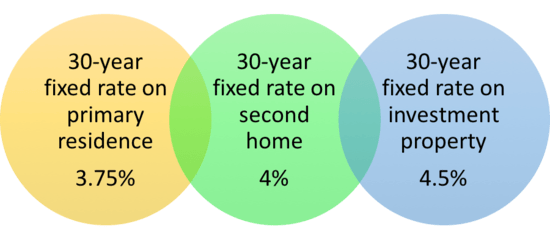 A second home is another way of saying vacation home
Not necessarily that you own two homes
Should be in a vacation area far from your primary residence
Can only be a single-unit property and mortgage rates can be slightly higher
Then we have the second home, which as the name implies, is secondary to your primary residence.
In a nutshell, this means you already have another home you live in full-time, or most of the year, along with this secondary property, which is often referred to as a vacation property.
Think your cabin by the lake, or your ski chalet up in the mountains. Or perhaps your beach house, if you happen to be so lucky.
Distance is a factor here by the way, as is location. Lenders generally want it to be at least 50-100 miles away from your primary home, though exceptions are allowed if it makes sense.
For example, if you live inland and have a beach house 30 miles away.
It should also be a single-unit property, for obvious reasons. And you should occupy it for some portion of the year.
Put simply, it has to make sense as a second home, otherwise the lender may think you're going to rent it out.
Because the property isn't your primary, there will likely be a pricing adjustment for occupancy. This has to do with risk.
In the event of financial distress, a borrower is more likely to stop paying on their second home as opposed to their primary. This means mortgage rates must be higher to compensate.
Expect a rate that is higher, all else being equal. How much higher depends on all the loan attributes, but maybe .125% to a .25% higher than a comparable loan on a primary.
Altogether, not too bad. The illustration above might give you a sense of what to expect.
Also note that there will be LTV restrictions as well, meaning you'll need a larger down payment for the purchase of a second home, or more equity if refinancing the mortgage. Chances are you'll need 10% down, or a max LTV of 90%.
You may also find that mortgage credit score requirements will rise, so you might need a minimum credit score of 680 instead of 620.
Note: Most underwriting guidelines allow you to rent out a second home for a portion of the year as long as you ALSO occupy it during the year. But it can't be subject to an agreement that requires the property to be rented.
Additionally, you won't be able to use any rental income from the property to qualify for a home loan.
Investment Property (The one you rent out)
This is a rental property
Can be condo or home, single-unit or multi-unit
Typically requires a large down payment
And mortgage rates can be much higher to account for risk
Finally, we have the investment property, which again as the name makes abundantly clear, is a property you plan to hold as an investment of some kind.
This generally means it will be rented out, and that it will generate income. This type of occupancy comes with the most restrictions because someone else other than the borrower will be living in the property.
Additionally, the borrower will be a landlord, which isn't as easy as it might sound. That all equates to more risk, which results in more LTV restriction and higher mortgage rates.
You might be looking at a max LTV of 85%, meaning a minimum 15% down payment. This can get more restrictive if it's a 2-4 unit property. If you want cash out, expect an even lower max LTV.
Also expect higher asset reserve requirements and higher minimum credit scores.
As far as rates go, it could be .50% to 1% higher than a similar loan on a primary residence, depending on all the loan details. It can get really pricey if the LTV is high and it's a 4-unit property, for example.
In other words, it'll be harder to qualify and you'll have to pay more to finance your non-owner occupied property.
The takeaway here is that it's easiest (and cheapest) to finance a primary residence, followed by a second home, and then finally an investment property.
Each has different rules and guidelines that borrowers must adhere to if they want to qualify for a mortgage. Knowing this beforehand is important to avoid any unwanted surprises.