A couple of weeks ago I wrote about Quicken Loan's first Super Bowl ad, which was pre-released before the big game.
My takeaway at the time was that a mortgage didn't really need to be rushed, seeing that it's a momentous decision that requires plenty of time and thoughtful research.
Once the ad finally aired during yesterday's game, the outrage surfaced online via scores of blog posts and angry tweets.
Lots of folks likened the company's Rocket Mortgage to the return of subprime lending, stated income underwriting, the year 2008, etc.
Was Quicken's Rocket Mortgage a return to loose underwriting? Were they ignoring the fact that these poorly underwritten mortgages got us in a heap of trouble just eight years earlier?
How can a mortgage you apply for on your iPhone be of high quality?
Well, it seems most critics kind of missed the mark here. In reality, Quicken is still underwriting their mortgages to agency guidelines.
In fact, they say so time and time again on their Twitter feed in the wake of a barrage of questions and comments about their underwriting standards.
The @QuickenLoans Twitter handle was busy fielding the same question all day, most of the time writing something like the following: "We adhere to strict guidelines for credit, assets and debt-to-income ratio. We thought the process was slow and confusing."
It Might Be Easier to Get a Mortgage, Not Easier to Qualify
Here's where all the confusion seems to lie. Quicken's attempt to simplify the mortgage process is being confused with simplified underwriting criteria.
In the now infamous commercial, the narrator speaks about turning an "intimidating process into an easy one," adding that you can now get a mortgage on your phone with their app.
Quicken believes if it were that easy to get a mortgage, more people would buy homes, which would then stimulate the economy as these folks purchased furniture and blenders and all sorts of contents for their new homes.
This, they say is, "the power of America itself."
But instead of providing an uplifting, empowering moment, it led to a storm on Twitter.
I checked out Quicken's Twitter feed and found a whole lot of angry people asking why the company would/could possibly resurrect the mortgage crisis. Had they not learned from 2008?
Just look at this collection of tweets from Twitter user @WalkableWPB: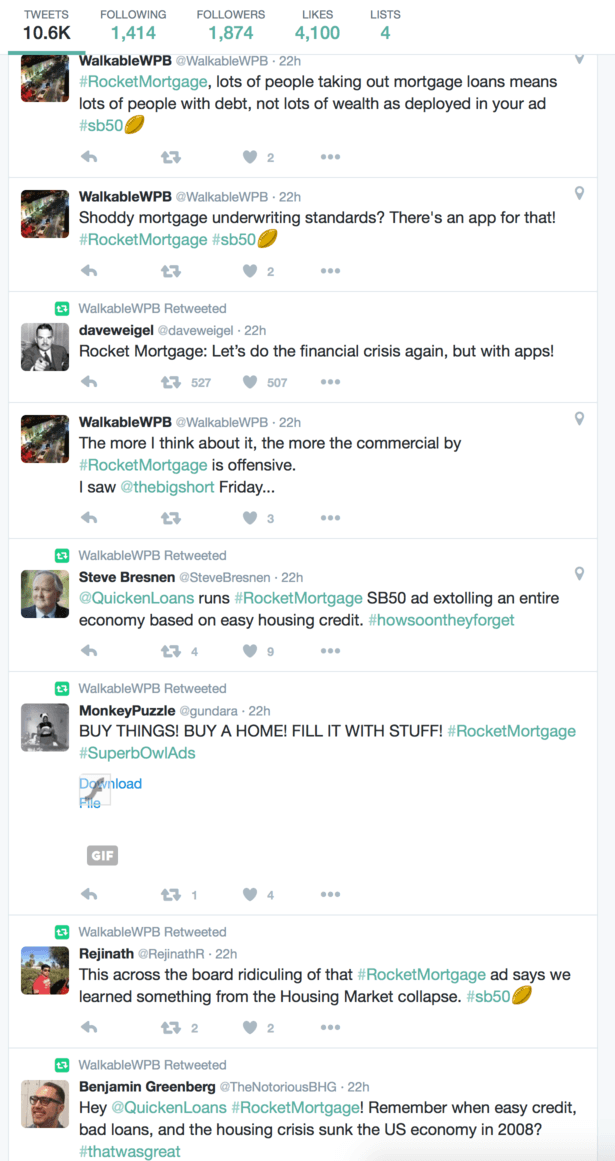 Technology Backlash
People don't seem to like the fact that you can get a mortgage with your smartphone. Instead, they seem to want to stick to the bureaucratic, paperwork intensive route we've all come to know and love over the years.
The problem is that this has absolutely nothing to do with qualifying. It has to do with the loan process.
As far as I can tell, Quicken will still underwrite your loan file as any other bank would. They will verify your employment, your income, your assets, make sure your DTI is acceptable, that your credit history is adequate.
They'll just be doing it with less paperwork, similar to how one can integrate financial documents via TurboTax. Those documents are still verified, you just don't have to print them and fax them anywhere.
I'm sure people were up in arms when online banking first surfaced. And there are still plenty of individuals who only cash their checks in a branch as opposed to snapping a photo and using mobile deposit.
But it's really just a matter of preference. Those checks must still be genuine if you actually want them to cash. Otherwise they'll bounce. Is it more legitimate if you hand a paper check to another human being wearing a tie?
At the risk of sounding like a corporate shill, I don't think Quicken did anything wrong here. Sure, they want you to buy a home so they can make a loan for you. They're clearly an interested party. And no, not everyone should buy a home. In reality, we can't all buy homes and propel the economy to greatness.
But a lot of the comments I've seen seem to be misguided. Of course, at the end of the day, this could have been exactly what Quicken Loans wanted. A silly controversy that everyone is talking about on Monday.
Heck, I'm sure a lot of people are hoping it is in fact easier to qualify for a mortgage with them.
(photo: Reinhard Link)