Ever wonder what share of borrowers are taking out a 15-year mortgage as opposed to a standard 30-year fixed? Or an ARM instead? Well, I was, and so I went looking for the data.
Fortunately, I was able to track down some of the details thanks to the Urban Institute, which provided me with some great statistics since the year 2000.
As you might expect, the 30-year fixed is the king of mortgage originations, though its dominance has been tested over the years. And it does depend if we're talking about all originations, or just purchases.
Mortgage product type choice definitely varies if we're talking about a refinance as opposed to a home purchase since borrower needs change over time.
Put simply, it's more common for a borrower to choose the 15-year fixed when refinancing a mortgage, and a lot less likely to use one to buy a home.
Why is this? Well, generally borrowers will go with a 30-year term because it increases affordability, meaning they can buy more house at the outset.
Later, once they've built some equity (hopefully), they can refinance into a shorter-term fixed loan, such as the 15-year fixed, to save on interest and also ensure their loan term isn't extended from the original maturity date.
Nearly 90% of Purchase Mortgages Were 30-Year Fixed Mortgages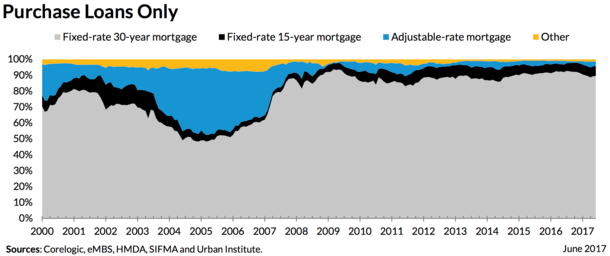 The 30-year fixed is easily the most popular type of home loan available
It has been for decades and probably will be for the foreseeable future
Largely because it's the cheapest and most pitched mortgage product
Ultimately ARMs are too risky for most homeowners and the 15-year fixed is too expensive
I spoke to the dominance of the 30-year fixed, and perhaps that was an understatement. The 30-year fixed claimed nearly 90% (89.5%) of the purchase market in June 2017, per data from Corelogic, eMBS, HMDA, SIFMA and Urban Institute.
It was actually higher at many times over the past 12 months, hitting 92.6% in July 2016.
Back in January 2000, the oldest month where there is data, the 30-year fixed accounted for just 70.3% of purchase mortgages.
Its lowest share since then was in December 2004 and March 2005, when it was selected on just 48.3% of new purchases.
In those same months, the adjustable-rate mortgage share was a staggering 41%. The ARM share continued to be quite high leading up to the housing crisis that ensued a few years later.
But in June 2017, the ARM share was a measly 3% of new purchase loans, which tells you today's home buyer has very little interest in anything other than the safety of the 30-year fixed.
And only 6.1% are interested in the 15-year fixed, or perhaps only a small handful can actually afford the higher monthly payments thanks to DTI restrictions.
30-Year Fixed Less Dominant on Refinances
While still easily number one, the 30-year fixed is less popular when we consider refinance loans
You can thank the 15-year fixed mortgage for that
It's a common choice for those looking to avoid resetting the clock
Since you can avoid a new 30-year term and also snag a lower interest rate
When it comes to refinances, the 30-year fixed is still the product of choice for most borrowers, but less so.
Per the latest data, the 30-year fixed held a 76.7% share of ALL mortgages in June. Meanwhile, the 15-year fixed grabbed a larger 14.3% share, while ARMs still held a paltry 3.3% share.
If we go all the way back to January 2005, we see the low point for the 30-year fixed across all mortgage originations. At that time, only 44% of borrowers chose it.
During the same month, the ARM-share was 38.7%, while the 15-year fixed grabbed a 9.9% share.
Back in January 2000, the 30-year fixed share was at 59.5%, while the 15-year fixed held 10.9%, and ARMs 21.5%.
So the 30-year fixed is still very popular, though not quite as much as it was back in December 2008, when its market share across all mortgages peaked at 88.4%.
The 15-year fixed peaked at 26.8% in April 2003 across all origination types. And ARMs peaked at 42.1%.
Market Share of All Mortgage Originations Since 2000
30-year fixed low: 44% (January 2005)
30-year fixed high: 88.4% (December 2008)
15-year fixed low: 4.2% (July, September 2007)
15-year fixed high: 26.8% (April 2003)
ARM low: 0.7% (April 2009)
ARM high: 42.1% (April 2005)
Market Share of Purchase Originations Since 2000
30-year fixed low: 48.3% (December 2004, March 2005)
30-year fixed high: 93.7% (March 2009)
15-year fixed low: 2.4% (Feb-May 2007)
15-year fixed high: 15.5% (Jan-Feb 2002)
ARM low: 0.5% (April 2009)
ARM high: 42% (April 2005)