Just five percent of homeowners who recently got approved for mortgage forbearance actually needed it, according to a shocking survey from home loan comparison company LendingTree.
The company said 70% of those in forbearance plans could have made mortgage payments, but "wanted a break."
While 26.2% said they would have had to "skip other essential bills," which is interesting because borrowers historically pay the mortgage first.
The trend was even more apparent among younger generations, with 71% of Millennial and Gen X respondents saying "they could've made their payment but just wanted a pause."
And only 4.3% of these two groups on average indicated that they wouldn't have been able to pay the mortgage without forbearance.
Meanwhile, 20% of baby boomers said they actually needed forbearance to avoid missing their mortgage payment, despite being less likely to apply for assistance.
The Moral Hazard of Mortgage Forbearance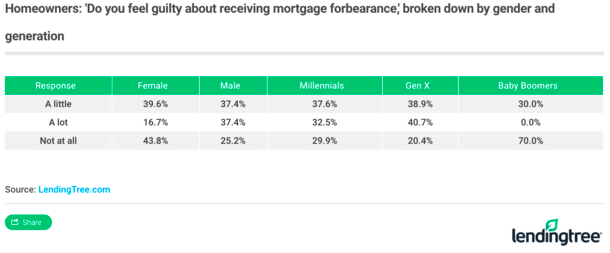 CARES Act offers mortgage forbearance to homeowners with no proof of hardship
Allows borrowers to voluntarily accept assistance even if not necessary
Just 5% wouldn't have been able to pay their mortgage without forbearance
72% who received forbearance feel "at least a little guilty about it"
While you would expect that most people who asked for mortgage forbearance to actually need it, turns out it's just not the case.
This might explain why a large number of those who successfully received it feel some level of guilt.
A staggering 40.7% of Gen X respondents said "a lot" when asked if they felt guilty about receiving mortgage forbearance.
Males also seemed to express more guilt, at a rate of 37.4% versus just 16.7% for females in the "a lot" category.
Some of that guilt might be shame, knowing they signed a contract to pay a mortgage and didn't hold up their end of the bargain.
Of course, no one should feel too bad about being blindsided by a pandemic, unless they have absolutely no problem paying and are just using the forbearance as a liquidity boost.
This speaks to the dilemma policymakers face when dealing with a fast-moving crisis.
The CARES Act allows homeowners to request mortgage assistance with basically a phone call or a letter, with no evidence of hardship.
This was done to ensure borrowers weren't stuck in a bureaucratic nightmare, but may have had unintended consequences.
There is an assumption that some homeowners applied just because they could, since who doesn't like no mortgage payments for six or 12 months?
Especially when the missed payments don't have to be repaid until you refinance the mortgage or sell the home.
Higher-Income Borrowers More Likely to Get Approved for Forbearance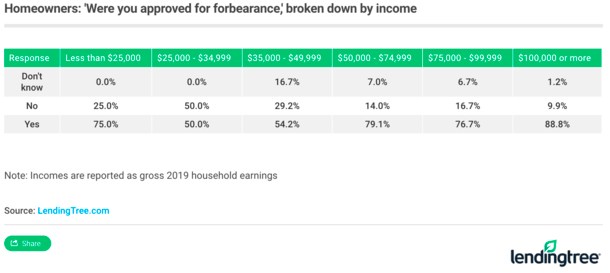 Perhaps more troubling, those with higher salaries have seen better mortgage forbearance approval rates.
As you can see in the chart above, nearly 90% of applicants making $100,000 or more got the green light.
Conversely, just 50% of homeowners making $25,000 to $34,999 successfully received forbearance from their loan servicer.
While LendingTree said one explanation could be that servicers expect higher-income homeowners to repay missed payments, I wonder if it's for another reason.
It's possible the confusing and sometimes misleading language surrounding mortgage forbearance may have led some folks to think they didn't qualify, or to put up less of a fight if servicers weren't forthcoming.
Regardless, it's not a good correlation and just shows more help is going to those who may need it the least.
The Argument for Taking Forbearance Even If Not Necessary
Should you apply for mortgage forbearance even if you don't "need it?"
LendingTree refers to it as a "good strategy for managing your personal finances"
Says it's one way to preserve cash and provide budget wiggle room during the COVID-19 pandemic
Could argue that it provides a lifeline if assistance is needed eventually
Sure, we can sit here and point the finger at homeowners for requesting mortgage assistance even if they didn't explicitly need it.
But it's not necessarily that simple because no one really knows how bad this pandemic will get, nor how long it will last. Some reasonable projections have it going 18-24 months.
So it's fair to argue that taking the forbearance plan while it's being offered can act as a safety net assuming things get worse.
In reality, a lot of homeowners don't know if or when they'll be affected by COVID-19 or how long they could be out of work.
They might not need the assistance this month or next, but there's a decent chance they may need to skip some mortgage payments in the near future.
Perhaps the scariest part of losing your job during this crisis is finding another one.
Same goes for owners of investment properties who have tenants paying the rent today, but maybe not tomorrow.
This might explain why a third of borrowers in mortgage forbearance plans have continued to make payments.