Nationstar Mortgage, which was once on the brink of failure, officially announced its name change to "Mr. Cooper" in August 2017 in what appeared to be an effort to make a fresh start with a more appealing and consumer friendly image.
Back in late 2007, the company nearly went under along with other big-name lenders at the time. But they persevered and are now reinventing themselves completely.
Mr. Cooper Fast Facts
Publicly traded company (NASDAQ: COOP) founded in 1994
A top-15 mortgage originator located in Dallas, Texas
Originally began as the in-house mortgage lender for home builder Centex Homes
Funded nearly $16 billion in home loans via retail channel in 2019
Also operates a correspondent lending channel (shuttered its wholesale division in 2020)
Third largest home loan servicer in the United States
At first glance, the name Mr. Cooper sounds strange for a mortgage lender, but it kind of aligns with the hipster mortgage lenders that seem to be making their way to the forefront these days.
Some examples include Clara, SoFi, and Homie, all of which are appealing to Millennials instead of baby boomers, with fresh marketing tactics and less of that stale, serious financial stuff no one seems to be interested in anymore.
Heading down to the bank and sitting down with an associate at a big oak desk doesn't really fly these days for most people.
They'd rather sit at their own desk and shop mortgage rates, learn about loan programs, and apply for a mortgage without speaking to a human. And there's nothing wrong with that.
Who Is Mr. Cooper?
A new brand/image from the mortgage lender formerly known as Nationstar Mortgage
It replaced their existing name and is intended to be warmer and more approachable
The aim is trust, something not always present in the mortgage business
The new branding effort by Nationstar Mortgage, now Mr. Cooper, is supposed to encapsulate their renewed way of doing business.
They aim to be the "friendliest" and "most trusted" folks in the mortgage business, so we'll assume the Mr. Cooper moniker is a play on that old-timey nice customer service guy.
I'm picturing the milkman of old, or perhaps the friendly neighborhood mailman.
There's a good chance one of those people in your life was actually named Mr. Cooper.
And who could forget the 1990's TV show "Hangin' with Mr. Cooper," which featured a very likeable, friendly ex-NBA star turned P.E. teacher?
Simply put, Nationstar is trying to make mortgages cool again – because they were cool once, right?
It sounds a little like something out of credit card issuer Discover's playbook, with their quirky customer service ads and customer-first approach.
What Mr. Cooper Offers
Purchase loans, rate and term refinances, and cash-out refis
Conventional loans backed by Fannie Mae and Freddie Mac
Government home loans: FHA loans, USDA loans, and VA loans
Jumbo home loans
Mr. Cooper is a standard mortgage lender in that they offer home purchase loans and refinance loans. This has made them a top-20 home loan lender in the nation.
They have all the typical offerings, including conventional loans that meet the underwriting guidelines of Fannie Mae and Freddie Mac, along with government home loans like FHA loans and VA loans.
Additionally, you can get a jumbo loan from Mr. Cooper, though it's unclear how high they'll go.
In terms of loan programs, they've got the 30-year fixed and the 15-year fixed, along with a variety of ARMs, including the 3/1 ARM, 5/1 ARM, and the 10/1 ARM.
To put their money where their mouth is, Mr. Cooper has moved all customer service centers back to the United States.
That means you'll hopefully be able to communicate with someone about important loan servicing and payment details. That's always a plus.
They're also the third largest loan servicer nationwide, with some three million customers.
Apparently they service 98% of the loans they originate, which can be a plus if you're sick of your mortgage being sold off to an unknown company each time you buy or a refinance.
Additionally, they won't charge online transaction fees for mortgage payments made via the web. Not sure if they used to charge for this option, but if so, that's a bit outdated.
Most lenders will let you pay online free of charge. You might just have to set up a recurring payment from your linked bank account first.
Mr. Cooper also has a correspondent lending division for mortgage professionals who want to resell their loan products to consumers.
They offer conforming mortgage loans via this channel and are a direct seller to Fannie Mae and Freddie Mac, and a Ginnie Mae issuer.
Mr. Cooper Mobile App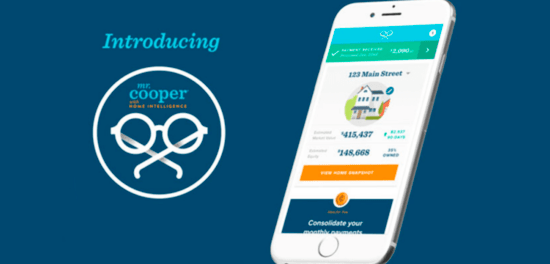 The mortgage company is launching a smartphone app
That harnesses the power of artificial intelligence (AI)
Known as Home Intelligence
It keeps an eye on your home, mortgage, and overall finances
Beginning in summer 2018, the Mr. Cooper with Home Intelligence app will be available to all customers, with plans to open it up to outsiders after that.
The app will provide a snapshot of your property that is mortgaged with Mr. Cooper, including its estimated value, neighborhood trends, and your projected home equity.
That last bit is important because the company can use that data to make recommendations, such as a cash out refinance to eliminate credit card debt, or alternatively taking out a second mortgage.
Additionally, you'll be able to see how much an extra payment toward your mortgage would lower your balance and how much it could save in interest.
You'll also be able to get in touch with Mr. Cooper employees via the app if you have specific questions or want to apply for a home loan.
It's basically a smart way for the company to keep in touch with its mortgage customers, as opposed to handing them a loan and never hearing from them again.
Loyalty in the mortgage industry is tough to come by, so this might be a step in the right direction on that front.
Mr. Cooper Mortgage Rates
They notably do not advertise their mortgage rates
But they do talk about them on their website
They say they want to find you the lowest rate possible
But that the best option might not be chasing a 'rock bottom rate'
It appears Mr. Cooper is doing some heavy branding to become a household name in the mortgage business.
As such, they probably won't offer the lowest mortgage rates around, seeing that branded companies selling a commodity can usually fetch a higher price for it.
It's not to say their mortgage interest rates will be higher than the competition, it's just possible that you'll be able to find a lower price elsewhere if you take the time to shop around.
If they felt their rates were second to none, they'd probably prominently display them for all to see.
This doesn't mean you shouldn't include them in your home loan search, it just means you should consider a variety of companies and gather multiple quotes.
Mr. Cooper Lender Fees
They charge a flat $995 origination fee
And a mortgage application fee
Along with shoppable third-party closing costs
And non-shoppable third-party closing costs
In terms of fees, they charge a $995 flat loan origination fee, which is fine I suppose. Some of the new disruptors aren't charging this fee at all. But a lot of banks still charge even more.
The question mark is the additional mortgage application fee, which doesn't come with an advertised price.
This appears to cover things like loan underwriting and processing, which again might be fine, but we don't know how much it is.
At the end of the day, you need to know how much you're being charged in fees, along with what your interest rate is, to determine if it's a good deal or not.
Mr. Cooper Real Estate Rewards
Through a partnership with Xome
Property owners pay only 3.99% to sell their home instead of 5-6%
Get a 15% rebate on buyer agent's commission when you buy a home
Not available in all states currently
The mortgage lender has also partnered with Xome (owned by Nationstar) to help prospective borrowers buy and sell homes.
Xome is an iBuyer that allows buyers and sellers to forego real estate agents and the associated commissions, but it also features a network of real estate agents for those who still want a helping hand.
The so-called "Mr. Cooper Real Estate Rewards" program offers home sellers a discounted commission of 3.99% vs. the traditional 5-6%.
And home buyers can get 15% of the buyer's agent commission rebated to them at closing, which is referred to as the "Buyer Bonus Credit."
It appears Mr. Cooper wants to be involved in every aspect of the real estate process, from home search to buying and selling, financing, and finally loan servicing.
Mr. Cooper Home Rewards Credit Card
A mortgage-centric credit card also features in their product mix
Known as the Mr. Cooper Home Rewards MasterCard
Allows customers to pay down their mortgages using credit card rewards
Comes with $100 bonus upon first purchase using the card
3% rewards at home improvement stores, 1.5% on all other purchases
No annual fee
Lastly, there is the Mr. Cooper Home Rewards MasterCard, which as the name implies, means you'll be able to turn your credit card rewards into extra mortgage payments.
Basically, rewards earned for normal everyday spending with the card can be applied to the principal balance of your mortgage. That can save you interest.
This isn't a new concept, but not a lot of credit card issuers don't offer it. Of course, most card issuers offer cash back, which you could simply deposit into your bank account, and then use to pay off your mortgage early.
The Mr. Cooper Home Rewards card is just a lot more streamlined, which is a good thing for those who lack discipline.
You earn a $100 bonus after first purchase, which is applied to your unpaid principal balance.
And 3% back for home improvement purchases and 1.5% for all other purchases.
This cash back is then automatically applied to the unpaid principal balance of your home loan every time your rewards balance reaches at least $25.
Mr. Cooper Mortgage Reviews
On Trustpilot, they have a 4.5-star rating out of 5, based on about 1,000 customer reviews.
On Zillow, they have a 4.98-star rating out of 5, based on just 43 reviews.
While these reviews are generally excellent, they have a ton of not-so-good reviews on the Better Business Bureau website. They are also not BBB accredited.
Additionally, there are a ton of complaints on the BBB website from disgruntled customers.
The question is whether most of these are for loan servicing as opposed to loan origination.
But this is the problem with being such a large company, and for commingling loan origination with loan servicing.
Of course, Quicken Loans does the same thing, so it's unclear what's going on.
Mr. Cooper Mortgage Pros and Cons
The Good
Licensed in all 50 states and Washington D.C.
Offer plenty of loan programs
A free smartphone app
Mr. Cooper Real Estate Rewards program
The Mr. Cooper Home Rewards MasterCard
Mostly good reviews from past customers
They service 98% of the loans they fund
100% U.S.-based customer support
The Potential Bad
Do not advertise their mortgage rates
Charge a $995 loan origination fee
Website can be hard to navigate
Don't seem to be able to apply online without contacting them first
Lots of customer complaints on BBB website
There definitely seems to be a sea change happening in the mortgage industry.
We've seen our first e-closing (remote signing of loan docs) and it seems the old brick-and-mortars are taking the mortgage disruptor challenge seriously.
Just ask Chase, which recently unveiled plans for a so-called digital mortgage experience.