In a bid to increase its listing business, Redfin has launched a new tool called the "Price Whisperer," which aims to find out the value of your home before you list it.
By value, I mean what someone is willing to pay for it at any given time. The way it works is pretty interesting.
First, you enter your address and contact information, along with your "Test Price," assuming you don't want Redfin to figure that out for you.
Then a Redfin agent will contact you to iron out the details of your Whisper, including the number of bedrooms and bathrooms, square footage, some pictures, and will probably discuss your "hoped-for price."
From there, Redfin will attempt to garner interest for your proposed asking price by sending e-mails to active buyers searching in your property's area. They estimate an average of 200-300 potential buyers will be contacted.
The e-mail asks these prospective homeowners if they'd be interested in your home at the price you set, as seen in the image below: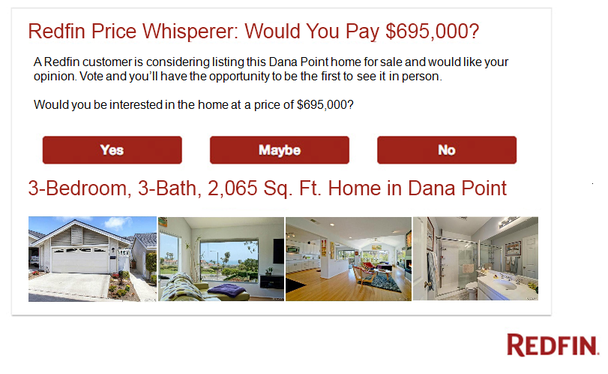 As you can see, there are three options: Yes, No, or Maybe. Within 48 hours you will receive a report on their responses.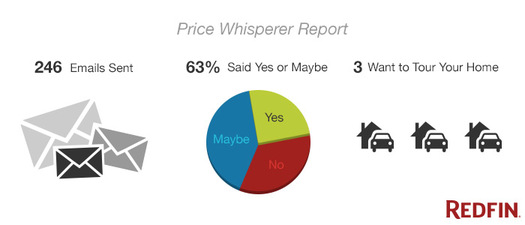 Those who respond first indicating that they want to see your property in person will get first dibs at touring your house, assuming you actually decide to sell it.
At the moment, Price Whisperer is available to both homeowners who have decided to use Redfin to list their home and also those who aren't even quite sure they want to sell.
Either way, you aren't obligated to use Redfin, though clearly the company will want to represent the buyer, and will likely get the opportunity in many cases I think.
So far, the company has sent Price Whisperer e-mails on behalf of six homeowners to 1,200 recipients. More than half of those e-mails were actually opened, triple the rate the company normally sees for its e-mails.
And five of the six homes sold, with prices tested "near the top of the market." Of course, conducting a test anytime during the past few months probably yielded stellar results, given how hot the real estate market has been.
Saving Face
But there is a nice advantage to using this tool – you can save face. Instead of throwing up your property on the MLS and discovering that you asked way too much, you can do the research incognito.
This way you don't have to worry about winding up with a stale listing, which often leads to a price reduction, and ultimately a lower selling price.
Oh, and for the record, your address is kept private, though a little bit of sleuthing could make it easy to determine what home it is.
One of their examples was a home located in Dana Point, CA that was listed for $695,000 in mid-May, pending in a week and eventually sold for $701,000 about a month later.
As time goes on, Redfin hopes to gather more data so it can correlate Price Whisperer responses to the eventual sales price of a home, which is kind of like a Zestimate on steroids.
The problem with Zestimates, as I've noted, is that they rely on dated and often incomplete/inaccurate data, and display quite a large range in price. In short, no one ever seems to agree with the valuation.
Redfin hopes to eventually show would-be sellers how many Price Whisperer inquiries resulted in a sale, and if so, how much above or below the test price. This would ostensibly give the seller more confidence when it came time to list. Or even if they should list to begin with.
For example, an underwater homeowner might think they're stuck, only to discover that a prospective buyer would be interested at a price high enough to part with the property as a standard sale.
So finally people can stop arguing and determine what someone will pay right now.

Real Estate Agents Aren't Happy
However, one major concern with the Price Whisperer is that it creates a relationship with a Redfin agent from the get go, potentially shutting out other agents.
Yes, you're under no obligation to use a Redfin agent, but chances are many people will if it's their first point of contact.
Additionally, there's fear that it could create situations where Redfin agents represent both buyers and sellers, though one Redfin agent cannot represent both.
Still, if two agents work for the same company, conflicts of interest can arise.
Some agents also expressed concern that a seller could conduct private tours and possibly sales, or be steered to sell to a buyer with a Redfin agent.
In other words, use the Price Whisperer at your own risk, and don't be surprised if Redfin wants to list your property, or happens to find a buyer represented by one of their agents.
Of course, this type of stuff can happen with standard listings as well, so there's never an entirely conflict-proof situation in the real estate world.