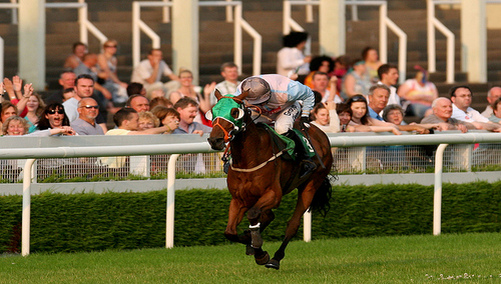 The word "subprime" has undoubtedly been associated with massive losses over the past couple of years, but last Thursday, quite the opposite was true.
It took just one minute and 38 seconds for two-year-old filly "Subprime" to round the one-mile dirt track at Aqueduct Park and collect the $52,800 purse in the ninth race.
Of course it wasn't much of a surprise, given the fact that the horse with the seemingly unfashionable name was the favorite to win the final race of the evening at the storied horse track in Queens, New York.
Subprime, ridden by jockey Richard Migliore, took in $6.30 for the win, edging out Reforestation and Castanet while giving gamblers who took the sure thing something to cheer about it.
And the horse clearly has deep Wall Street roots, having been sired by stallion "High Yield" at the height of the subprime craze.
Funnily enough, back in mid-August, both Fannie Mae and Freddie Mac announced they would no longer purchase or securitize any mortgages deemed "subprime" in New York in accordance with the state's recently passed mortgage bill.
At least something in subprime is working out, aside from all those loan modifications…
(photo: rogerbarker)