A company called ZHome, which can apparently generate an offer to buy your home within 24 hours, is also making it easier for existing homeowners to buy brand news homes.
There are several issues with unloading one home and acquiring another, especially in a red-hot housing market.
Most sellers don't want to deal with any major contingences from the buyer, like the ability to sell their existing home before buying theirs.
At the same time, if all the equity is tied up in the existing home, it's difficult for a homeowner to go anywhere.
Enter the ZHome EZ Trade-Up Program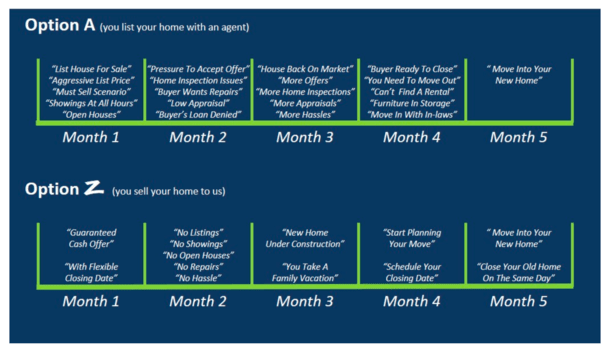 It's difficult to buy and sell a home at the same time
Especially when there is limited inventory on the market
ZHome's EZ Trade-Up Program gives homeowners a cash offer
And a flexible closing date that aligns with the closing of their new home
With ZHome's new EZ Trade-Up Program, homeowners can get a guaranteed cash offer for their existing homes, along with a flexible closing date that aligns with that of the new home.
The company has partnered with William Lyon Homes in Southern Nevada to help homeowners trade in the old for the new.
Because really, who wants to live in a used home? Just kidding, that phrase is silly. Can homes really be used?
Anyway, this is how it works. You provide some basic information about your property to ZHome, set up a time for them to inspect your property, and then they'll send you a free, no obligation offer.
That offer is good for three days, giving you some time to mull it over before proceeding. If you accept, the escrow period will begin.
If repairs need to be done to your existing home, that will be handled by ZHome and deducted from your sales proceeds.
Note that there is a ZHome service fee, which can range from 6-14% of the sales price.
You can involve a real estate agent if you want, but that will also likely deduct money from your sales proceeds. So their fee will need to be absorbed by a higher sales price ideally.
From there, you can select a moving date and a ZHome Pro will assist you all along the way. You can pick a date anywhere from 7 to 60 days from the date your offer is accepted.
They will also provide you with up to seven extra days post-closing to complete your move-out, if need be.
It's actually a really good idea, at least the teaming up with home builders part. Facilitating the juggling of properties will certainly sway some folks to trade their old house for a new one, not to mention make it easier on mortgage lenders.
You Can Also Buy a ZHome
Because ZHome buys properties from homeowners
They also have an inventory of homes available for purchase
The homes come with a two-year home warranty
And if you use their preferred lender you can get some of your closing costs covered
If you're wondering what ZHome does with all the homes they buy, well, they sell them.
You can buy a home from them as well, all of which appear to be located in the Las Vegas area at the moment.
The homes are accessible from 6am-9pm every day using a smart lock system that allows you to enter the property without a ZHome employee or real estate agent. But a ZHome Pro is also available to assist you in viewing their homes.
They work with preferred lenders that can provide you with a mortgage pre-approval, and if you wind up using one of those companies, ZHome will pay 1% of your allowable closing costs.
It's unclear if their mortgage financing is expedited as well, but they claim to handle all the paperwork from start to finish to move things along.
Lastly, they provide a two-year home warranty to mitigate any unexpected out-of-pocket costs that may pop up.
Similar companies exist, including Opendoor with its trade-in program, and there's also the new Zillow Instant Offers and recently launched Redfin Now.
It seems instant gratification is the name of the game nowadays, even if you don't necessarily sell for top dollar. I guess convenience is king in real estate too.