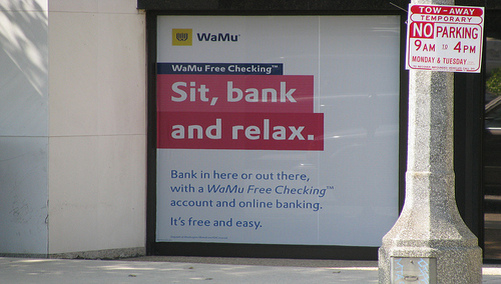 So much for the merger with Chase; instead the largest bank failure in U.S. history.
Late Thursday evening, Washington Mutual was shut down by the Office of Thrift Supervision (OTS) and the FDIC was named receiver, making it the 13th failure of the year.
At the same time, JP Morgan Chase acquired the assets of the failed thrift for $1.9 billion, essentially protecting both the bank and the FDIC from a run on deposits that could have been much more spectacular than the Indymac bank run.
The OTS noted that depositors had pulled out $16.7 billion in deposits since September 15, essentially sapping liquidity and leading to the bank's collapse.
Chase will take on the company's 2,200 retail branches, $188.3 billion in deposits, and its $176 billion loan portfolio.
FDIC Chairman Sheila C. Bair said the move is "simply a combination of two banks," and that it will be business as usual come Friday morning.
However, it's not business as usual for shareholders, who will likely be wiped out when the company files for bankruptcy protection.
Last week, Goldman Sachs was reportedly shopping the ailing thrift, garnering interest from a number of banks, including Citi, Wells Fargo, Chase, and Banco Santander.
But ultimately none of the above seemed interested in acquiring the Seattle-based bank's toxic portfolio of mortgages, many of which are default-prone option-arms.
It's been a tough year for WaMu, who halted wholesale lending, shut much of its retail mortgage operation, and raised $7 billion from TPG as record losses took their toll on the bank.
Just over a week ago, the bank and mortgage lender said its capital levels were well above requirements for "well capitalized" institutions.
Shares of WaMu fell $1.53, or 90.30%, to 16 cents in trading Friday on Wall Street.