Conventional wisdom would lead us to believe that consumers go with the mortgage lender that offers the lowest interest rate. This appears to not be the case…
In fact, it's the least common reason why a borrower selects a particular home loan lender, which is pretty shocking considering how much money is at stake.
I suppose this is the power of marketing, taking a very boring product that is for all intents and purposes a commodity and selling it for more.
Referrals, Referrals, Referrals…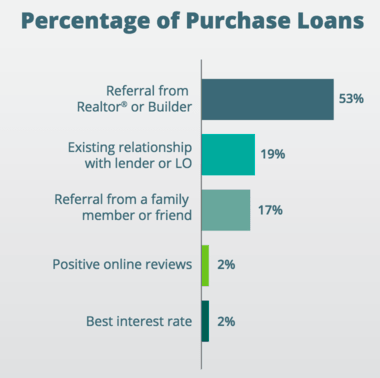 When it comes to home purchase loans, which are all the rage these days with refinance volume tanking, a referral from a real estate agent or builder is the top reason (53%) why a borrower chooses a certain lender, this according to data from STRATMOR for the 12-month period ending June 30th, 2018.
The survey results are part of its MortgageSAT Borrower Satisfaction Program, which the company claims is the mortgage industry's only "Borrower Satisfaction measurement tool."
This isn't the first time I've mentioned how important and influential referrals are in the mortgage business.
Back in 2013, I noted that real estate agents influenced lender choice for nearly half of home buyers.
In other words, lenders can advertise all they want and dangle the lowest mortgage rates possible in front of consumers but still lose out to the agent's preferred guy or gal half the time.
Ultimately, the path of least resistance wins, and a little prodding from the real estate agent doesn't hurt either.
The second most common reason (19%) to go with a certain lender was due to an existing relationship with the lender or a specific loan officer at the company.
This could be due to a previous mortgage deal or perhaps simply turning to your bank or credit union that you already do business with. It makes sense, but again is the easy route.
The third most common driver (17%) was a referral from a family member or a friend. So really a whopping 70% of purchase mortgage business is referral-based.
And you wondered why all these real estate and mortgage synergies have been happening left and right.
Think Motto Mortgage or Redfin Mortgage (or the new Zillow Mortgage venture). It's clearly a very valuable relationship.
The next biggest influencer was positive online reviews, with a paltry 2% of borrowers saying it's what led them to make their decision.
So two out of 100 borrowers care what's being said about a lender online. I guess that's good news for all the questionable lenders out there.
Finally, yes finally, the best mortgage rate was cited as the primary reason to choose a given lender. And it also claimed 2% of responses, though fell below online reviews. Amazing.
Relationships Fuel More Refinances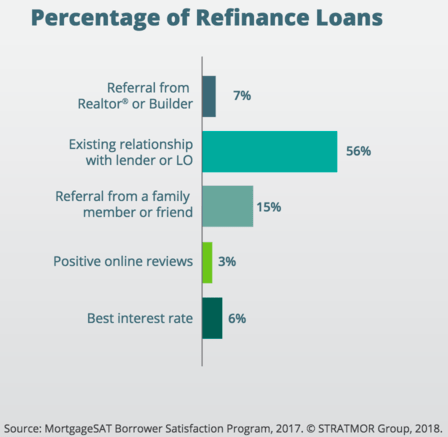 Now let's talk about why an existing homeowner chooses a lender to refinance their home loan.
Again, with the path of least resistance, in most cases (56%) the borrower simply returns to the lender where they previously got a loan. Makes sense right.
Why venture out and deal with the unknown, especially if the interest rate is only an .125% or .25% higher?
Well, there are thousands of reasons why, but it's only money…
The next most common driver was, you guessed it, a referral, cited by 15% of respondents. This includes family members and friends.
It was followed by referrals from real estate agents or builders with a 7% share. Surprising they even got that since they're not directly involved in a refinance, but shows the power they still wield.
Next up was best interest rate, taking the fourth spot, slightly better than dead last, with a massive 6% share.
Yes, six out of 100 consumers choose a mortgage lender to refinance with because they offer the best mortgage rate. Wow.
Last time I checked, interest rate was a pretty darn important detail when it comes to a refinance, but what can you do.
It narrowly beat out positive online reviews, which held an equally dismal 3% share.
The takeaway here is that consumers should really pay more attention to interest rates, while also ensuring that the lender they choose to work with is above board and capable.
For loan officers, mortgage brokers, and lenders, it's actually great news because the survey shows borrowers aren't all that interest rate sensitive, and really drives home the importance of referrals and keeping in touch.