Real estate brokerage Compass has launched a unique new offering known as "Compass Bridge Loan Services" that solves the buy before you sell conundrum.
Many existing homeowners buy replacement properties when selling their current ones, but it can be tricky to time a sale and purchase concurrently.
Aside from mortgage lending issues, like coming up with a down payment and balancing two monthly mortgage payments, there's also the other buyer/seller to worry about.
This can be especially challenging in a hot market where all-cash offers are the norm, or if competition makes things like contingencies hard to draw into the contract.
To alleviate these pressures, Compass has joined forced with two large mortgage lenders, Freedom Mortgage and Better, to help their home sellers get a bridge loan.
How Compass Bridge Loan Services Works
Sign listing agreement with a Compass real estate agent
Apply for a bridge loan with any bank, including their preferred lenders
Use funds to purchase replacement property and move in when you want
Sell old property and use proceeds to pay off the bridge loan
First, the home seller signs an exclusive contract with a Compass real estate agent to sell their existing home.
Next, they apply for a bridge loan with the bank of their choice, including Compass' vetted lenders Freedom Mortgage and Better.
Those two lenders can apparently get the job done fast, as time is often of the essence in situations like these.
For the record, Better isn't available to customers in MA, NH, VA, and VT, but Freedom Mortgage is available nationwide.
Anyway, once approved for the bridge loan, the home seller can move into their new home using the proceeds for down payment or to simply make monthly housing payments.
To sweeten the deal, Compass agents can "front" the first six months of bridge loan payments to keep liquidity a non-issue for the cash-constrained homeowner.
Sell with Compass Concierge to Fetch a Higher Price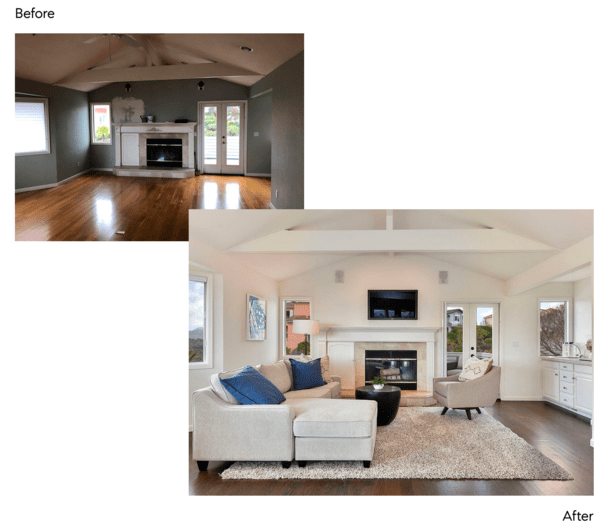 The company also offers a no upfront cost renovation service known as Compass Concierge
Property is prepped and renovated before being listed to get top dollar
And to ensure a quick sale without languishing on the market
Seller only pays for renovations at closing once home sells
In the meantime, a Compass real estate will work to sell the homeowner's former property.
This may also include Compass Concierge, which is very similar to Curbio in that you can renovate your home before listing and pay the repair costs at closing.
Like Curbio, they'll recommend what should be done to get the property up to snuff, including new floors, deep cleaning, roof repairs, bathroom and kitchen improvements, painting, and more.
The changes are aimed at improving the property value and making it sell quicker, which could reduce the time you've got that bridge loan open.
Speaking of, interest rates on bridge loans are notoriously higher than traditional loans because they're only intended to be kept for a short period of time.
As such, you won't want to keep it very long in order to protect your hard-earned money, so this type of service only works for someone looking to make a quick transaction.
The question you need to ask is if the cost outweighs the benefit – it may turn out to be cheaper to sell contingently without the bridge loan.
So be sure to do the math and run some scenarios to ensure you're going down the right path.
Of course, there are intangibles to consider as well, like missing out on your dream house if the sellers aren't interested in waiting around for your old home to sell.
From Compass' perspective, it appears they're looking to compete with all the disruptors entering the real estate space, including iBuyers like Opendoor, RedfinNow, and Zillow Offers.
These companies will buy your house and even let you trade it in for a new one, completely removing the typical obstacles associated with buying and selling homes at the same time.
Compass has already rolled out the bridge loan service in select markets nationwide and early feedback has apparently been "overwhelmingly positive."