Since being introduced back in 2009, both and the Home Affordable Modification Program (HAMP) and the Home Affordable Refinance Program (HARP) have helped millions either avoid foreclosure and/or save money on monthly mortgage payments.
Both programs have been deemed pretty successful, though the numbers did fall short of original projections (as everyone probably expected) despite several annual extensions. I think the original estimate was nine million.
HAMP Is Finished at the End of 2016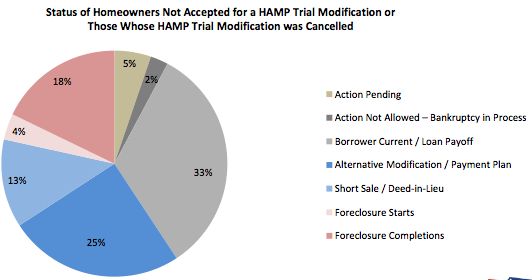 Since HAMP was launched in the spring of 2009, a total of about 1.5 million homeowners have received permanent loan modifications through the fourth quarter of 2014.
Nearly 2.3 million trial modifications were started but fewer than one million are permanent and still active either because of a positive outcome such as loan payoff or alternative modification, or because of something negative like a short sale or foreclosure.
This has resulted in aggregate savings of approximately $32.7 billion compared with prior unmodified mortgage obligations.
The goal of HAMP is to get the borrower's front-end DTI ratio down to 31% by reducing the interest rate, extending the loan term, and potentially forgiving principal.
About 95% of HAMP loans received an interest rate reduction, though those are temporary and subject to rise.
Just over 60% of HAMP borrowers received a term extension and less than a third (30.3%) received principal forbearance.
[HAMP participants are now eligible for $5,000 more in principal forgiveness.]
HARP Probably Done After 2016
The Home Affordable Refinance Program (HARP) is a program that allows underwater borrowers with Fannie Mae- and Freddie Mac-backed mortgages to refinance to take advantage of lower interest rates.
It originally allowed borrowers to refinance with LTVs as high as 105%, but that number was later increased to 125% and eventually the cap was removed entirely for most types of loans.
Over the years there were pleas to expand the program and open it up to borrowers with non-agency mortgages (remember HARP 3), but those demands fell on deaf ears.
To date, roughly 3.3 million borrowers have taken advantage of the program, though the numbers have been waning lately. Around 10,000 borrowers are refinancing their mortgages monthly via HARP nowadays.
This is not unexpected given the fact that most have already applied for assistance under the program or no longer need it thanks to rising home prices.
During FHFA director Mel Watt's speech at the Greenlining Institute 22nd Annual Economic Summit last Friday, he spoke about both programs and revealed that HAMP would be finished after one final extension through the end of 2016.
Since March 2013, Fannie and Freddie have also offered a proprietary Streamlined Modification that requires less paperwork than HAMP, and this could serve as an ongoing loss mitigation solution for borrowers.
As far as HARP goes, he said "we anticipate that this will also be the final extension for HARP."
Apparently some 600,000 plus borrowers could still benefit from HARP though they've yet to come forward for one reason or another.
Watt said the FHFA will use the next year and a half "to explore possible streamlined refinance solutions for future Enterprise loans," so there might be some kind of permanent HARP solution for Fannie and Freddie loans that "might apply in a non-crisis environment."