Many people don't seem to understand what a "prepayment penalty" is, much to their own detriment months or years after signing mortgage loan documents.
This is especially true because it is often poorly explained, or not brought up altogether.
Instead, it's buried in the paperwork and glossed over by borrowers who are eager to close on their mortgages and move on.
Unfortunately, this can be a costly mistake if you happen to break the rules, whether you realize it or not.
There Are Two Types of Prepayment Penalties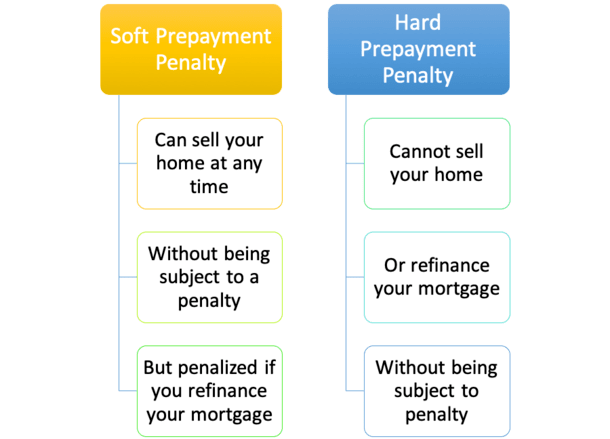 There are soft prepays and hard prepays
A soft prepay allows for the sale of the home without penalty
But penalizes you if you refinance the mortgage
A hard prepay penalizes you for a home sale or a mortgage refinance
A prepayment penalty, also known as a "prepay" in the industry, is an agreement between a borrower and a bank or mortgage lender that regulates what the borrower is allowed to pay off and when.
Most mortgage lenders allow borrowers to pay off up to 20 percent of the loan balance each year.
At this point, you might be wondering why would anyone pay more than 20 percent of their home loan off in one year? Well, thinking outside the box a bit, paying off a mortgage early can happen in a variety of different ways.
If you sell your home, that is one way to paying off the loan in full. And if you refinance the loan, you effectively pay off the mortgage as well by replacing it with a shiny new one.
Oh, and one large lump payment could exceed that 20 percent mark in one year as well.
That being said, it is important to note that there are two types of prepay penalties. These include "soft prepayment penalties" and "hard prepayment penalties."
A soft prepayment penalty allows a borrower to sell their home at anytime without penalty, but if they choose to refinance the mortgage, they will be subject to the prepayment penalty.
A hard prepayment penalty, on the other hand, sticks the borrower with a penalty if they sell their home OR refinance their mortgage.
Obviously, this is the tougher of the two, and basically gives a borrower no option of jumping ship if they need to sell their home quickly after obtaining a mortgage.
Most prepays only last 1-3 years, but in the event that you need to refinance or sell your home unexpectedly, the prepayment penalty can be quite severe.
How much does a prepayment penalty cost?
It can vary by lender
But it might be 80% of six months interest
Meaning six months of interest-only mortgage payments, multiplied by 80%,
That can be very expensive depending on the loan amount and interest rate
The prepayment penalty fee is often 80% of six months interest.
It can vary, but in our example it is 80% because the lender allows the borrower to pay off 20% of the loan balance each year, so the penalty only hits the borrower for 80%.
The six months interest is the interest-only portion of the mortgage payment the borrower secured when they took out the mortgage.
So if a borrower has a mortgage rate of 6.5% on a $500,000 loan amount, their interest-only payment comes out to $2708.33 per month.
Multiply that by six months, take 80% of the total, and you end up with a hefty prepayment penalty of $13,000.
An example of a prepayment penalty:
$500,000 loan amount
Interest rate of 6.5%
Monthly mortgage payment of $2,708.33
6 monthly payments = $16,249.99
80% of those 6 monthly payments = $13,000.00
So why the prepay, anyway?
Prepayment penalties protect the lender/investor who purchases the loan
From early prepayment associated with a refinance or home sale
Since they won't make as much money on the loan
Assuming it isn't kept until maturity, or worse, paid off almost immediately
But this also means the interest rate might be lower for the borrower
Prepayment penalties were devised to protect lenders and investors that rely on years and years of lucrative interest payments to make money.
When mortgage loans are paid off quickly, regardless of whether by refinance or a home sale, less money than originally anticipated will be made. It's a simple concept.
The mortgage is extended with the belief that a certain amount of interest will be collected.
If in reality, much less is realized, the holders of these mortgages won't profit as they originally expected. So it's clearly less desirable for those who hold the loan.
This is essentially a way for those with an interest in your mortgage to ensure they get something back, regardless of how long the mortgage is kept before being paid off.
The good news, if you're a borrower, is that a mortgage with a prepayment penalty attached should come with a slightly lower interest rate, all things being equal.
After all, it's more restrictive in nature, so the price should be lower as a result.
This is similar to how an ARM prices lower than a fixed-rate mortgage, since you're taking a risk of a rate reset with the former.
If you're happy with your home and your mortgage, and feel comfortable to lock yourself into the property for a few years, you can consider taking a prepay to lower your interest rate.
Just make sure the prepay is actually saving you money and lowering your rate enough to actually make an impact.
Watch Out for Prepayment Penalties!
While they are far less common these days
They still exist on certain home loans
Such as non-QM loans and other portfolio loans
So always check your paperwork before you proceed!
Be careful when considering a mortgage with a prepayment penalty. While not as common today as they were in the early 2000s, they may still be tacked onto mortgages offered by portfolio lenders, who set their own rules.
Although a mortgage with a prepayment penalty may come with a much lower interest rate, it can come back to haunt you if you need to refinance earlier than planned, if mortgage rates drop significantly, or if you decide to sell your home earlier than you anticipated.
During the housing boom back in 2004-2006, most large banks like Wells Fargo didn't charge prepayment penalties, but many smaller lenders usually did in order to compete on price with the larger banks.
They were especially common in the Alt-A lending and subprime lending space.
Make sure you know what you're getting before it's too late! If you find out about an unwanted prepayment penalty late in the game, consider exercising your right of rescission.
Tip: There are no prepayment penalties on FHA loans, which is one of their many advantages relative to conventional loans.