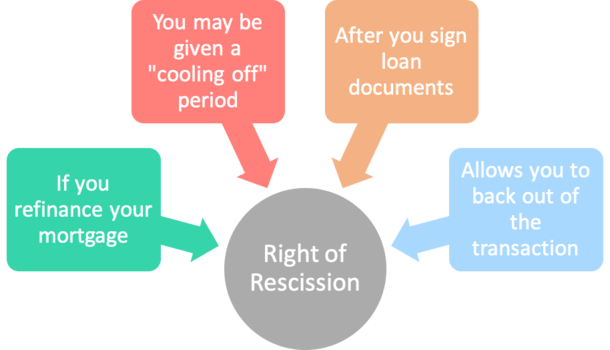 Have you ever made a decision you later regretted, only to wish you could have taken it all back? Well, you might be in luck if we're talking about a mortgage.
The "right of rescission" period is a provision under the Truth in Lending Act that essentially gives homeowners who are refinancing their mortgages a chance to mull things over before committing to the new loan terms.
Are You Sure You Want to Refinance Your Mortgage?
When refinancing a mortgage on a primary residence you get 3 days to think it over at the end of the process
This is known as a "cooling off" period intended to protect consumers from financing they may not actually want/need
It begins the day after you sign loan documents and ends three business days later (including Saturdays)
If you have cold feet or simply change your mind you have a right to cancel the loan before it is scheduled to fund
If a homeowner decides to refinance their mortgage, once loan documents are signed, they will have the right to rescind the transaction for a period of three business days.
The right to rescind is essentially the "right to cancel" the mortgage transaction and have any fees refunded if they aren't happy with the loan for any reason.  It's basically a consumer protection mechanism.
Technically, all fees should be refunded to the consumer if they choose to rescind the mortgage.
This includes all lender fees (application, processing, etc.), broker fees, and third party fees, such as title and appraisal fees, whether paid to the lender or directly to a third party.
The only non-refundable fees are those paid by a consumer to a third party that take place outside of the credit transaction, including things like building and zoning permits.
Assuming the borrower wants to rescind the mortgage, they must provide written notice to the lender during the rescission period.
The bank/lender must then take the necessary steps to indicate that the transaction is terminated by canceling loan documents, filing the release/termination statements in the public record, and refunding fees to the borrower.
This must take place 20 calendar days after receipt of a notice of rescission.
Rescission Period = Time to Change Your Mind

The rescission period is a time to think it all through for a few days before you proceed to funding
Take a moment to review your loan and make sure you weren't pressured or tricked into the transaction
You can determine if the home loan actually benefits you or the lender/loan officer/broker
If you want, you can back out without penalty during this time period and get all fees refunded
During the rescission period, the borrower has the opportunity to assess the situation and make absolutely certain they want to go through with the transaction.
At this time, they can think things over and change their mind if need be.
And most importantly, if at any time during those three days they decide they want to back out entirely, they can do so without penalty.
Perhaps you felt pressured by your bank or mortgage broker, or feel you were a victim of predatory lending.
This would be a great time to rescind the mortgage and go someplace else, or not even go through with the transaction at all.
How to Cancel Your Mortgage
You will see instructions on how to cancel your loan on the RoR form, which you'll receive when you sign loan documents.
There should be a section titled, "How to Cancel" that spells out exactly what to do.
Typically, you just need to sign and date the RoR form and return a copy to the lender (their contact info should be listed on the form) in the allotted time window.
They may also give you the option to send any written statement that is signed and dated that states your intention to cancel.
The deadline should be clearly stated on the form, such as "no later than midnight of January 19th, 2022."
Ask for clarification if midnight feels ambiguous. They'd probably be better off writing something like 11:59 pm to make it more clear, but I digress.
The good news is you should be able to email the form or statement to the lender within minutes, although fax/mail/in-person options are generally OK too.
However, time will likely be of the essence, so email may be best. It's also a good way to document that you actually sent it.
Be sure to keep a copy of the form for your own records in case there are any disputes. And follow up with the lender immediately after you send it to ensure they received it.
When the Right of Rescission Period Begins and Ends

It begins at midnight the day after loan docs are signed
And ends 3 business days later (it lasts 72 hours)
This time period includes Saturdays
But excludes Sundays and federal holidays
The rescission period begins at midnight the day after loan documents are signed, and ends three business days later, including Saturdays, but not Sundays or federal holidays.
It's essentially three days in between the day you sign and the day the lender can fund the loan.
This amounts to 72 hours, not counting the hours on the day you sign or the hours on the day your loan funds.
Federal Holidays Don't Count Nor Do Sundays
New Year's Day (January 1st)
Martin Luther King, Jr. Birthday (3rd Monday in January)
Presidents' Day (Third Monday in February)
Memorial Day (Last Monday in May)
Independence Day (July 4th)
Labor Day (First Monday in September)
Columbus Day (Second Monday in October)
Veterans Day (November 11th)
Thanksgiving (Fourth Thursday in November)
Christmas (December 25th)
At midnight on the third business day the rescission period is over, and the signed loan documents become official.
Example of a right of rescission period:
If loan documents are signed on Monday, the rescission period begins Tuesday at midnight and ends Thursday night at midnight. On Friday morning the loan could then fund and record.
If loan documents are signed on Thursday, the rescission period begins on Friday and ends Monday at midnight because Sunday doesn't count as a business day. The loan could fund on Tuesday morning.
If loan documents are signed on Friday, the rescission period begins Saturday at midnight and ends on Tuesday at midnight. The loan could fund on Wednesday morning.
Assuming there is a holiday in there as well, say Monday for Memorial Day, your RoR will end on Wednesday at midnight, pushing the funding day until Thursday.
In certain circumstances, you may also be able to waive your right of rescission to speed up the loan process, though there must be extenuating circumstances, specifically a "bona fide personal financial emergency."
It's not something banks and lenders like to do though so don't count on it. Instead, plan for a closing date that accounts for the rescission period in advance.
Simply put, in most cases the bank or lender cannot fund the loan until the rescission period is over.
There Isn't a Rescission Period on All Mortgage Transactions
RoR only applies to certain types of home loans
It excludes home purchase transactions
And all mortgages on vacation homes and investment properties
Or if the borrower refinances their loan with their existing lender
It's very important to point out that the rescission period doesn't apply to all mortgage transactions.
In fact, it is mostly limited to refinances on owner-occupied properties only! Purchase transactions do not have a rescission period.
Additionally, vacation/second homes and investment properties do not have a rescission period, even if it is a refinance transaction!
Also, there is no right of rescission if the borrower is refinancing their loan with the same mortgage lender the loan was originally financed with.
*For cash-out refinances financed with the same original lender, the cash-out amount is the only portion that carries a rescission period.
Home equity lines always have a right of rescission period, unless the entire line amount is used to fund a purchase transaction.
For example, it is quite common for a HELOC to be used entirely as a purchase-money second mortgage, meaning no rescission.
Additionally, reverse mortgages, including HECM loans, generally have a RoR unless it's used for a home purchase.
Make sure you know your (pardon the pun) rights when it comes to the right of rescission.
Loan officers and mortgage brokers may not give you all the facts, or they may lie to ensure the mortgage funds and they receive their commission, so stay informed.
Lastly, and this goes without saying, be sure you're 100% clear on the rescission rules for your particular mortgage before you sign, not after.
Don't be afraid to ask questions early on to avoid any misunderstanding late in the game.