Zillow appears to be putting its money where its mouth is by offering to buy properties at their Zestimate price.
No longer is the Zestimate just a number you can fantasize about, assuming your home qualifies for the company's iBuying program known as Zillow Offers.
The Zestimate Turns 15 Years Old
Zillow introduced the Zestimate all the way back in 2006
They claim it was the first time homeowners had instant access to free estimated home values
Zestimates are published for nearly 100 million homes nationwide with a median error rate for on-market homes of just 1.9%
Today's algorithm uses public records, feeds from MLSs, artificial intelligence, computer vision, and a deep-learning neural network that even factors in photographs
Zillow's new initiative coincides with the 15th anniversary of their popular home valuation tool known as the Zestimate.
The free quasi-appraisal tool was launched in 2006 and essentially put Zillow on the map by providing homeowners and prospective home buyers with a quick tool to see what a home was worth.
Today, their complex algorithm goes beyond public data and MLS feeds and uses things like artificial intelligence and computer vision that allows it to incorporate data from photographs.
In other words, if images are uploaded that show a new kitchen or bathroom, or even just new paint or more expensive fixtures, your Zestimate might get a boost.
They claim all these improvements to the always-evolving Zestimate give it a median error rate of just 1.9% for on-market homes.
While that sounds pretty impressive, it doesn't mean you should just sell your home to Zillow and call it a day.
Where Zillow Is Buying Homes for Their Zestimates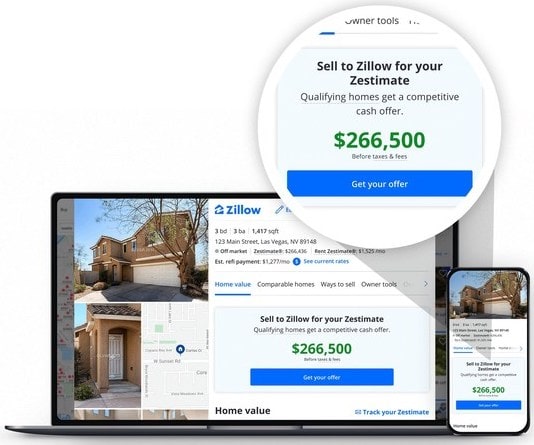 If your home is eligible you'll see an initial cash offer prominently displayed at the top of your property listing page
The initial offer is before taxes/fees are factored in and also subject to the accuracy of property information
Currently available in a large number of markets including Phoenix, Charlotte, Orlando, San Diego, and Los Angeles
The company plans to expand the pool of eligible homes over time as the Zillow Offers platform grows
At the moment, the company's "buy at the Zestimate price" deal is available on a limited number of homes in markets where Zillow Offers currently operates.
This includes a pretty large number of cities, including:
Phoenix and Tucson, Arizona
San Diego, Los Angeles, Riverside, and Sacramento, California
Denver, Colorado Springs, and Fort Collins, Colorado
Miami, Jacksonville, Orlando, and Tampa, Florida
Atlanta, Georgia
Minneapolis, Minnesota
Las Vegas, Nevada
Charlotte and Raleigh, North Carolina
Portland, Oregon
Nashville, Tennessee
Dallas, Houston, and San Antonio, Texas
To see if your home is included, simply head over to your property's listing page on Zillow and look for a prominent "Sell to Zillow for your Zestimate" box.
If it's there, this means you can begin negotiations at that price, before the company factors in things like taxes, fees, and repair requests.
Their offer is also subject to eligibility and accuracy of property information. In other words, they'll need a human being to back up the findings of their Zestimate technology before they proceed with an offer.
My assumption is the more cookie-cutter the property, the more likely it is to have one of these instant offers.
That means a property in a housing tract that is moderately priced and similar to other properties nearby.
Conversely, they probably aren't doing this for high-priced properties or homes that have unique features.
Is Selling at the Zestimate Price a Good Deal?
Zillow has referred to the Zestimate as a starting point in the past
And that could still be the case if you take them up on this offer once they negotiate the price
They'll also factor in repair costs, listing costs, their service fee, and more
When all is said and done you could be looking at sales proceeds that are 10%+ below the Zestimate
While Zillow boasts about its high accuracy rate for the Zestimate, it doesn't mean it's a no-brainer to just sell your home to Zillow.
While they claim their median error rate is just 1.9% for listed properties, what about properties that aren't listed, i.e. YOUR HOME.
Personally, I always feel that the Zestimate is lower than the comparable Redfin Estimate, and often lags home price data.
In other words, the Zestimate typically displays a price that feels a little bit in the past, whereas the Redfin Estimate appears to show a more forward-looking price.
Put another way, the Zestimate seems to mirror what someone paid for a home, while the Redfin Estimate often feels more like what a buyer would pay.
That's just my personal opinion, but I've been tracking these numbers for years, and I've rarely seen a Zestimate that's higher than a Redfin Estimate.
This is especially important given the fact that it's a seller's market at the moment.
Lastly, you need to consider the fees charged for selling to Zillow Offers, including prep and repair costs (they'll be reselling your home quickly), along with the Zillow service charge.
They say that service charge is 2.5% on average, which is on top of the ~6% in selling costs that mirrors what a pair of traditional real estate agents would earn, along with 1-2% for closing costs like transfer taxes, escrow, etc.
All said, you could be looking at 10% off the Zestimate, not including repair requests, so your actual walkaway cash could be much lower.
Of course, the same can be said of a traditional sale (minus that service charge), and you get to sell immediately without the usual inconvenience, aggravation, and uncertainty.
But that's where the service fee comes in. It's more like a convenience fee.
In any event, this is an interesting development and a sign that Zillow wants its Zestimate to serve a larger role than just a free home price estimate.