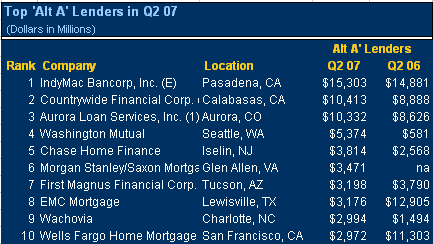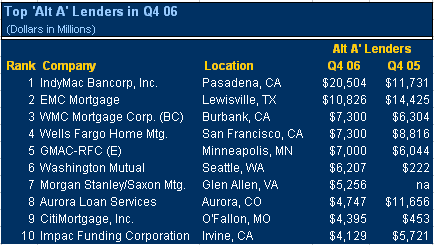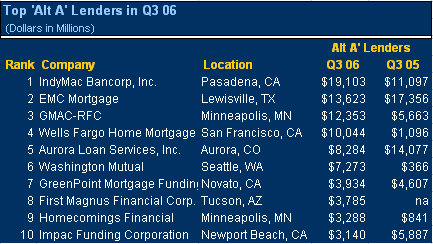 A while back I analyzed the top subprime originators, but now that subprime lending is a thing of the past, I thought I'd take a look at Alt-A numbers, which many believe to be the new subprime.
Above is a look at the top ten Alt-A originators over the past four reported quarters, courtesy of National Mortgage News data.
In the second quarter of 2007, Indymac led the way with roughly $15.3 billion in Alt-A loan production, followed by Countrywide with $10.4 billion, and ALS not far behind with $10.3 billion.
Indymac has been the clear Alt-A leader over the last couple years. Inside Mortgage Finance estimated that the lender did $70.2 billion in Alt-A production in 2006, up 48% from a year earlier (they didn't report during Q1 2007).
Nearly all of the mortgage lenders in the top ten saw an increase in Alt-A loan origination from year-ago levels except First Magnus, EMC, and Wells Fargo Home Mortgage.
Wells Fargo Home Mortgage saw a dramatic decrease in Alt-A production, which is no surprise as the company has always been the conservative lender of the bunch.
EMC Mortgage also significantly reduced its Alt-A exposure over the last year and change, going from the second largest Alt-A loan originator in 2006 to eighth in 2007.
Some of the lenders are no longer in business, including First Magnus and Greenpoint Mortgage, who each funded roughly $3.1 billion in Q2 and Q1 of 2007, respectively.
Then there's Impac Funding Corp., who made the top ten list in late 2006, but is now absent after halting its Alt-A production.
While Alt-A clearly isn't as disastrous as subprime, it has definitely taken its toll on smaller lenders, and may set the big guys back as well.
It should be interesting to see what the numbers look like over the next few quarters as lenders continue to ditch Alt-A.