For the individual who eschews fiat currency, but still needs a mortgage, look no further than Figure.
The company originally came onto the scene by offering a unique HELOC that came with a fixed interest rate.
Later, they expanded to mortgage refinances, and in the summer of 2021 announced a merger with Homebridge Financial Services.
Now they appear focused on being pioneers of so-called "crypto mortgages," which as the name suggests are backed by cryptocurrencies like Bitcoin and Ethereum.
They've got two new products to choose from, both of which allow you to keep your crypto holdings while purchasing a home.
Figure's Crypto Mortgage
Their flagship product is known as "Crypto Mortgage," a unique home loan that lets you borrow against your crypto holdings to purchase a home.
Figure allows you to borrow up to 100% of the home price using up to 100% of your available crypto holdings.
This is akin to a mortgage lender letting you buy a home with no money down, aka 100% loan-to-value (LTV).
The difference is that you pledge your assets as collateral for the loan, and the property also backs it.
What makes it even more special is you can take out a loan amount for up to $20 million. So if you've got lots of bitcoin, you're in luck. For the record, the minimum loan amount is $75,000.
They say the underwriting is "limited," and also note that there is no need to sell your crypto, which could trigger a taxable event.
Once the loan funds, you wind up with an ordinary 30-year fixed mortgage, with regular monthly payments that can be made with fiat currency or crypto from collateral.
So not only is it a crypto mortgage, but you can also make monthly payments via your bitcoin or ethereum holdings, if you wish.
And speaking of that collateral, it can be released once crypto holdings exceed 125% of the loan amount.
Figure refers to this whole deal as a zero-cash-out home mortgage, in that you don't need any money out-of-pocket at closing.
With regard to mortgage rates, they're currently advertising a rate of 5.99% (6.018% APR), which is obviously subject to change daily and may vary based on the loan's characteristics.
That's about 1.25% to 1.50% above the prevailing rate for a traditional 30-year fixed, which I suppose is the tradeoff.
Figure's Crypto Mortgage PLUS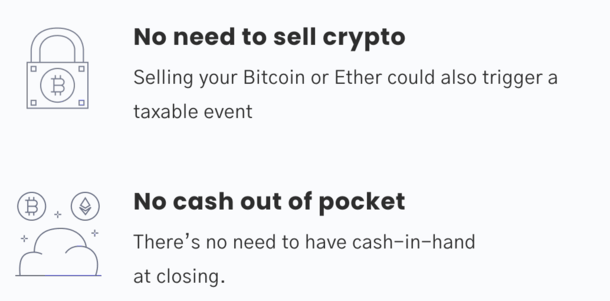 Those who still want a conventional mortgage can look to their hybrid product, known as "Crypto Mortgage PLUS."
It's a combination of a crypto loan and a traditional mortgage rolled into one, which also results in a zero down mortgage.
You can borrow up to 50% of your crypto holdings for a 20%+ down payment, then fund the rest of your home purchase using an everyday mortgage.
For example, a home buyer who purchases a $1 million property can take out a $200,000 crypto loan and a $800,000 conventional mortgage.
This would require at least $400,000 in crypto to get that $200,000 down payment, and the rest could be borrowed using the property as collateral.
It comes with the same 30-year loan term as their other product and a similar interest rate, but full underwriting is required and you can only make fiat payments to pay it off.
There's also no collateral release, meaning you'd likely only regain access to your crypto once the loan was paid off or refinanced.
At the moment, both products are waitlisted, and are available to residents of CA, FL, GA, NV, NC, and MT. More states are expected to be added soon.
Are Crypto Mortgages a Good Deal?
This is clearly a very niche home loan product, at least at the moment. Whether it becomes widely used remains to be seen.
The obvious benefit to someone with a lot of crypto is that they can utilize their holdings to purchase a home.
And they can do so without disrupting their investment, assuming they see more upside, similar to say someone with a retirement account.
Another perk is that the crypto mortgage can be paid back with crypto, and the collateral can be released as holdings outgrow the associated mortgage loan amount.
It may also be easier to qualify for a crypto mortgage versus a traditional mortgage, a big plus if you don't have steady income or other, more traditional assets.
The clear downside to these products is the associated interest rate, which appears to be quite a bit higher than the going rate for a conventional 30-year fixed.
So you'd have to determine if it's worth that price premium to hold onto your cryptocurrencies.
If you're a big believer that BTC and ETH will continue to outpace other investments and the interest rate on your crypto mortgage, it could be a no-brainer.
But you'd want to do the math to determine that, assuming you could otherwise qualify for a mortgage with a traditional bank or lender.
The good news is as more of these products come to market, the interest rates should become more favorable.
Update: Moon Mortgage has launched a competing crypto mortgage.