If you haven't heard of "Guaranteed Rate," there's a good chance you've never applied for a home loan before. Or maybe you just don't live in the Midwest, where they're headquartered.
Despite being from Chicago, they offer home loans to borrowers in all 50 states and Washington D.C., so they can be included in your mortgage search if and when it comes time to apply.
Their goal is to become the top retail mortgage lender in the country, which while ambitious, isn't necessarily out of reach given their tremendous growth in such a short period of time.
The Relatively Short History of Guaranteed Rate
The retail mortgage lender was founded in the year 2000
Its headquarters are in Chicago, Illinois
They have roughly 4,000 employees and nearly 350 offices nationwide
One of the top-10 largest retail mortgage lenders in the country
Funded nearly $50 billion in home loans during 2020
While they're a pretty big name in the mortgage world, they only got started back in the year 2000. That means they're less than 20 years old, which is pretty short stint for a such a successful lender.
In 2020, they originated more than $48.8 billion in home loans, which should put them in or close to the top 10 in terms of total volume for all mortgage lenders.
Part of their growth can be attributed to acquisitions, including Manhattan Mortgage in 2012, and Sun State Home Loans, Nationwide Direct, Arbor Mortgage, and Firstrust Mortgage in 2014.
They also took over a call center and roughly 75 loan officers from Discover Home Loans after it went belly up in 2015.
Most recently, they acquired Stearns Lending, which funded roughly $7.6 billion in home loans themselves in 2019.
This means they are now the lender behind KBHS Home Loans too, taking over for Stearns.
The move is a serious attempt to become the country's #1 mortgage lender, though competition is certainly fierce as you near the top.
You might also recall that the company hired Ty Pennington of Extreme Makeover fame a while back to market the company.
A recent joint venture with Realogy's real estate brokerage company NRT known as "Guaranteed Rate Affinity" has made them a major player in the home purchase financing market as well.
The lender also created another partnership with @properties known as "Proper Rate," which will extend home loans to home buyers in select regions in the country, namely those represented by @properties' 2,800 real estate agents.
And their latest JV is known as "OriginPoint," an independent mortgage lender created with real estate brokerage Compass.
Guaranteed Rate boasts a very high customer satisfaction rating of 95% whom said they were "satisfied."
Additionally, 94% said the company "made it easy for them to obtain a loan," and 95% said they'd use the company again in the future.
This is similar to PrimeLending, which also touts one of the highest customer satisfaction ratings in the country for mortgage lending.
Getting a Mortgage with Guaranteed Rate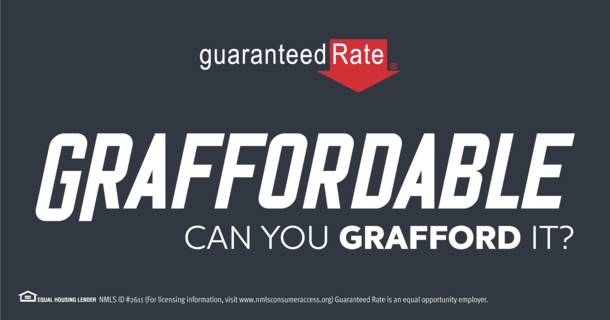 They have a fleet of mortgage loan officers you can search by name
And a few hundred branches in cities throughout the country
You can also apply online or via their smartphone app without assistance
And the home loan process is close to or fully digital in some cases
The company is a consumer-direct retail mortgage lender with what they call an "Intuitive Loan Finder."
In my experience, it's basically a lead form that gives you loan options after you answer the typical borrower and property-related questions.
They have since renamed it "GRafforable" in what appears to be an effort to show off their silly side.
They say the GRaffordable loan finder tool is the best mortgage calculator out there, which allows borrowers to gain access to real-time mortgage rates in seconds.
I gave it a whirl and it did indeed take just seconds to generate loan options including a "best match" based on my inputs.
The only drawback was that it didn't list interest rates for all products displayed.
The good news is you don't have to provide any contact information to get a bunch of real mortgage quotes in just seconds.
If you like what you see, you can apply for a loan or connect with a loan officer.
The company says it created a "Mortgage Pod" model that surrounds their LOs with a team of "highly-trained specialists" to ensure you're in good hands.
They also have a "Loan Expert" search feature on their website if you know who you want to work with already.
Or you can simply contact a local branch near you if you want assistance from someone in your area.
Those who prefer to do things without much human interaction can just begin the process online and stay there the entire time if desired.
The company claims to have the "World's First Digital Mortgage" with proprietary tools like their Transfersafe secure document transfer to streamline the process and eliminate paper waste.
They also say you can get an automated approval from Fannie Mae or Freddie Mac within minutes, likely a mortgage pre-approval, and you can apply for a mortgage using their mobile app.
Their "Red Arrow Approval Express" brings back same-day underwriting with "real approvals" generated in as little as four hours that are probably more robust than their automated pre-approvals.
And their "Appraisal Express" option delivers a home value within 48 hours of the appraiser's visit to your property to cut down the lengthy loan process.
So it's clear they're big on technology and speed, similar to other major players like Quicken's Rocket Mortgage and newcomers like SoFi.
Guaranteed Rate FlashClose
In light of the coronavirus pandemic, Guaranteed Rate wants you to know that they've got a contact-free digital mortgage experience from start to finish.
This includes options that limit or completely eliminate the time an appraiser needs to spend in your home or soon-to-be home.
The finishing piece is known as "FlashClose," a technology powered by Notarize that allows borrowers to sign most of their closing documents either online or even from their smartphone or tablet.
This may also alleviate some of the stress of signing a bunch of loan documents in one sitting while a notary waits, giving you more time to review and ask questions.
Aside from allowing you to safely social distance, you also get an efficient, simple and secure experience from application to closing.
What Loan Options Does Guaranteed Rate Offer?
Home purchase, refinance, construction, and renovation loans
Conventional, government, jumbo, and non-QM loans
Fixed-rate mortgages and ARMs with various loan terms
Interest-only mortgages
Rate buydowns and long lock periods
They have a variety of different loan products available, including home purchase loans, construction loans, renovation loans, rate and term refinances, and cash out refis.
You can get a conventional loan backed by Fannie or Freddie, or a government loan backed by the FHA, USDA, or VA.
They participate in HUD's Good Neighbor Next Door program, which allows law enforcement, teachers, firefighters, and EMTs to get mortgages with as little as $100 down payment.
Speaking of low down payments, they also offer a 1% down mortgage program, which combines the 97% LTV program with Fannie/Freddie and a 2% grant.
In the home improvement channel, you can get an FHA 203k loan or a Fannie Mae HomeStyle renovation loan to renovate and finance your property in one convenient loan.
Additionally, they have both conforming and jumbo loan amounts available to their customers in more expensive regions of the country, along with both fixed-rate loans and ARMs.
In terms of available programs, you can get a 30-year fixed, 20-year fixed, or 15-year fixed.
In the adjustable-rate category, they've got a 5/1 ARM, 7/1 ARM, and 10/1 ARM. They've also got interest-only options for those who believe their money is better spent elsewhere.
They also recently launched OneDown, which offers a 2% grant and a 1% lender credit.
The Guaranteed Rate 2-1 Buydown
Guaranteed Rate also offers a 2-1 buydown, which offers a rate 2% below the note rate in year one, and 1% below the note rate in year two before returning to the actual rate offered.
For example, if you qualified for a rate of 5% on a 30-year fixed, you'd get a rate of 3% the first year, 4% the second year, and 5% for the remaining term.
When it comes to locking in your rate, they offer a "Lock n' Roll" option that allows you to renegotiate your rate if interest rates go down.
Lock terms are also pretty lengthy, with 55-, 70-, and 85-day options available.
For those doing construction, they offer the "Lock n' Build" option with lock periods as long as nine months, or 270 days.
I don't believe they offer second mortgages or home equity loans/lines, which would be the only major product category missing here.
Guaranteed Rate Mortgage Rates
You can find their daily mortgage rates right on their homepage
They don't appear to be noticeably higher/lower than most other major lenders
Check the loan assumptions to see what's required for the advertised rates
And take the time to shop around if price is your number one concern
One thing I like about Guaranteed Rate is the fact that they advertise their mortgage interest rates right on their homepage.
This means there's no guessing as to where they stand pricing wise. Of course, advertised rates always contain lots of assumptions, such as a specific credit score, loan-to-value ratio, and so on.
For example, their rates require a 25% down payment, as opposed to the typical 20% you often see advertised, a 740+ FICO score, and the property must be a one-unit primary residence.
In other words, you may not actually qualify for the rate seen on their website, though it should at least give you an idea if you compare their advertised rates to those of other lenders.
I felt their rates were in line with what other major lenders advertise – not necessarily cheaper or more expensive.
Recently, they launched Lock It, List It, which allows home sellers to secure a discounted rate for a prospective buyer ahead of time.
Guaranteed Rate Reviews
They have a 4.96 star rating out of 5 on Zillow, which is as close to perfect as you can get.
It's based on more than 10,000 customer reviews, so the company has certainly been heavily vetted by those who have used them.
A good chunk of the reviews indicated that both the interest rate and closing costs were lower than expected, a good sign if you're looking for the best deal.
You'd think with a name like Guaranteed Rate that the mortgage rate would be good, right?
At last glance, their Better Business Bureau (BBB) profile was rated 'A', with about 40 customer complaints over the past 12 months.
They are an accredited business with the BBB since 2009.
Those looking to dig even deeper should consider searching for individual loan officer reviews online.
Many if not all of their employees have reviews that can be easily found, and with such a large company, it may be a better indicator than overall ratings.
Why Choose Guaranteed Rate for Your Mortgage Needs?
They claim to offer the World's First Digital Mortgage
And offer a lot of tools to close your loan quickly and easily thanks to tech investments
They've won a lot of best lender awards
Have high levels of customer satisfaction that beat most others in the industry
They claim to be a technology leader in the mortgage space with the "World's First Digital Mortgage," so if speed and convenience is your thing, they might be a good choice.
The same-day underwriting and 48-hour appraisal turnaround time can certainly make a traditionally slow and painful home loan process a lot faster.
They've also been able to cut the closing appointment down to around 10 minutes thanks to electronic signing.
And being able to do most, if not everything, from a computer or smartphone should ease the burden of obtaining a mortgage.
There are plenty of loan options to suit most borrowers' needs, and their customer satisfaction numbers are some of the best in the industry.
They were recently named in the Best Mortgage Lenders of 2018 list by U.S. News and World Report and received the 2018 FinTech Breakthrough Award for the Best Online Mortgage Lender.
They could be a good choice for a home purchase seeing that they're partnered up with Realogy and likely trusted by lots of real estate agents nationwide to close your loan on time without any hiccups.
The company also offers insurance, including homeowners insurance, auto insurance, and life insurance via one of their subsidiaries. So they might be a one-stop shop for all your homeownership needs.
Guaranteed Rate is also committed to being transparent and promise low rates and fees, which after all, is kind of in their company name.
Of course, they might not offer the lowest mortgage rates around, so shopping is always recommended.
Guaranteed Rate Pros
Appear to have competitive mortgage rates
Offer a fully-digital mortgage experience (contact-free)
Can apply online, in-branch, via smartphone, etc.
Lots of different loan programs to choose from
Excellent reviews from past customers
'A' BBB rating, accredited business
They have a free smartphone app
Offer entire mortgage experience in Spanish
Guaranteed Rate Cons
They charge a $1,290 lender fee
May require higher minimum credit scores than other lenders
Don't appear to offer second mortgages or home equity lines of credit (HELOCs)
Will likely transfer your mortgage to a third-party loan servicing company