There's a newer startup called "Homie" that is aiming to transform the old way people buy and sell homes by harnessing today's technology and (kind of) ditching real estate agents.
Well, in some cases the real estate agent will remain (at least one of them), but the service saves buyers and sellers money by helping them go it alone.
Be Your Own Real Estate Agent with Homie

In short, you can get help from Homie to list your property (including on the MLS for an extra fee) and save on the typical 5-6% real estate agent commissions in the process.
For a flat fee of $199, Homie will help you list your home on Homie's own site, Trulia, Zillow, and others.
As noted, you can add your property to the MLS (the traditional approach) for an additional fee of "around $200." However, this is more likely to attract buyers with agents.
Included in that price is a home value report to help you determine a good listing price, a custom phone number, a yard sign, attorney legal assistance to navigate paperwork and negotiations, a tour scheduler, an offer generation tool, automated contract reminders, and professional photos of your home.
You basically get a full suite of for-sale-by-owner tools to assist you in selling your home, along with a seller dashboard to keep track of the process.
The idea here is that individuals can do most of the work a real estate agent would do thanks to technology and all the readily available real estate data that anyone can now access online.
The home value report is meant to be a starting point to come up with a listing price, which along with things like a Redfin Estimate and a Zestimate, could help the seller come up with an appropriate sales price.
In order to navigate all the forms and what not, Homie provides the offer generation tool and a digital signature tool (perhaps DocuSign), along with those contract reminders and the attorney assistance.
Homie's sellers can also tap into a provider marketplace for things like escrow, title, and other ancillary services.
Once the property goes under contract, you pay another $699, which is refunded if the contract fails.
So all in, you're looking at $898 to sell a home, versus say 5-6% of the sales price.
On a $300,000 home sale, that's savings of $8,102 if the buyer has their own real estate agent, or $17,102 if they don't.
Homie thinks these savings can give you an advantage when it comes to pricing your home because you can technically list for slightly less. That may bring in the buyers, even if you don't have a listing agent or the MLS at your disposal.
Update: The Homie fee is now $199 for setup, and another $1,299 at closing, for a total of $1,498, but there is no longer an extra fee for listing on the MLS.
Buyers Can Also Save with Homie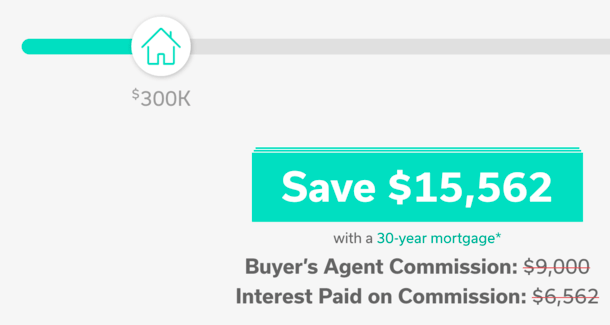 You can also buy a home via Homie and save because the home might be priced more attractively without real estate commissions baked in.
And your offer may be seen as more competitive by the seller if you don't have to pay your non-existent real estate agent a commission.
As you can see from the screenshot above, you can potentially save money in the way of interest if your purchase price is lower sans the real estate agent commission.
Homie doesn't charge buyers a fee and they give you access to their software tools and a real estate attorney to help with paperwork. You can use them with an agent or without.
If you do happen a buy a non-Homie home and the seller has agreed to pay a buyer agent commission, Homie will refund up to $5,000 for mortgage closing costs.
However, you must sign a Buyer Broker Agreement (BBA) with Homie and get pre-qualified for a mortgage with Homie Loans.
Since launching in 2015, Homie has apparently saved its customers more than $8 million and counting.
Homie Loans Just Launched
After acquiring a Utah-based mortgage company by the name of Econ Mortgage recently, the company launched "Homie Loans," which aligns with the company's goal of revolutionizing the real estate industry.
Instead of paying their loan officers commissions on a percentage basis, they'll get a flat fee per loan.
Homie believes this will save the average customer "up to half" what they typically pay to lenders in the way of fees and closing costs.
Their goal, per Homie VP of Mortgage Operations Phillip Burnett, is to "reduce bloated commissions and traditional transaction costs."
These savings will ideally be passed onto consumers in the way of lower closing costs, quicker closings, and lower purchase prices (that still benefit the home seller).
Homie Loans offers all the typical stuff, including conventional, FHA loans, and VA loans, and they've automated the process (upload docs, e-sign) to save time and money.
Should You Use Homie?
At the moment, Homie is only available in two states, Arizona and Utah. They just expanded to Arizona in January 2018. Chance are more states will get the service soon if everything goes according to plan.
While Homie sounds like it could be a winner, most real estate agents will probably disagree and tell you that it's not worth going it alone. And they might be right in a lot of cases.
Often, their commissions can be "paid for" via a higher sales price, so it's basically awash. Of course, the buyer ends up paying it via the increased sales price.
Additionally, it's nice not to have to do any work, or at least less work, when it comes time to buy or sell a home. Typically, you've got other things to worry about when you're moving…
At the same time, thanks to the wealth of information online and new technologies, it is getting a lot easier to buy and sell real estate, and if you feel you can navigate the pricing portion of the process on your own, you could save thousands of dollars for some additional legwork.
This is especially true at higher price points, where real estate commissions can total $50,000 or more.
Or in cases where you don't have much home equity and need to sell without going into pocket.
Considering today's red hot market, it might be the perfect time for a seller to try a service like this, though you do have to be careful not to leave money on the table.
If you're a buyer, you could make lowball offers and see if they stick, without the need to bring an agent along. You just have to be sure to do your diligence (inspections, contingencies, etc.) along the way.
Read more: Opendoor wants to help you sell a home in 3 days.