Mortgage basics: "How to shop for a mortgage."
Every now and then I focus on mortgage 101 because it seems the obvious stuff isn't always so obvious.
While you would think that shopping for just about anything is relatively straightforward, it's often not.
This is especially true of mortgages, which come with added confusion and potential pitfalls.
Let's discuss how best to shop for a home loan to obtain the best interest rate with the lowest fees. Oh, and ensure you wind up with a competent lender.
First Off, Make Sure You Actually Shop!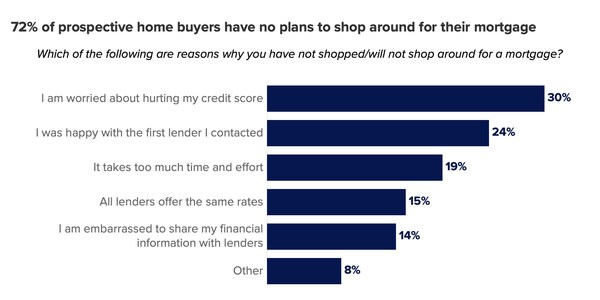 It's cliché, but it's true, and bears repeating. Very few consumers shop around for their mortgage. And it can cost them, a lot.
In fact, yet another survey, the latest from Zillow Home Loans, revealed that prospective home buyers spend more time researching their next car purchase or vacation than their mortgage.
This despite the fact that the mortgage will be paid for the next 30 years in some cases, and weigh heavily on their pocketbook.
These individuals also indicated that they spend about the same amount of time researching TVs to buy as they do mortgage lenders.
I guess people watch a lot of TV, so it is pretty important to get a quality set. Jokes aside, this is a problem if you want to save money.
Why? Because there are real studies that prove that shopping around is the key to saving money on your mortgage.
Of course, Zillow's survey also found that 72% of prospective home buyers haven't shopped around for a mortgage, nor do they have any plans to do so.
As for why, the top reason is fear of hurting their credit score, which while somewhat valid, shouldn't hold you back.
The second reason is simply being "happy with the first lender," followed by it taking too much time and effort.
There's also the belief that all lenders offer the same rates, which is far from the truth.
Oh, and some folks are apparently embarrassed to share their financial details, but will pay extra to keep things hush hush.
Mortgage Rates Can Vary By 1% or More Between Lenders
To the point about all mortgage lenders offering the same rates, it's not true. Some lenders may offer similar rates, but others may not.
And if you contact that first lender you're "happy with" who happens to offer a higher rate than the competition, you could miss out big time.
After all, most folks don't shop around, so the first lender's rate is the only rate they see.
Zillow researched mortgage rate variation a few years ago and found that quoted rates were as much as 1.09% different.
That's a significant range, and even higher for those with the lowest credit scores. Borrowers with scores between 620-639 saw a range of 1.33% between the lowest and highest APR for a 30-year fixed.
Meanwhile, the CFPB pointed to a working paper that found "significant price dispersion" for retail mortgage rates.
A typical home buyer with a prime credit score and a 20% down payment "might see a spread in interest rates of 50 basis points" for a conforming loan.
That amounts to an extra $342 annually for every $100,000 of loan amount.
Meanwhile, Freddie Mac conducted a survey and found that just one additional mortgage rate quote could save the average borrower between $966 and $2,086 over the life of their home loan.
And the average expected savings near $3,000 if the borrower obtains five rate quotes.
So a fairly simple strategy to "win" mortgage rate shopping is to simply shop! Pretty easy, right?
Check Out Daily Rates Before You Shop to Determine Market Prices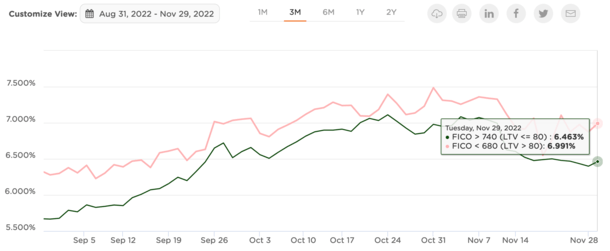 Before you shop, since you now know you need to shop, get a gauge of market prices.
As you would other items, like a TV or car, you need to do some research.
Mortgages can be a little more complicated, as loan type, credit score, down payment, and other factors can weigh heavily.
So first determine your loan scenario, plugging in those attributes like expected FICO score, down payment, loan amount, etc.
Then look at real-time lock data for mortgage rates that share the same attributes as your loan scenario.
One site that is helpful in this regard is the Optimal Blue, which provides such data on conventional 30- and 15-year fixed mortgage rates, along with rates for FHA, USDA, VA, and jumbo loans.
You can filter by credit score tiers to see what the typical mortgage rate is for a certain loan type and FICO score combination.
From there, you'll at least have an idea of what lenders are offering most customers. Do keep in mind that mortgage points don't seem to be factored in.
So if you're paying points, ensure your rate is on the lower end of the range. And if you're not paying points, your rate might be higher to compensate.
To provide an example, the average lock for a 30-year fixed conforming loan with a FICO score of 740+ and LTV of 80% or less was 6.463% as of November 29th, 2022.
Meanwhile, the same loan with a sub-680 FICO score and an LTV above 80% came in at an average of 6.991%.
It's basically a half-point higher if you have a riskier loan scenario.
These numbers can give you ballpark figures to look out for, so if Lender A quotes you 7% for that first scenario, you might want to move on.
Assuming you put in the time to reach out to Lender B and perhaps Lender C, you might get a quote of 6.5% or even lower.
While rates are very important, also take note of any lender fees or discount points required for the quoted rate. Both rate and fees matter, collectively the mortgage APR.
Where to Shop for a Mortgage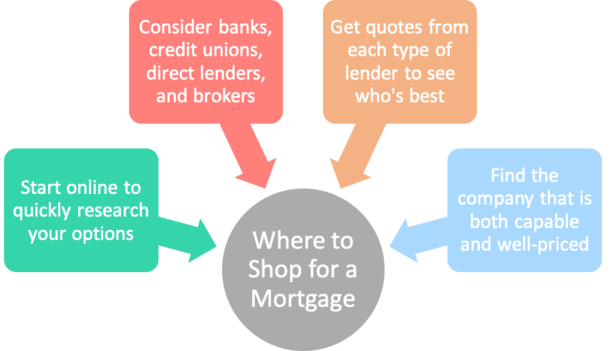 Now that we know how important shopping a mortgage actually is, and what to look out for as you shop, let's discuss the where piece.
You can shop for a TV at Best Buy and Amazon, among other places. But what about a home loan?
Well, there are lots of places to shop, including online and brick-and-mortar options.
Obviously, it can be easiest to start online since you can shop from a smartphone in the comfort of your home.
This may include aggregator websites like Bankrate and Zillow, which display rates from numerous companies, similar to a Kayak for travelers.
You could basically fill out multiple lead forms and get quotes from 3-5 of these companies within a few hours or less.
And you might be surprised at just how different the quotes you receive are.
Beyond that, you could get in contact with your own bank that holds your checking and/or savings account.
They might not offer the best pricing (or they could!), but it's an easy one to check off the list since you've already got a relationship.
You can also reach out to a local credit union or two and see what they can do. Often, pricing can be pretty good and they may also offer unique loan programs.
If you're not super into shopping, you can also speak with a mortgage broker, who can shop your home loan on your behalf.
Brokers typically have several wholesale lender partners they work with, so contacting one broker means getting pricing from three or more different companies at once.
While you're at it, compare mortgage brokers too to put your mortgage shopping into overdrive. Speaking to three brokers might mean getting 10 quotes.
Lastly, there's the referral option. Ask friends/family/co-workers who they used and if they'd recommend them. If so, give them a call and see what they can offer.
Remember, arguably the most important part of shopping for a mortgage is actually shopping. Do that much and you should be in good shape.
Read more: 10 Tips to Score a Better Deal on Your Home Loan