During the fourth quarter of 2012, newcomer PennyMac cracked the top 10 mortgage lender list, according to stats compiled by MortgageStats.
The Calabasas, California-based startup managed $10 billion in residential mortgage loan volume during the final quarter of the year, which accounted for roughly 2% of total market share.
While it's not Countrywide quite yet, PennyMac is displaying its ability to grow quickly in the now white-hot mortgage market.
In case you didn't already know, former Countrywide COO and CFO Stanford L. Kurland, who was known as the #2 guy behind Angelo Mozilo, helms PennyMac.
He's not the only Countrywide alum on staff – David A. Spector is president and COO of PennyMac, and Anne D. McCallion is their CFO. There are others too.
Essentially a decent sized group of ex-Countrywide employees created PennyMac, which makes the story interesting to begin with.
The company started out buying distressed mortgages for pennies on the dollar (hence the name) about five years ago, and later moved on to the loan origination game.
The original unit that buys mortgages is known as PennyMac Mortgage Investment Trust, and is currently publicly traded and doing quite well (NYSE:PMT).
It was also recently announced that PennyMac will IPO its PennyMac Financial Services, Inc. division, which is the lending and servicing arm of the company.
A quick gander on their website reveals that they originate all types of home loans, from FHA Streamline loans to HARP loans and jumbo loans.
This explains their ability to become a top 10 mortgage lender, though all volume came via the correspondent lending channel.
When looking at just FHA/VA volume, PennyMac ranked third, behind only Wells Fargo and Chase.
Wells Fargo Still the Boss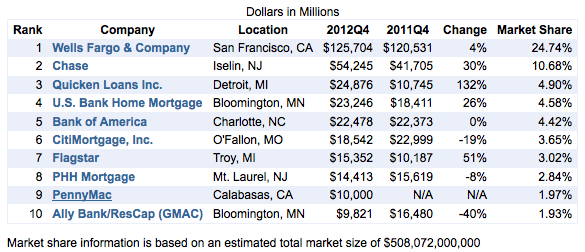 While PennyMac is making inroads fairly quickly, Wells Fargo is still the undisputed heavyweight champion of mortgage lending.
During the quarter, the bank originated $125.7 billion in home loans, snagging a near-25% share of the total market.
While solid, their share dropped significantly from the 33.9% enjoyed in the first quarter of 2012.
But they still claimed more market share than Chase, Quicken, U.S. Bank, and Bank of America combined, which held spots 2-5. And their volume was still 4% higher than it was in the fourth quarter of 2011.
The biggest year-over-year winner was Quicken Loans, which saw volume rise 132% to $24.9 billion. That helped the company snag nearly 5% market share.
It narrowly edged out U.S. Bank, which originated $23.2 billion, a 26% rise from its year-ago numbers.
PennyMac and Ally Bank/ResCap (GMAC) rounded out the top 10, and essentially replaced Provident Funding and BB&T.
The big question is will PennyMac will keep ascending? History tells us they will, if their ex-Countrywide staff is any indication.
Does that mean we'll see PennyMac retail mortgage shops in strip malls across America in the next decade? I wouldn't be surprised…
Leaders in Other Lending Categories
Wondering who led for a particular niche in the residential mortgage market?
Wells Fargo was also the king of jumbo during the fourth quarter, barely besting PHH Mortgage and Bank of America.
It also led in FHA/VA volume, and topped the retail and correspondent channels.
Provident Funding led in the wholesale channel (mortgage brokers), beating out Flagstar and NYCB Mortgage/AmTrust Bank.
Quicken Loans ruled the online mortgage world, with second place Provident and third place BB&T nowhere even close.
Flagstar barely edged out PHH Mortgage when it came to interest-only mortgages, with Union Bank third.
Prospect Mortgage dominated the Alt-A lending channel, with a 99.3% market share, followed by PHH and Astoria Federal Savings & Loan.
Lastly, Wells originated the lion's share of second mortgages, followed closely by Bank of America, and less closely by TD Bank.
So if you're wondering where to get a particular type of mortgage, you now know who the leaders are, not that it necessarily makes them the best choice.