The National Association of Realtors just released its 2017 Profile of Home Buyers and Sellers, and there are lots of interesting tidbits. Let's explore 10 of them.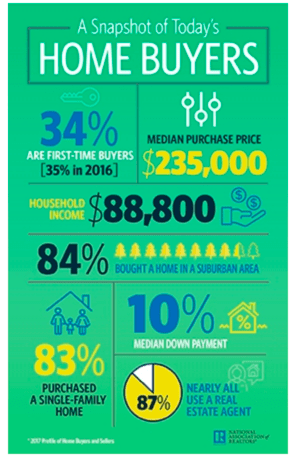 88% of Recent Buyers Financed Their Home Purchase
First things first, an overwhelming share of recent home buyers used a mortgage to finance their home purchase, as opposed to buying a home with all cash. Typically, this is out of necessity not preference.
And for those who did use a mortgage, they generally financed 90% of the home purchase, meaning they put down just 10%. Doing so means they must pay mortgage insurance.
Mortgage rates are also less favorable if you put down less than 20%.
Down Payments Getting Lower for First-Timers
Speaking of down payments, they're going down for first-time home buyers thanks to higher listing prices.
The typical down payment for first-timers was just five percent, down from six percent a year ago and matching the lowest point since 2013.
Repeat buyers were a different story, benefiting from higher sales prices by putting down 14% on subsequent home purchases, up from 11% in 2016.
Mortgages Easier to Get, Conventional Is King
Fewer home buyers indicated problems obtaining a mortgage, with only 34% saying the mortgage application and approval process was somewhat or much more difficult than they had expected.
That number was down from 37% a year earlier, thanks to the improved financial health of borrowers and an easing in credit standards.
Some 58% of borrowers went with a conventional home loan, while 34% of first-time buyers chose the FHA, up from 33% last year but well below the 46% share seen five years ago.
Buyers Paid 98% of List Price
Everyone knows it's a seller's market, and that's evident in the sale-to-list ratio, which stood at 98%. That means most homes are selling right at their list price, instead of experiencing price reductions.
And 42% of buyers paid list price or higher for their homes, which is up from 40% a year ago and a new survey high that goes back to 2007. Home buyers in the West were most likely (51%) to pay at or above list price for their properties.
Suburbia Is Still Alive and Kicking
While there's been a lot of buzz about moving to the big city, it turns out the suburbs are still the most popular, though that might be a symptom of affordability and not choice.
The majority of buyers (85%) continue to choose a home in a suburb, small or rural area, instead of in an urban one (13%). A year ago, 14% of buyers moved to the city.
And 83% of buyers bought a single-family home, while just 11% of purchases were of multi-family homes, including townhomes and condos.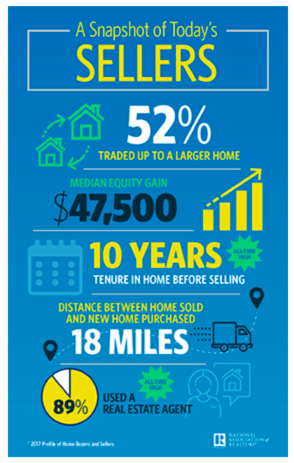 Homeowner Tenure Hits All-Time High
Today's seller was in their home for a full decade before selling, a number that matches the all-time high seen last year and in 2014.
Before 2009, it was common for homeowners to live in their properties a median six years before selling.
This calls into question the popularity of the 30-year fixed, which comes at a premium to shorter-term ARMs that could potentially save borrowers a lot of money if they don't stay for long.
Today's buyer expects to stay in their home for 15 years, with 18% saying they'll never move.
Typical Buyer Was 45 Years Old, Sellers Were 55
The typical home buyer was aged 45, while the average home seller was 55. Median household income for buyers increased to $88,800, while sellers made a median $103,300.
The share of first-time home buyers fell to 34%, the fourth lowest share since 1981, and down slightly from 35% in 2016.
New homes accounted for 15% of sales, with previously owned homes claiming the remaining 85%.
The most common reason to buy a home was the desire to own a home of their own, while sellers most commonly sold because their properties were too small, or to move closer to friends, family, or a job.
Home Sellers Realized Nearly $50k Equity Gain
It's been good to be a seller recently, with the typical home seller realizing a $47,500 median home equity gain, up from $43,100 last year.
That represents a 26% gain over the original purchase price, up from 24% in 2016.
Those who purchased six or seven years ago saw an even better return at 27%, while those who held for 21 years had the largest equity gain of 104%.
Imagine if these same people sold back in 2012 – it pays to be able to afford your mortgage through thick and thin.
Websites Considered Most Useful Resource
This counters a different study I recently wrote about it. While 79% of recent home buyers said their agent was a very useful information source, they felt websites were the most useful.
Some 88% of respondents felt websites were best when it came to information sources, and 42% of recent buyers looked at properties online as a first step. Then they contacted a real estate agent.
Forty-two percent of home buyers (64% of home sellers) said their agent was referred to them by a friend, neighbor, or relative, and more importantly, around 70% of buyers and sellers only spoke to one real estate agent. So being the first to make contact is very important.
FSBO Listings Still Highly Unpopular, Realtors Getting High Marks
NAR also pointed out that for-sale-by-owner listings continue to be seldom used by sellers, with only an eight percent share of recent sales.
This is the lowest share recorded since the report started in 1981, though it also matches numbers seen over the past two years.
Meanwhile, 88% of buyers were satisfied with the selling process, with 85% saying they would definitely or probably use their real estate agent again and/or recommend him or her.
The question is if new fintech companies like Opendoor and Redfin Now are making a dent, or are going to in the near future.