Today we'll review Texas-based retail mortgage lender "Envoy Mortgage," which is a Fannie Mae, Freddie Mac, and Ginnie Mae approved seller/servicer that is licensed in 48 states.
Envoy Mortgage Quick Facts

Founded in 1997 as First Houston Mortgage, became Envoy in 2008
Independently owned national retail mortgage lender
Headquarters in Houston, Texas
Licensed do to business in 48 states and D.C. (not in Alaska or Hawaii)
150+ branch locations located throughout the U.S
They've been around since the late 1990s, but changed their name in 2008, from First Houston Mortgage to Envoy Mortgage. This may have been a reflection of their ambition to grow nationally.
At that time, they had annual loan volume of roughly $700 million and a staff of 350 employees.
It's unclear how large they are today, but the company mentioned doing more than $4 billion in home loan volume annually back in 2018.
They used to operate a national correspondent lending division out of Monroe, Louisiana until it was sold to New Penn Financial, but now focus solely on retail lending.
Envoy Mortgage's tagline is it wants you to "love your mortgage experience."
How to Apply for a Home Loan with Envoy Mortgage
Customers work with licensed loan originators nationwide
You can start an application online and get paired up with a loan officer
Or select a loan officer by name or location if you prefer to pick someone specific
You can also visit a branch location if one is located near you
Like several other lenders who have yet to go fully digital, at least for the initial application portion, you start by connecting with a loan originator.
On their website, you select that you are or are NOT already working with a loan originator.
If you are, you click on "find my loan originator" and then enter a name to find that individual.
If you aren't already working with someone, you click "apply now" and fill out a loan application online. Once completed, you will be matched up with a loan originator in your area who will then contact you.
Alternatively, you can use the branch locator on their website to find an office nearest you, then connect with that individual if you prefer someone close by.
They say it takes about 20 minutes to complete the application, which is quite a bit longer than other digital mortgage lenders like Rocket Mortgage and Better Mortgage.
Anyway, once connected with a loan officer, they will help you through the process from start to finish.
EnGen – The Streamlined Digital Mortgage Application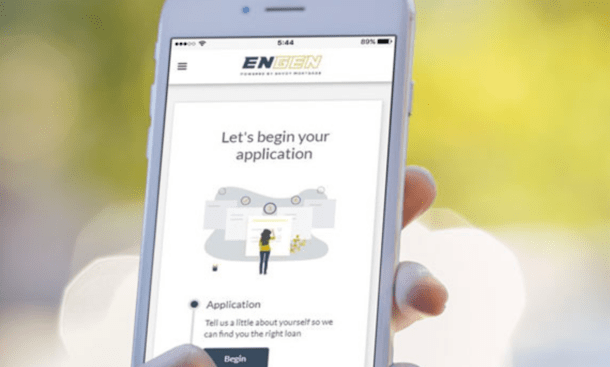 In February 2020, Envoy Mortgage launched its version of a digital mortgage application known as "EnGen," which is short for "ENvoy GENeration."
Now Envoy customers can easily connect bank statements, W-2s, and tax returns to their loan application instead of having to scan or upload documents.
Additionally, they can track their loan progress from their phone, tablet or computer and receive automated text and email alerts.
At the same time, EnGen gives Envoy loan originators new tools to simplify their workflow, which should allow them to provide even better customer service.
What Types of Home Loans Does Envoy Mortgage Offer?
Home purchase, refinance, renovation, and construction loans
Conventional, government, and non-agency loans
Appear to specialize in VA loans
Offer both fixed-rate and adjustable-rate mortgages
Now let's talk about their product offerings, which are pretty broad. You can get a home purchase loan, refinance loan (rate and term or cash-out), and even a home renovation loan or construction loan with Envoy Mortgage.
Additionally, the offer non-agency loans, those which do not fit the guidelines of Fannie Mae, Freddie Mac, or Ginnie Mae. It's unclear if this is jumbo loans or something more unique.
When it comes to government loans, they offer all three, including FHA loans, USDA loans, and VA loans.
Speaking of, the company offers a VA Boot Camp (complete with certifications) to train its loan officers and outside real estate agents on the ins and outs of VA loans.
So if you're a veteran home buyer or existing homeowner, they should be well-versed on the subject of VA loans.
In terms of individual loan programs, they offer both fixed-rate mortgages and adjustable-rate mortgages, including the typical ones like 30-year fixed, 15-year fixed, 5/1 ARM, and so on.
Envoy Mortgage Rates and Lender Fees
One slight negative to the company is the lack of advertised mortgage rates.
Some lenders, such as New American Funding and Third Federal, will list them right on their website, while others prefer to stay mum.
This doesn't mean their rates aren't competitive, but if they had outstanding rates, they'd maybe feature them on their website.
Additionally, they don't mention anything about their lender fees, so we don't know if they charge a loan origination fee or other fees.
These are all very important considerations when shopping your home loan. Without having these answers, it's difficult to assess Envoy Mortgage.
Envoy Gift of Home Program
In an effort to assist those who may have struggled during these financially challenging times, Envoy Mortgage has launched the "Gift of Home" program.
From January through June 2021, the company will surprise 50 of its customers from across the country with one month's mortgage payment, up to $3,000 in value per household.
They say some of the recipients are among the hardest hit in their communities, which includes military veterans, first responders, nurses, teachers, and small business owners, along with their employees.
The first gift recipient of the program is getting all of their mortgage payments paid for the year 2021, from January through December. It's their way of giving back to the community.
Envoy Mortgage Reviews
They have customer reviews on their own website, which totaled over 25,000 as of the time of this writing.
The average customer review was 4.9 out of 5, and 97.4% of customers would recommend Envoy Mortgage to friends and family.
As for outside reviews, they've got 4.94 stars out of 5 on Zillow with nearly 1,700 customer reviews. That's pretty impressive, and may be a testament to their excellent customer service.
On LendingTree, they've got a 4.6-star rating out of 5 from roughly 500 customer reviews, along with a 96% recommended rating.
They are also a Better Business Bureau accredited company and have been since 2003, with an 'A+' rating at the moment.
The Pros and Cons of Envoy Mortgage
The Good
Offer all types of home loans
Branch locations in many states and cities nationwide
Rolling out a digital mortgage solution called EnGen
Very good reviews from past customers
A+ rating with Better Business Bureau (Accredited since 2003)
Free mortgage calculators on their website
The Potential Bad
Not licensed in Alaska and Hawaii
Do not advertise their mortgage rates
Do not disclose lender fees on their website
(photo: Noé Alfaro)