Gateway Mortgage Group was founded back in the year 2000 by J. Kevin Stitt, who claims he only had $1,000, a computer, and lofty dreams.
He now serves as the 28th Governor of Oklahoma, in office since January 2019.
Today, the company he started refers to itself as one of the largest privately held mortgage lenders in the country.
About Gateway Mortgage Group
Founded in 2000 by J. Kevin Stitt, now the Governor of Oklahoma
Headquarters located in Jenks, Oklahoma
Annual mortgage volume of roughly $10.1 billion
170+ branch locations and 1,600+ employees nationwide
Services more than $17 billion in home loans
A subsidiary of Gateway First Bank, created in 2019
They initially got started in the state of Oklahoma, focusing on FHA loans, and later expanded to additional states.
The company was able to weather the Great Recession and even gained approval during the crisis to begin servicing mortgage loans and issuing securities backed by Ginnie Mae and Fannie Mae.
In 2019, Gateway Mortgage Group merged with a 100-year old bank to create Gateway First Bank, which offers a full slate of checking accounts, savings accounts, CDs, personal loans, auto loans, and more.
Today, they have over 1,600 employees and serve more than 170 communities nationwide.
The company also runs a correspondent lending division that serves smaller mortgage banks and credit unions. They've been a top-25 correspondent investor for several years.
And they service more than $16.5 billion in home loans, which aligns with their motto of "Win Customers 4 Life."
Some of their more unique offerings include piggyback second mortgages, no credit score mortgages, and no maximum DTI on conventional, FHA, and VA loans with AUS approval.
Where Gateway Mortgage Group Is Licensed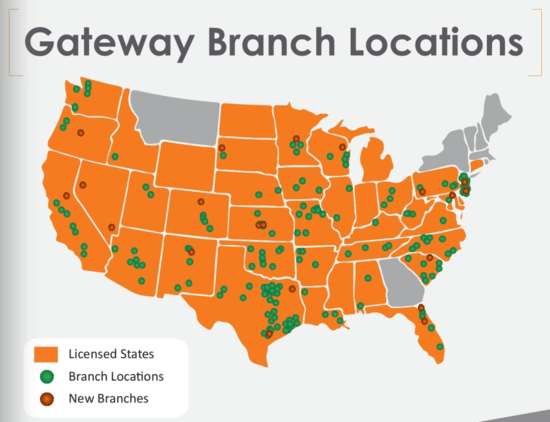 One slight negative, assuming it affects you, is Gateway Mortgage Group isn't licensed to do business in all 50 states.
While they are growing year after year, and gaining new licenses, they still only lend in 41 states.
Those approved states include: AL, AR, AZ, CO, CT, DE, FL, GA, IA, ID, IL, IN, KS, KY, LA, MD, MI, MN, MO, MS, NC, ND, NE, NJ, NM, NV, OH, OK, OR, PA, SC, SD, TN, TX, UT, VA, WA, WI, WV, WY.
Some of the bigger states absent from the list include California and Massachusetts, and New York, along with the usual missing suspects, Alaska and Hawaii.
They also don't lend in Maine, Montana, New Hampshire, Rhode Island, Vermont, and DC.
Stay tuned though, because their list is expected to expand in the near future. The map above is from their latest annual report.
How to Apply for a Home Loan with Gateway Mortgage
You have two main options here.
You can either look up an "expert" via the directory on their website, or simply apply on the website without selecting a specific individual.
Either way, you first need to create a profile on their website. Once you input key details about yourself and the property, they'll let you know what you can afford.
You will be presented with personalized mortgage rates and loan options that you can compare.
The loan officer (chosen or assigned) will be your guide throughout the process, though with their new digital loan tool, you can probably complete much of it on your own.
If you live by a Gateway Mortgage branch, you can also meet a loan officer in person or give them a call directly.
LinkStep Is Gateway's Digital Mortgage Application
They recently launched a digital mortgage application known as LinkStep
It is powered by fintech company Blend
Allows borrowers to link financial accounts, check status, and upload documents from any device
This is their exclusive web-based digital loan tool, which allows you to complete a loan application on a desktop computer, tablet, or smartphone. It was built by Blend's technology.
Similar to other digital mortgage solutions, like Rocket Mortgage, it is integrated with lots of financial instructions, so you can link accounts for automated income, asset, and employment verification.
Additionally, you can take photos of documents with your phone and upload them on the go. this method is also more secure than emailing or faxing documents.
You can use it to check loan status and receive automatic reminders to make sure you complete all steps and documentation requests.
Types of Loans Offered by Gateway Mortgage Group
Alt-Doc loans
Conventional loans
Expanded DTI loans
FHA loans
Foreign national loans
Lot loans
Manufactured home loans
Non-QM loans
One-Time Close loans
Piggyback second mortgages
Renovation loans
Section 184 Indian Home Loan Guarantee Program
One huge plus to using Gateway Mortgage is their vast array of loan programs.
You can use them for a home purchase, a mortgage refinance (rate and term or cash-out), to renovate a home, buy an investment property, or even just a lot.
You can get a conventional loan backed by Fannie or Freddie Mac, or a government home loan backed by the FHA, USDA, or VA.
Those short on cash can take advantage of their bond and down payment assistance (DPA) programs, and those worried about their down payment can consider their down payment protection.
In terms of individual loan programs, they've got lots of fixed-rate and adjustable-rate mortgage options, including 3/1, 5/1, 7/1, and 10/1 ARMs.
They also offer a so-called "Jumbo Buster" loan that keeps the first mortgage at/below the conforming loan limit and tacks on a piggyback second mortgage to extend total financing.
Those looking to build a home can take advantage of their one-time close (OTC) loan that combines a construction loan with permanent financing, including for jumbo loan amounts.
Gateway also originates lot loans if you're not quite ready to build, but found your ideal plot of land.
Lastly, their Investor's Advantage loan allows you to finance an investment property with zero down, make improvements, and then refinance into a 30-year fixed if the as-completed loan-to-value (LTV) is not greater than 75%.
Gateway Mortgage Rates and Fees
While they've got virtually every loan program under the sun, Gateway Mortgage doesn't advertise their mortgage rates on their website.
This is always a slight negative because we don't know how competitive they are. They could have amazing mortgage rates, but without sharing them, we can only guess.
Additionally, there's no mention of lender fees on their website, so again, no idea what they charge (loan origination fee, underwriting, processing, etc.) or how much they charge.
Today, transparency is big in the mortgage industry, with companies like Better Mortgage charging no lender fees.
If Gateway did the same, they'd likely make it known.
Gateway Mortgage Group Reviews
They come very highly rated on Zillow, with a 4.98 star rating out of 5, which is basically as close to perfection as you can get.
And that's based on a whopping 3,695 reviews as of the time of this writing. So clearly they're consistently making their customers happy.
Gateway also has nearly a perfect rating with ConsumerAffairs based on over 520 reviews.
The one negative is their B- rating with the Better Business Bureau, and the fact that they aren't accredited either. They have the relatively low rating because they failed to respond to two complaints filed against them.
Pros and Cons of Gateway Mortgage Group
The Good
Tons of loan programs available
Fast loan approvals (underwriters generally issue decision in 1 business day)
Very highly rated on Zillow and ConsumerAffairs
Lock & Shop program (lock your rate before finding a home)
They service the loans they originate
Free mortgage calculators on their website
The Potential Bad
B- rating with the BBB (also not accredited)
Not available in all states (only 40 at the moment)
No home equity products
Do not advertise mortgage rates
Do not disclose lender fees on website