Think it's hard to get a mortgage? How about a loan modification via the Treasury's Home Affordable Modification Program (HAMP).
A new report from SIGTARP, which stands for Special Inspector General for the Troubled Asset Relief Program, the agency that oversees the program, claims about seven out of 10 troubled borrowers who applied for a HAMP loan mod got denied.
Per the official HAMP database from the Treasury, from December 2009 until April 2005, some 5.7 million homeowners facing the prospect of foreclosure applied and more than four million were denied by their loan servicers.
There's a Good Chance You Were Denied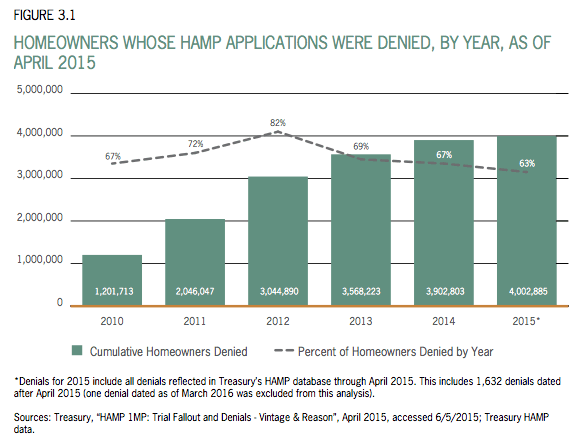 The denial rate is actually 72%, which is pretty startling given it's a government program designed to help homeowners avoid foreclosure by reducing their monthly payments.
The denial rates are even worse at some of the largest banks in the nation, including Chase and Citi, which both turned down 80% or more who applied for a modification.
Chase denied about 84% of applicants, while Citi somehow said no to 87% of homeowners. Bank of America also kicked 80% of applicants to the curb.
Amazingly, Ocwen is the largest HAMP servicer in the nation despite denying 70% of all homeowners who applied.
"All cannot be right when three of the largest HAMP servicers, Citi, JPMorgan Chase and Bank of America, turn down 80% or more of homeowners' HAMP applications, and the largest HAMP servicer, Ocwen, turns down more than 70% of homeowners for HAMP," the report reads.
Top 10 HAMP Denial Reasons
1. Request incomplete (25%)
2. Current DTI less than 31% (18%)
3. Offer not accepted by borrower or withdrawn (13%)
4. Ineligible mortgage type (8%)
5. Default deemed not imminent (8%)
6. Property not owner-occupied (5%)
7. Excessive forbearance needed (5%)
8. Post-modification DTI too high (4%)
9. Investor guarantor not participating (4%)
10. Negative net present value (NPV) (3%)
11. Other (7%)
Even More Changes Coming to HAMP?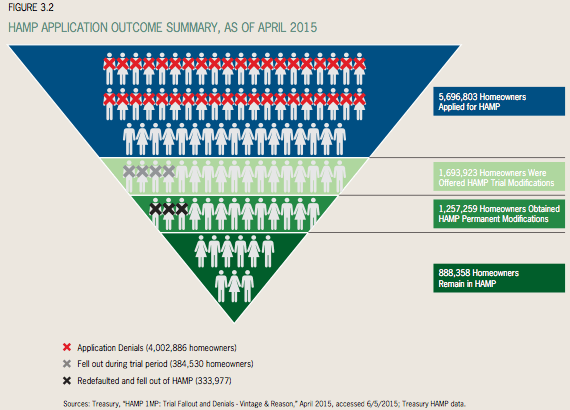 Now SIGTARP wants answers – specifically, they want to know if HAMP eligibility requirements are too stringent, or if mortgage servicers have wrongfully denied homeowners.
This could actually be good news for homeowners because changes may come to the program….again.
The report noted that changes were made to HAMP after large numbers of borrowers fell out of their initial trial modifications, leading Treasury to "course correct" the program.
Beginning in June 2010, servicers were required to verify income before starting a trial modification, a move that reduced fallout substantially.
Later in mid-2012, HAMP Tier 2 addressed many of the issues that caused so many denials. But it appears that servicers continue to struggle with approving applicants.
"It is time for Treasury to do a similar course correct for homeowners who have been denied entry into the program altogether, particularly where servicer misconduct contributed to the outcome."
The report certainly points the finger at servicers, and notes that Treasury has gone far too easy on them, instead of using its full authority (such as permanently withholding TARP incentive payments) on those that fail to perform.
For the record, HAMP was extended until the end of 2016. If you're already participating, be on the lookout for that extra $5,000 in principal balance reduction.
And also watch out for the payment increases that are now taking place for Tier 1 participants.