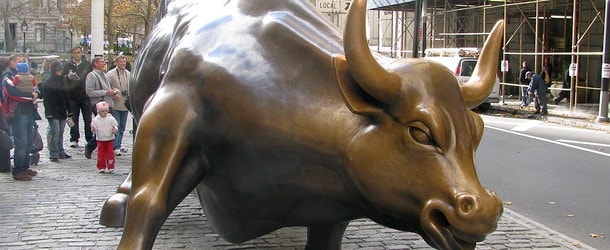 During the early and mid 2000s, the housing market was on fire in the United States. As a result, the mortgage industry expanded at an unheard of rate, and so did the amount of players in the sector.
Alongside the big banks in the industry came a great number of specialty lenders that dealt only with originating home loans.
While these companies racked in profits during the mortgage refinance boom, many have seen their sales drop more than 50%, with floundering growth and massive mortgage layoffs.
Many investors might see this as an opportunity. The low PE ratios. The fresh 52-week lows. The huge earnings. Just one little problem. No growth. And we all know the stock market relies on growth to boost ticker prices, right?.
The problem is that the market got spread too thin when every bank in town wanted a piece of the hot mortgage market.
And now housing growth has slowed, mortgage interest rates have risen, and mortgage applications are down. That's why these mortgage companies look attractive if you simply look at their PE ratio and latest earnings.
Still, there are opportunities for investment in the mortgage space just like any industry, especially since it's a very cyclical market.
After all, you can get a good idea of how mortgage stocks might perform simply by keeping an eye on the housing market. But you need to get ahead of the market to pick the next winner.
Anyway, let's look at different groups of mortgage players based on what they do.
Publicly-Traded Mortgage Lenders
Some of the largest banks and mortgage lenders that originate mortgage loans include:
Publicly-Traded Mortgage Finance Companies
Then there are the two public/private mortgage companies that buy residential mortgage loans and securitize mortgages from mortgage lenders (also known as GSEs, or government-sponsored enterprises):
Fannie Mae (OTCBB: FNMA)
Freddie Mac (OTCBB: FMCC)

These stocks are generally regarded as worthless now that the pair have entered conservatorship, though they are still actively traded on the OTC bulletin board.
Mortgage REIT Stocks
There are also publicly traded companies that purchase mortgages and mortgage-backed securities, including those that buy agency MBS (backed by Fannie and Freddie):
American Capital Agency Corp. (NASDAQ:AGNC)
Annaly Capital Management (NYSE:NLY)
ARMOUR Residential REIT, Inc. (NYSE:ARR)
CYS Investments Inc. (NYSE:CYS)
Hatteras Financial Corp. (NYSE:HTS)
New Residential (NYSE: NRZ)
And those that purchase non-agency MBS, such as jumbo mortgages, including:
PennyMac Mortgage Investment Trust (NYSE:PMT)
Redwood Trust (NYSE:RWT)
Two Harbors (NYSE:TWO)
Mortgage REIT ETFs
iShares Mortgage Real Estate ETF (BATS: REM)
Credit Suisse X-Links Monthly Pay 2xLeveraged Mortgage REIT (NYSEARCA: REML)
VanEck Vectors Mortgage REIT Income ETF (NYSEARCA: MORT)
Publicly-Traded Mortgage Servicing Companies
Though many mortgages are sold off by the companies that originate them, they are often serviced by other companies, known as mortgage servicers. These companies collect monthly payments and handle loss mitigation activity, if necessary. Some of the largest include:
Nationstar Mortgage Holdings Inc (NYSE:NSM)
Ocwen Financial Corp. (NYSE:OCN)
Mortgage Insurance Stocks
Another important group of mortgage companies are the private mortgage insurers, which insure conventional mortgages, otherwise known as those loans the FHA does not get their hands on:
Genworth (NYSE:GNW)
MGIC (NYSE:MTG)
Old Republic (NYSE:ORI)
PMI Group (OTCBB:PPMIQ)
Radian (NYSE:RDN)
Mortgage Tech Stocks
Then there are the mortgage tech companies, which include the following data and analytics specialists:
CoreLogic (NYSE:CLGX)
Ellie Mae (NYSE:ELLI)
Lender Processing Services (NYSE:LPS)
LendingTree (NYSE:TREE)
Publicly-Traded Title Insurance Companies
Let's not forget the title insurance and escrow providers, including:
Fidelity National Financial (NYSE:FNF)
First American Financial (NYSE:FAF)
Investors Title Company (NASDAQ:ITIC)
Stewart Information Services (NYSE:STC)
The key to the success of the companies that originate and service mortgage loans is that though loan origination may slow, they can fall back on the servicing of the loans.
And when production slows, loan servicing picks up speed as homeowners hold onto their mortgages longer, increasing the amount of interest earned which boosts profits.
That being said, all banks involved in mortgage are likely to suffer in a cooling housing market, but especially the originators as they have little diversification, if any at all.
And the larger banks have a variety of income streams that will offset any major losses in one sector.
So be sure to look at mortgage stocks carefully. You need to understand the complexities of the industry before diving in.
They all do different things, and will benefit or suffer accordingly. After all, there's a reason they are at 52-week lows with minuscule PE ratios.
Note: Some of the above may now be closed mortgage companies or in bankruptcy proceedings at this point, thanks to the ongoing mortgage crisis.