On August 29th, 2019, major iBuyer Opendoor launched a mortgage lending division known as "Opendoor Home Loans" to create a one-stop shop for home buyers and sellers.
As a result, those interested in purchasing a property from Opendoor can take advantage of their financing department, similar to how home builders partner with mortgage lenders to facilitate loan closings.
You can even sell an existing property to Opendoor and finance a new one, all with one company if you feel so inclined.
Let's learn more about this new mortgage lender, which operates out of Plano, Texas.
Opendoor Home Loans Wants to Cut Closing Times in Half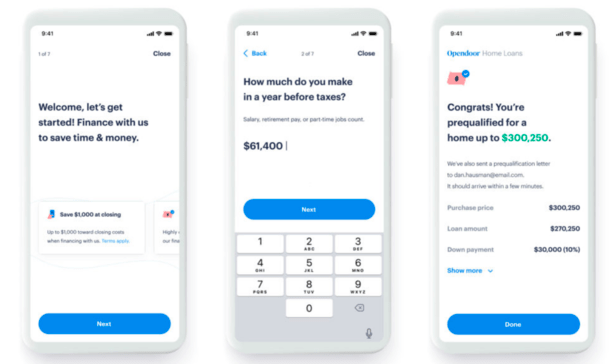 Aim to close home purchase loans in 3 weeks
Offer $100 per day toward closing costs if loan closing is delayed
Can generate a pre-qual letter in minutes via phone or computer
Limited-time $1,000 closing cost credit also available to customers
Noting that financing is often "one of the most complicated and intimidating parts of a home purchase," they claim they can cut the typical 45-day timeline in half.
So instead of closing in a month and a half, they aim to close your home loan in as little as about three weeks.
They're backing up that promise by offering $100 per day for every day beyond the scheduled closing date that the loan closing is delayed.
To get started, they ask that you get pre-qualified, which can be accomplished over the phone or online in just minutes.
You'll receive a pre-qualification letter as well, which can be used to show home sellers that you're a serious buyer.
Once you find your dream home and your loan is submitted, you'll receive one-on-one support along with regular updates from your dedicated Mortgage Consultant.
If you happen to be using Opendoor's trade-in program, where you sell them your old home and buy a new home from them directly, you can schedule the closings to take place on the same day.
At the moment, the company is offering a limited-time $1,000 credit toward closing costs, which is automatically applied to your closing statement.
Speaking of closing costs, they say they don't charge an application fee, and that you'll only be on the hook for third-party fees, such as home appraisal and title/escrow fees.
What Types of Loans Does Opendoor Home Loans Offer
Currently offer conventional mortgages (Fannie Mae and Freddie Mac) and FHA/VA loans
Can obtain a fixed-rate mortgage or an ARM with varying loan terms
Offer both home purchase loans and mortgage refinances
A minimum 620-FICO score is required for loan approval
The company began by only offering conventional mortgages, those backed by the likes of Fannie Mae and Freddie Mac, but has since expanded into FHA and VA loans.
They do not offer USDA loans, though that may change in the future as they expand.
In terms of specific loan programs, fixed-rate mortgages are available in 30-, 25-, 15-, or 10-year terms.
You can also get an adjustable-rate mortgage with an initial fixed-rate period of five, seven, or 10 years.
Regarding their mortgage rates, they simply refer to them as "competitive," so be sure to shop around to see what other lenders are offering for similar loan scenarios.
The lowest down payment available for Fannie- and Freddie-backed loans is 3%, so even those with little set aside in assets have the ability to qualify for a mortgage.
Like Fannie/Freddie, Opendoor Home Loans requires a minimum 620-credit score to get approved for a mortgage.
Once the loan is closed, it will be sold off and serviced by a different loan servicing company, which is common practice in the mortgage lending industry.
Where Opendoor Home Loans Operates
Only licensed to lend in eight states at the moment
Additional states are planned for the near future
Can finance any home purchase, not just Opendoor-owned properties
Company will likely serve mostly Opendoor home buyers to facilitate loan closings
Currently, the company only offers financing to home buyers in the states of Arizona, Colorado, Florida, Georgia, North Carolina, South Carolina, Tennessee, and Texas.
They plan to expand to more states in the near future if all goes well.
You can finance any home purchase in these states, even if it's not an Opendoor-owned home.
You'll just want to ensure it actually makes sense to do so versus using one of the many other lenders out there.
All in all, Opendoor Home Loans joins a very crowed space in the mortgage ecosystem, but it makes sense to have their own financing department to facilitate their iBuying activity.
Ultimately, it gives them more control of the process to ensure there aren't any roadblocks put up by third parties, similar to why Zillow Home Loans exists.
Whether they become a major mortgage lender in the future remains to be seen, but my guess is they will mostly serve Opendoor customers.
In November 2021, Opendoor acquired RedDoor, a so-called digital-first mortgage brokerage that delivers 60-second verified pre-approvals.
The move should allow the company to compete with the likes of Rocket Mortgage and other tech-heavy lenders, while also bolstering their iBuying business.
Update: In early November 2022, Opendoor Home Loans was shuttered. The company also laid off 550 workers, or 18% of Opendoor staff.
In January 2023, Opendoor announced that Lower was its exclusive mortgage provider.