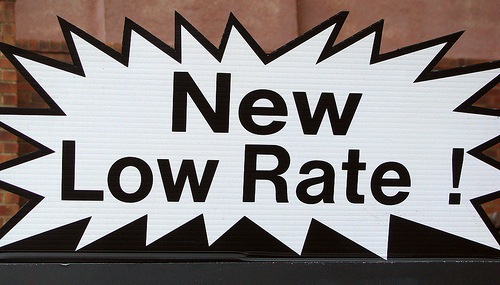 Mortgage Q&A: "How many mortgage quotes should I get?"
When it comes to getting the best deal on your mortgage, you can never shop too much.
Just like any other product you may comparison shop for, the more time you put in, the better deal you'll probably receive.
Sure, it's a pain in the you know what, but you're not shopping for a plasma TV. This is your mortgage, most likely the largest financial decision you'll make in your life.
So not spending a considerable amount of time shopping for one would be very ill advised.  Don't be one of the many that obtains just one mortgage quote!
Look At Mortgage Rates Online
These days, we've got the luxury of using the Internet to comparison shop.
Back when, you had to scour the phonebook and make phone call after phone call to check on prices and availability.
Nowadays, a simple click of the mouse will allow you do that tedious work.
I recommend checking as many sources as possible to see where mortgage rates are pricing.
You can check out current rates from a variety of online lenders, as well as averages from the MBA, Freddie Mac, and Bankrate, and also Zillow. Watch them for a few weeks to get a good idea as to how they move and why.
All of these sources will give you a decent idea as to where mortgage rates are currently hovering, but must also be taken with a grain of salt.
Once you have an idea as to what most banks and mortgage lenders are offering, you'll need to decide on a loan program as well.
Do you want the standard 30-year fixed, or are you a little more daring and thinking an adjustable-rate mortgage could suit you better?
Knowing which product you're after will make your search a lot easier, though you can still narrow it down to a couple products and rate shop accordingly.
Calls Banks, Mortgage Brokers
Once you have a handle on where rates are pricing, it's time to get real mortgage rate quotes.
You may be in for a surprise, as those rates you see are often either best case scenario or simply advertising rates aimed at drawing you in.
For example, the rates you see on TV or online may be for a borrower with an 800 credit score and a 40 percent down payment on an owner-occupied single-family residence. Oh, and a couple mortgage points must be paid at closing.
Of course, your loan scenario may not be so "vanilla," so the mortgage rate your quoted could shock you somewhat. Fret not though; this is why you're shopping.
(Why are mortgage rates different?)
Start with your local bank or credit union. They know the most about you, so they'll be able to give you a pre-approval pretty easily to determine how much you can afford and at what rate.
Typically, they offer discounts to existing customers who agree to things like automatic billpay, knowing your good for that mortgage payment every month because of the money you've got in their bank.
But don't stop there. Find a mortgage broker or two (I recommend three) and get rate quotes from them as well. See how they stack up against your bank/credit union and go from there.
Negotiate, Negotiate, Negotiate
The beauty of receiving multiple rate quotes is that you can negotiate. With just one, there's not much you can do aside from asking/pleading for a lower rate.
If you've got multiple companies vying for your precious business, you can pit them against each other until one comes out on top by offering the lowest rate with the best terms.
Just be sure to look at all the details when comparing offers, including all costs, the rate, and the APR.
It's not always easy to get an apples-to-apples comparison, so you may actually have to do some math.
I know, it's annoying, but as mentioned earlier, this is a huge financial decision, so a little homework can go a long way.
Read more: Are mortgage rates negotiable?