It's almost mid-December, which means it is time for another round of mortgage and real estate predictions for the upcoming year.
I think it's safe to say that 2021 has been another stellar year for both the mortgage industry and the housing market.
But it's going to be hard to top or even match what we've experienced this year in terms of mortgage origination volume and home price gains.
However, the party might not be over yet, with additional home price gains on the horizon due to similar factors in play.
Let's see what 2022 might have in store as we once again look into the crystal ball.
1. Mortgage rates will go up, but only slightly.
Experts have been calling this for years to no avail. We have been told year in and year out that the low mortgage rates are leaving the station.
But year after year, they remain. In 2022, I do expect them to rise somewhat, but not by a meaningful amount.
Sure, your 30-year fixed rate may go from 3% to 3.5%, but that's not a huge jump. And any 30-year fixed in the 3s is generally very favorable.
It will put pressure on prospective home buyers who also have to grapple with rising home prices and a lack of inventory.
And it will certainly dent mortgage refinance demand, as most existing homeowners have already locked in a lower rate.
However, as I said in my 2022 mortgage rate predictions post, there will likely be opportunities during the year to snag a very low mortgage rate.
Why? Because the economy continues to be a bit of a mess and we're still sorting out COVID. Until we put that stuff behind us, interest rates could swing in both directions.
2. Home prices will continue to rise a lot
Don't be fooled by the old mortgage rates up, home prices down fallacy. There's not a negative correlation, despite what everyone plainly assumes.
Both can go up at the same time, and that's exactly what I expect to happen in 2022. Granted, mortgage rates will probably only rise slightly, while home prices will continue to surge.
For some reason, a new year gives folks new hope that a trend will simply come to an end.
But why would home prices just stop going up because it's a new calendar year? The answer is they won't.
As I've said before, the same fundamentals that have been at play for some time, continue to be in play.
There's a severe lack of inventory and a surplus of would-be home buyers out there. It doesn't take a genius to figure out what happens with prices.
When there's a shortage of something people want/need, a premium must be paid until production ramps up.
Unfortunately, production (new home building) is still way behind and won't catch up for a while.
In the meantime, expect more of the same, and higher 2022 home prices across the board.
The only difference is that estimates are all over the place, with some calling for just a 2.5% increase (CoreLogic) and others saying 11% (Zillow) or even 16% (Goldman Sachs) .
Personally, I'm bullish and going with the higher figures out there, but recognize gains will probably be lower in 2022 than they were this year.
3. Cash out refinances will finally get hot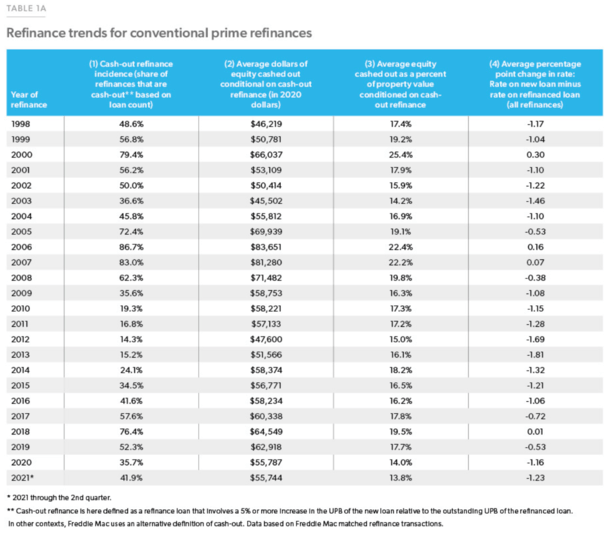 Housing pundits have been talking about the massive pile of collective home equity we've been sitting on for years now.
And it has only grown even larger since then, with equity levels the highest on record.
In short, American homeowners have a ton of equity in their properties that is ripe for tapping via a cash out refinance or a second mortgage, such as a HELOC.
But we have yet to see a massive cash out boom like the one experienced in the early 2000s housing market.
I expect cash out refis and HELOCs to have their day in the sun in 2022 as more and more homeowners realize how much their properties have appreciated.
Per Freddie Mac, about 42% of refinances resulted in cash out this year, which is up a bit from prior years, but nowhere close to the 80%+ share seen in 2006 and 2007.
Despite slightly higher mortgage rates, it may still be worth unlocking this valuable equity to pay for upgrades, college tuition, and other expenses.
After all, a 3% 30-year fixed rate is still phenomenal, and many homeowners can take out a large sum of money while keeping their loan-to-value (LTV) ratio very low.
And you can expect mortgage lenders to aggressively pitch this product now that rate and term refinances have mostly been exhausted.
4. The bidding wars will remain (and may even worsen)
It won't get any easier buying a home next year. Even if mortgage rates are slightly higher, this won't "bring prices down to earth."
I keep hearing that line and it just doesn't make any sense. Financing has never been the problem here. It's always been a lack of supply.
And there will continue to be a lack of supply well into 2022, so why should competition be any less?
If anything, I could see more desperation fueled by these expected higher interest rates as buyers won't want to miss out on their low rate too.
If you think about the last few years, at least mortgage rates were rock bottom. Now that you've got to worry about a rising rate and finding a home, the panic could be even more pronounced.
As always, prepare yourself adequately, start looking for a home immediately, and be aggressive if you want to win the bidding war.
Oh, and make sure you use an experienced real estate agent who knows how to get the job done.
5. Home sales volume will be flat or even lower next year

While Redfin believes new listings will hit a 10-year high next year, I'm not so sure.
As much as there is motivation to sell a home due to sky-high asking prices, there remains the dilemma of where to go next.
Sure, you might be able to move to a different state, but those "cheap states" aren't so cheap anymore.
At the same time, supply chain issues and a lack of workers is making it hard for home builders to ramp up supply of new homes.
Collectively, this will make it difficult for home sales to increase next year, as much as we all want to make a mint selling our homes.
This also reinforces the idea that home prices will continue to go up, and that the housing market will remain super competitive.
That being said, it will be a very lively housing market in 2022, just not one that necessarily sees a lot of growth.
6. Home buyers will continue to flock to new states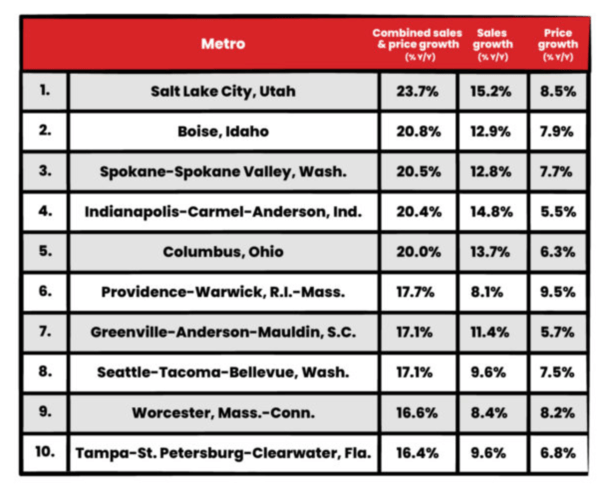 Yes, the cheap states aren't so cheap anymore. But that won't stop people from getting out of town.
Many young, prospective home buyers have been priced out of their local markets in California and other hot spots.
This, combined with the work-from-home new normal (sprinkle in some politics), will fuel a continuation of migration seen in recent years.
This means more folks from the Golden State will make the move to nearby states such as Arizona, Idaho, Nevada, Texas, and Utah.
While more affordable for them, it will exacerbate those local markets and make them more expensive for the people who already rent there.
Some of the hottest housing markets of 2022 include Salt Lake City, Utah, Boise, Idaho, Spokane, Washington, Indianapolis, Indiana, and Columbus, Ohio.
Basically any metropolitan area that was/is considered cheap and desirable will be less so next year as the out-of-state home buyers storm in.
So no matter where you happen to be, expect a fierce seller's market.
7. First-time home buyers will purchase a second home or investment property (first)
This is an interesting one that I'm borrowing from Zillow because it's seemingly odd, yet kind of savvy. And so 2021 and beyond.
Typically, a first-time home buyer will purchase a home to live in nearby where they work.
But because the real estate market is so hot and in such short supply, high-earning, cash-rich Millennials and Gen Zers may actually buy a second home or investment property instead.
The thinking is that they can get in on the real estate market by making an investment, even if it's not in their overpriced backyard.
For example, a well-earning Gen Zer who lives in Santa Monica that may be priced out there could purchase a more affordable second home in Phoenix, Arizona, or an investment property in Las Vegas, Nevada.
Of course, this isn't necessarily for the faint of heart, and this is exactly the type of thing that leads to trouble down the road.
But as long as mortgage lenders don't get too careless with underwriting standards, it doesn't signal the start of a housing crisis.
It does tell you just how crazy real estate has gotten though.
8. Home buyers will return to the city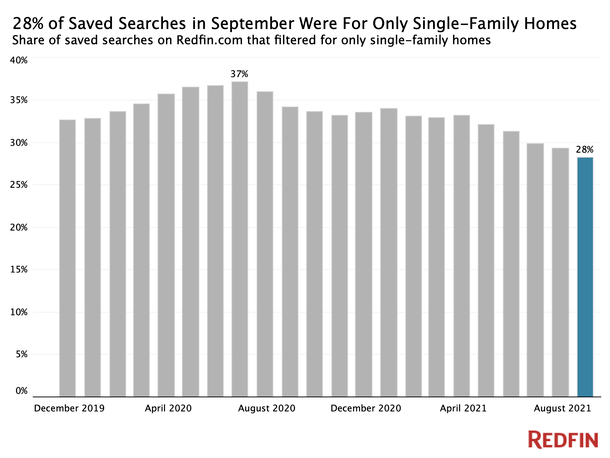 While the suburbs have been hot in our post-COVID-19 world, I do believe more buyers will start to consider the city life again.
We will get through this pandemic, and once life returns to mostly normal, lots of folks will wish they owned in an urban center.
Prices in many once-hot areas close to lots of cool restaurants, bars, etc. have been deflated, but I expect that to reverse course in 2022.
The urban living trend isn't going to disappear, even if more people work from home, or desire abundant outdoor space.
So look out for condo prices to see more price gains in 2022 and beyond, and play catch up with single-family residence gains.
There's already proof in data here – Redfin noted that users filtered searches to single-family homes only (excluding condos/townhomes) in just 28% of searches in September.
That was down from a high of 37% in July 2020, when living in a city seemed unthinkable.
Condos also tend to appreciate the most at the tail end of a housing boom, which we could be approaching, so it all kind of makes sense.
9. There will be more layoffs, closures, and mergers
While there is some hope that cash out refis and home purchase loans will keep mortgage volumes afloat, it won't be enough for all mortgage lenders out there.
For example, Freddie Mac is forecasting $2.1 trillion in home purchase origination in 2022, up from $1.9 trillion this year.
But also expects refinance origination volume to fall from $2.5 trillion to $995 billion. That's gonna be a problem for the shops that specialize in refinances.
Ultimately, total volume dropping from $4.5 billion to $3 billion will be an issue and there's no way around it.
As a result, you can expect more mortgage layoffs, similar to the Better.com layoffs, along with some outright closures.
I also believe there will be more consolidation in the fragmented mortgage market, with bigger banks and lenders swallowing up smaller ones.
10. The housing market won't crash in 2022
I already said home prices will go up, but I'll reiterate that the housing market won't crash in 2022, either.
There is a large group of people who believe the housing market is due for a correction, mostly just because home prices have gone up a ton.
Sure, it's easy to raise eyebrows these days when looking up what your house is worth, or your neighbor's.
But that alone isn't enough to make them reverse course, especially when there is a continued, historic lack of supply.
Additionally, mortgage lenders have yet to return to the loose underwriting that dominated the space in the early 2000s, and ultimately created the mortgage crisis.
For me, that means another year of strong housing appreciation, and another year without a housing market crash.
At the same time, it does mean we will be one year closer to a crash, which as history tells us, is inevitable.
(photo: Quinn Dombrowski)