With all the seesaw movement in the first eight months of 2022, I wanted to throw out some mortgage rate predictions for the rest of the year.
Note that these are just my predictions, and subject to being completely wrong. Or with any luck, maybe right, as I'm feeling slightly optimistic.
The 30-year fixed averaged 5.30% in the latest week, per Freddie Mac's most recent weekly survey.
It was down from 5.54% a week earlier (a large amount over seven days) as the Fed indicated the worst of its own rate rises might be behind us.
There's also talk of a looming (or present) recession, which generally leads to lower interest rates.
Mortgage Rates Could Fall Back Into the 4% Range Later This Year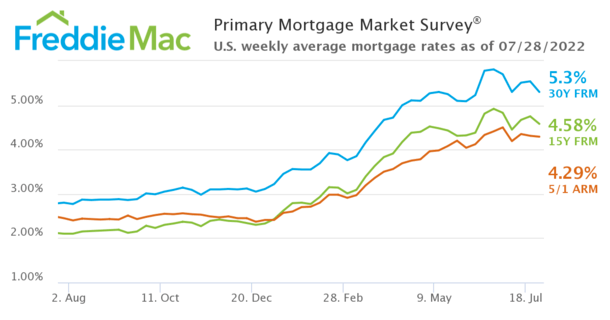 While the first half of 2022 was the worst (or one of the worst) on record for mortgage rates, the second half could be pretty good.
I say pretty good because it's hard (basically impossible) to erase all the increases seen during the first six months.
After all, 30-year fixed mortgage rates essentially doubled before beginning to fall significantly in the latest week.
So it's going to take a lot, too much really, for rates to return to those levels.
And I'm not going to tell you how high rates were in the 1980s versus now! No one cares. All that matters is present day.
Now some good news. While there have been some ebbs and flows in 2022, the recent downward movement has actually been substantial.
In fact, there might be enough pullback to get some homeowners back in the refinanceable population.
This would be great news for those looking for a lower rate, and welcome news for mortgage lenders, which have seen applications plunge in recent months.
It could spare additional mortgage layoffs if staff are able to ramp up production during these last five months of the year.
Will We See an Uptick in Refinance Candidates?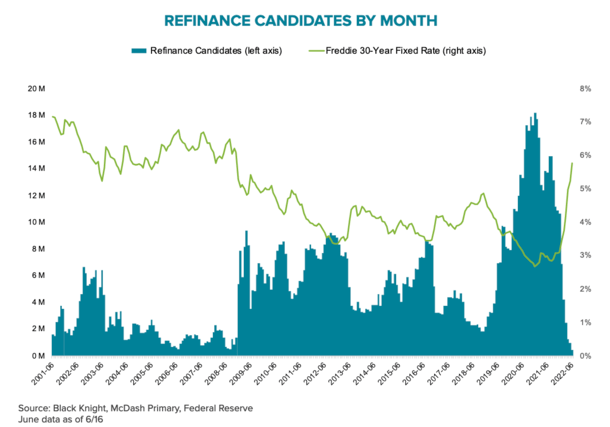 Per the latest monthly Mortgage Monitor from Black Knight, there were fewer than 500,000 refinance candidates left as of June 2022.
At the start of 2022, there were about 11 million, with the all-important cohort falling about 95% year-to-date.
In just an 18-month span, refi candidates went from an all-time high to the lowest total since the turn of the century.
This obviously wreaked havoc on the mortgage industry, leading to lots of layoffs, whether they made the news or not.
It has also made it very difficult for some mortgage lenders to stay afloat, seeing that 2021 was a record year.
Assuming mortgage rates are able to reverse course, it could be a boon for struggling lenders, at least temporarily.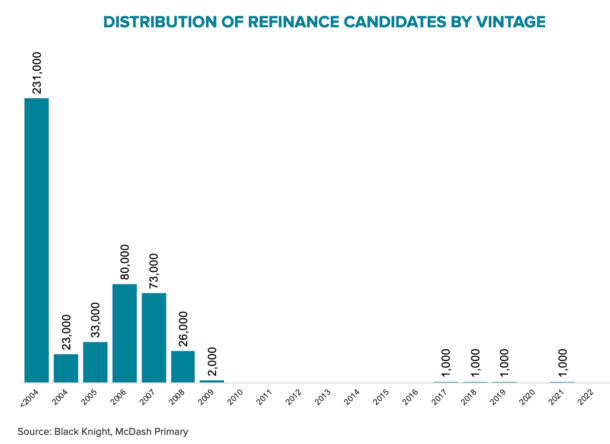 As you can see from the chart above, the few refinance candidates remaining have mortgages that were originated in the early 2000s.
In other words, they probably aren't going to refinance if they haven't already, or as Black Knight points out, "restart the clock on a 30-year commitment."
After all, they could be 20 years into a 30-year payoff, so it would make little sense to refinance in most situations.
Where I See Mortgage Rates Going in the Second Half of 2022
I believe the recent downward movement in mortgage rates is meaningful, and perhaps the start of something even bigger.
Similar to the spike in gas prices in early summer, which have since fallen, mortgage rates may have overshot their mark and are now trending lower.
That means the 30-year fixed could fall back into the high 4% range or even lower during the rest of 2022.
But like gas prices, mortgage rates will remain well above levels seen back in January, when the 30-year fixed averaged about 3.25%.
This means the recent pullback, and potential larger improvement in mortgage rates, will likely only benefit new home buyers and select others.
For example, those who purchased a home recently when mortgage rates peaked might be able to apply for a rate and term refinance and shave 1% off their existing rate.
Meanwhile, those who obtained mortgages from 2019-2021 likely wouldn't benefit from a refinance in most situations.
The exception could be those who had poor credit or a high LTV at the time of origination, and will now be able to refinance to a better rate.
Either way, any improvement in mortgage rates will be a boon for the fraught mortgage industry.
How low they go is another question, but I wouldn't be surprised to see rates back in the mid-4% range at some point this year.
As noted in another post, mortgage rates are lowest in December on average, so we could see them march lower and lower over the next five months.
Similar to gas, rates tend to be highest in late spring and early summer, then drift lower in the fall and winter months.
This means a refinance or home purchase could make a lot of sense this holiday season, especially if home prices fall and demand wanes.
A smaller chance of a bidding war, a lower listing price, and a markedly better mortgage rate sounds like a winning combination.
Any Mortgage Rate Retreat Could Be Short-Lived
While I do believe mortgage rates will get even better as the months go on, the mortgage rate rally could easily reverse course in 2023.
At some point, the Fed's unwinding of its enormous stable of mortgage-backed securities (MBS) will have to take place. And they'll need to get more aggressive in doing that.
Even with a looming or current recession, along with a possible economic downturn, the unleashing of hundreds of billions in MBS could cause mortgage rates to shoot back up.
This means the second half of 2022 could wind up being a sweet spot for mortgage rates in the long run.
It might be one of the last chances to get a 4% 30-year fixed rate before they resume their climb and find themselves back in a 5-6% range or even higher.
So if you do have a mortgage rate in the 5-6% range, or you went with an adjustable-rate mortgage to save some money, be sure to keep a close eye on developments over the next few months.
It might be possible to snag a more desirable rate in October, November, or December before they potentially rise again.
Read more: 2023 Mortgage Rate Predictions