Mortgage Q&A: "Does a refinance require an appraisal?"
A reader recently asked if they needed an appraisal to refinance their existing mortgage, knowing they can often add weeks to the refinance process.
As with anything in the mortgage realm, the answer is it depends. Mainly, it depends on the type of loan you plan to refinance.
Additionally, the type of refinance (rate and term vs. cash out) you're applying for can also come into play, as can the property type.
Nowadays, there are both appraisal waivers and a number of different home loan programs that do not require an appraisal to refinance, known as streamline refinances.
Let's learn more about if and when an appraisal might be required, and how you might be able to avoid one.
[Can I refinance with negative equity?]
The Appraisal Waiver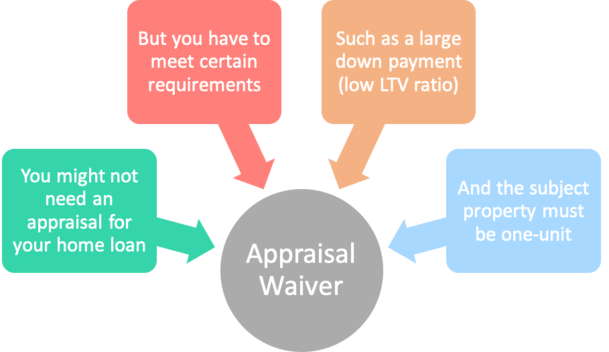 Fannie Mae and Freddie Mac can both waive the appraisal requirement in some cases
This applies to both home purchase loans and refinance transactions
But you must meet maximum LTV limits (or minimum down payment requirements)
They are not an option on 2-4 properties, manufactured homes, and properties valued over $1 million
In recent years, Fannie Mae and Freddie Mac introduced a novel concept known as an "appraisal waiver."
As the name implies, it allows you to waive the appraisal requirement typically needed to get to the finish line.
Initially, this was an option for certain types of refinance transactions, but now it's good for some home purchases as well.
(Note that this isn't possible for purchase transactions involving FHA loans, USDA loans, or VA loans.)
There's been some debate as to whether this is a good or bad thing, but one thing seems certain – it can shave days or even weeks off your mortgage timeline.
In fact, Freddie Mac noted that you can close a home loan 7-10 days (or more) faster without an appraisal. Surely that's good news, especially if you're in a time crunch.
It can also save borrowers money, as appraisals are expensive, often amounting to hundreds of dollars (Freddie says $300-$700 in savings).
But before you get too excited, you need to ensure your loan actually qualifies for a waiver.
Fannie Mae Appraisal Waiver Guidelines
Must be a one-unit property (includes condominiums)
Home purchase loans (primary home or second home up to 80% LTV/CLTV)
Rate and term refinances (up to 90% LTV/CLTV for primary/second home, 75% LTV/CLTV for investment property)
Cash out refinances (up to 70% LTV/CLTV for primary home, 60% LTV/CLTV for second home or investment property)
Loan casefile must receive an Approve/Eligible recommendation
As you can see, not all transactions qualify for an appraisal waiver from Fannie Mae.
And even if the transaction type and property type work, you still need to keep the loan-to-value ratio (LTV) at or below a given threshold.
This means you either need 10% minimum home equity for a refinance or a 20% minimum down payment for a purchase to be exempt.
Additionally, in order for an appraisal waiver to be considered, a prior appraisal must be found in Fannie Mae's Collateral Underwriter (CU) data.
And it must be a clean appraisal. For example, if a CU "Overvaluation Flag" was issued on that prior appraisal, an appraisal waiver won't be offered on the new loan.
Freddie Mac Appraisal Waiver Guidelines
Must be 1-unit primary residence or second home (condos OK)
Purchase transactions with LTV/TLTV less than or equal to 80%
Rate and term transactions with LTV/TLTV less than or equal to 90%
Cash-out refinance transactions with LTV/TLTV less than or equal to 70% (primary residences) or 60% (second homes)
You'll notice that Freddie Mac goes a step further and outright excludes investment properties.
Like Fannie, 2-4 unit properties are also ineligible, as are manufactured homes, properties valued over $1 million, and non-arm's length transactions.
Again, they must have appraisal data on file and Freddie Mac's automated underwriting system must give the originator the green light regarding a waiver once the loan is submitted.
Do Streamline Refinances Require an Appraisal?
If you refinance under a streamline program like the FHA, VA, or HIRO
A home appraisal often isn't necessary to close the loan
The rationale is a lower interest rate for the borrower generally means less risk (lower payment) to the lender/investor
Regardless of the LTV or collateral backing the mortgage
First things first – those who refinance under streamline programs often do not need an appraisal. The only exception might be if the loan has to be manually underwritten.
Basically, lenders don't care as much about your property's current appraised value if you're only refinancing to take advantage of a lower mortgage rate, and thus a reduced monthly mortgage payment.
Or if you're refinancing out of a higher-risk loan program like an adjustable-rate mortgage into a more stable fixed-rate product.
And because the loan amount stays the same, the lender/investor isn't bearing more risk or exposure.
The logic here is that the same borrower with a lower mortgage payment is less likely to default on their loan, so it's a win for all parties involved.
The only loser might be the old investor of the loan who was enjoying all that interest via the higher-than-market mortgage rate.
Anyway, because the default risk goes down with the refinance to a lower payment, an appraisal often isn't necessary if the automated underwriting system determines the refinance is eligible for an appraisal waiver.
Both the High LTV Refinance (HIRO) from Fannie Mae and the Enhanced Relief Refinance program from Freddie Mac could allow you to forgo an appraisal.
However, both programs are reserved for those with loans backed by Fannie Mae or Freddie Mac with a note date on or after October 1st, 2017.
Borrowers must also be current on their loans (one 30-day late payment permitted in past 12 months, none in the past six).
FHA-to-FHA Refinance Doesn't Require an Appraisal
You can also avoid the appraisal requirement if you've got an FHA loan
If you execute a streamline refinance via the FHA an appraisal isn't required
But if you want to roll closing costs into the loan an appraisal is required
If you currently have an FHA loan, you can refinance into another FHA loan via the FHA streamline refinance program.
This program doesn't require an appraisal either, for the same reasons mentioned above.
Instead, the FHA uses the original purchase price of your property, or the most recent appraised value.
The general thought process is a borrower with a mortgage already insured by the FHA that is reducing their monthly payment is going to default at a much lower clip.
However, you must prove a "net tangible benefit," accomplished by refinancing from an ARM to a fixed mortgage, or by lowering the principal and interest payment (plus annual MIP) by at least five percent.
This is a great way to refinance if your property has decreased in value, resulting in an otherwise ineligible LTV ratio.
You must be in good standing on your existing loan, with no more than one late payment in the past 12 months (all mortgage payments for the three months prior to the date of loan application must have been paid within month due).
And you must have made at least six payments on your existing FHA loan.
Note: If you choose to roll closing costs into the new loan, an appraisal is required.
And if you want to streamline refinance an FHA loan tied to an investment property, it must be done so without an appraisal.
No Appraisal Needed for VA IRRRL

You can also forgo the appraisal requirement with a VA streamline
But certain rules apply, including the necessity to lower motnhly payments
And being current on your existing loan
Another popular type of loan that does not require an appraisal is the VA's "IRRRL." Yes, there are lots of "R's" involved, but those very letters help you forgo the need for an appraisal.
IRRRL stands for "Interest Rate Reduction Refinance Loan," which means the rate should be reduced via the refinance.
However, if you're refinancing from an adjustable-rate mortgage to a fixed mortgage, the rate is permitted to increase.
And closing costs can be rolled into the new VA loan, or you can opt for a slightly higher interest rate via a no fee refinance.
You must have no more than one 30-day late in the preceding 12 months, and you may NOT receive any cash via the transaction.
USDA Eliminated Appraisal Requirement for Refis
You can also avoid the appraisal requirement
If you go the USDA loan route
As long as you're current on your existing USDA loan
But the new mortgage rate must be at least 1% lower
At this point, you're probably wondering if appraisers are out of a job…
About a year ago, the USDA announced, "Streamlined Refinancing for Rural America," which allows borrowers with USDA loans to refinance without the typical requirements.
As long as borrowers are current on their existing USDA loans (on time payments for 12 consecutive months), they can refinance to a lower rate with no need for an appraisal, property inspection, or a credit report.
However, the new mortgage rate must be at least one percent below the old rate, no cash out is permitted, and the mortgage term cannot exceed 30 years.
So that's basically it. If you're looking to get cash out via your refinance, an appraisal will likely be required unless the LTV is super low.
And traditional rate and term refinances also tend to require appraisals, though this is slowly beginning to change.
While Fannie and Freddie are now waiving appraisals on purchase loans as well, it's still a small percentage of transactions.
And the argument remains to get an independent appraisal just to be sure you don't miss something, or overpay for a property.
Also note that some lenders may require appraisals as part of their own underwriting processes, so be sure to shop around to find a competitive lender that doesn't require one if that's what you're looking for.
FYI, Fannie Mae's Homepath program, which is a special purchase program for the company's REO inventory, does not require an appraisal either.
Instead, the purchase price is used to come up with the property value. However, borrowers are still urged to order an appraisal.
Read more: When to refinance your mortgage?