I received a letter in the mail the other day from a fintech company called "Figure" that claims it can approve me for a home equity line of credit (HELOC) online in five minutes.
Better yet, they can fund the thing in as little as five days, assuming I'm able to use their remote online notary and that five-day period doesn't include a weekend or holiday.
You can thank their 100% digital application for that, along with their proprietary blockchain solution known as "Provenance," which is also being used by Caliber Home Loans, an unaffiliated lender.
It all sounds lightning fast, so let's learn more about Figure to determine if they could be a good solution for those looking to tap their home equity.
Figure Calls It the Fastest HELOC on the Planet
One of Figure's taglines is "Fastest HELOC on the Planet," which sounds pretty darn quick.
We know they promise to get you approved and funded fast, which is great if you need cash ASAP for say, pressing home renovations, but speed isn't everything.
The underlying product also has to provide good value relative to similar offerings in the marketplace. It also has to make sense to take one out in the first place.
Most homeowners are aware of home equity products, with the most common and popular probably the home equity line of credit, or HELOC for short.
The Figure Home Equity Line is kind of a hybrid of two products, the HELOC and the home equity loan, though in some instances it may just act like a home equity loan.
How the Figure Home Equity Line Works
Apply online in minutes and get funding in as quickly as 5 days
Full loan amount is drawn at closing and deposited in your bank account
Cash can be used for anything you wish, home renovations, pay off debt, bills, etc.
Interest rate is fixed for the entire term, which can vary from 5-30 years
Can make additional draws as you repay the initial draw
As noted, we need to learn more about the product itself before making a verdict. Here's how this thing works.
After approval, which promises to be fast, you receive the entire amount of your initial draw.
So if you request $50,000 from Figure, they give you the full $50,000 at closing.
They also tack on the loan origination fee, which in the example on their website is 3%. So your left with $51,500 because it's financed as well.
But this fee can apparently range between 0-4.99%, so you may not have to pay anything.
From there, you get anywhere from 5-30 years to pay back the outstanding balance, depending on the term you choose.
How the Figure Line of Credit Is Unique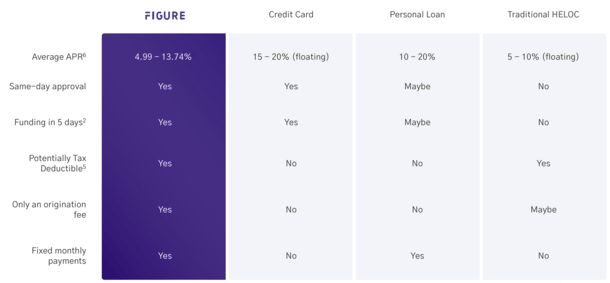 It differs from a traditional HELOC in that the rate is fixed, more similar to a closed-end home equity loan.
And you take the entire loan amount out at origination, which again is more like a home equity loan than a HELOC, which usually has a small (or no) minimum opening draw amount.
Another difference is that the Figure Home Equity Line is an open-end product that features a draw period, like a HELOC.
As you repay the initial draw, you can take additional draws up to 20% of your original loan amount, which is the initial draw amount plus the origination fee.
These subsequent draws must be at least $500, but cannot exceed 20% of the total loan amount or the available limit on your line.
If you take subsequent draws, the interest rate at the time of the draw applies to each draw and is fixed as well.
The interest rate is based on the prime rate at the time of the draw, plus a fixed margin, which likely varies based on your loan parameters, such as credit score, occupancy type, LTV, and so on.
These additional draws will not extend your loan term, though they can only be taken 2-5 years from your origination date, depending on the term of your loan.
Some Issues to Consider
One downside to a home equity loan is you may not need all the money right away, yet you're borrowing it all anyway. With a traditional HELOC, you can draw only what you need over time.
So if you have an immediate need, you pull out X amount of cash at that time, as opposed to paying interest on it even when it's just sitting there.
The downside to a HELOC is that it has a variable rate tied to prime, so you don't get the security of a fixed interest rate.
Figure's rate is fixed, even though it's tied to prime, though rates can vary if you take additional draws and the prime rate has gone up or down since origination.
The gotcha with Figure is that the origination fee is based on the initial draw, which can be quite large depending on your chosen loan amount.
So you'd really only want to take out what you need today, not what you might need. This differs from HELOCs, which are often opened just as an emergency credit line, and may never be touched.
Ultimately, you probably want to compare Figure's product to other home equity loans because you may never actually use the additional draw feature.
If you can find a home equity loan with no origination fee and a low, fixed interest rate, it may be more competitive.
Figure Home Equity Line Key Facts
Loan amounts from $15,000 to $150,000
Available on single-family homes and townhouses
Property can be primary residence, second home, or investment property
Minimum credit score is 600
Maximum LTV is 95%
Loan terms of 5, 10, 15, and 30 years
Only fee is an origination charge of 0%-4.99% of initial draw
No annual fee, prepayment penalty, or early closure fee
Discount for using AutoPay to make monthly payments
Figure has a 4.8/5 Trustpilot rating
Figure Now Offers Mortgage Refinances Too
Figure has since expanded into mortgage refinances as well, offering conventional financing on single-family homes and townhomes.
The property has to be owner-occupied at the moment, though that may change in the future.
The minimum FICO score accepted is 640, the max LTV is 80%, and the loan amount must be at or below the conforming loan limit for your county.
They only offer a 30-year fixed product currently, but you can take cash out up to $500,000.
Like their home equity product, it's a 100% digital application that they say can be completed in around 10 minutes thanks to automated income and asset verification.
In terms of cost, they charge a 1% loan origination fee, which is common, though not all mortgage lenders charge such as fee.
Where Is Figure Currently Available?
At the moment, you can use Figure in most states, but there are still a few locations where they've yet to break ground.
For Figure home equity lines, the following 44 states (plus Washington D.C.) are live: AK, AL, AR, AZ, CA, CO, CT, DC, FL, GA, IA, ID, IL, IN, KS, LA, MA, MD, ME, MI, MN, MO, MS, MT, NC, ND, NE, NH, NJ, NM, NV, OH, OK, OR, PA, RI, SC, SD, TN, UT, VA, VT, WA, WI, WY.
While they promise more states to come, they're missing Delaware, Hawaii, Kentucky, New York, Texas, and West Virginia.
When it comes to mortgage refinances, they're live in 32 states, including: AK, AL, AZ, CA, DE, FL, GA, IA, ID, IN, KS, KY, LA, MA, MI, MO, MS, MT, NC, ND, NE, NH, NJ, NM, NV, OH, PA, SD, TN, WA, WI, WV.
States that are missing include Arkansas, Colorado, Connecticut, Hawaii, Illinois, Maine, Maryland, Minnesota, New York, Oklahoma, Oregon, Rhode Island, South Carolina, Texas, Utah, Vermont, Virginia, Wyoming, and the District of Columbia.
In July 2023, Figure announced it was offering their HELOC as a private label product via CMG Financial, CrossCountry Mortgage, Fairway Independent Mortgage, and The Loan Store.
This means customers can also obtain a Figure HELOC via these third-party independent mortgage banks.
Figure to Merge with Homebridge Financial Services
On August 3rd, 2021, Figure announced that it had signed an agreement to merge with mortgage lender Homebridge Financial Services.
Figure co-founder and CEO Mike Cagney said the combination of its tech platform that runs on the Provenance Blockchain combined with an all-star origination team "is going to double their capacity for fulfilling loans."
Figure only got started in 2018, first offering its signature HELOC and later expanding to student loan refinancing, mortgage refinancing, along with personal loans.
Since then, they've originated more than $5 billion in loans, while Homebridge funded more than $25 billion in home loans to close out 2020.
It's unclear if the two brands will remain separate, or eventually share a single name.
In July 2022, Figure and Homebridge canceled their planned merger.
Update: Figure recently launched a line of crypto mortgages to serve those with large holdings of bitcoin or ethereum who wish to buy homes without cash.