It appears as if 2012 was a very good year for the housing market, according to the latest CoreLogic MarketPulse report released this morning.
The company said "housing made an impressive recovery in 2012," thanks to a six percent increase in total home sales, the first such increase since 2005.
Sales increased to 4.2 million units during the year, up from 3.9 million in 2011, but remain below the 5.5 million average since the early 2000s.
Short Sales Lead the Way
The sales increase was led by an impressive 23% increase in short sales, which hit their highest level since the housing crisis took hold.
A total of 370,000 short sales closed last year, which means scores of at-risk borrowers were freed from their crushing mortgages, and new homeowners were able to take over at much more reasonable price points.
Ideally, this new batch of homeowners with fixed mortgages set at ultra-low interest rates will drive the future recovery.
The popularity of short sales also probably explains why the Mortgage Forgiveness Debt Relief Act of 2007 was extended for another year with no resistance.
Without such legislation, homeowners with underwater mortgages would have little incentive to go through with a short sale, seeing that the shortfall would be considered taxable income.
The extension means short sales will continue to lead the "recovery" in 2013, as rising home prices allow more borrowers to get out of dodge.
At the same time, the prevalence of short sales will hinder sizable home price gains, as they tend to sell below-market.
REOs Fall Out of Favor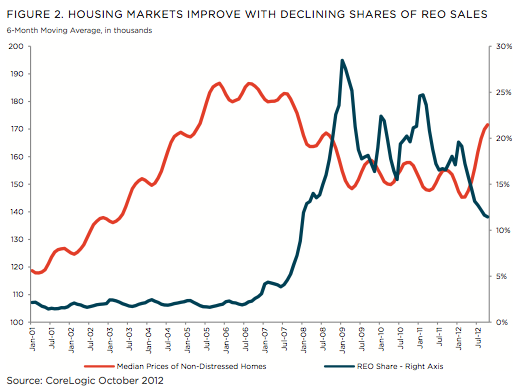 Meanwhile, REOs, or bank foreclosures, continued to represent a smaller piece of the home sales pie.
During 2012, REO sales fell 20% to a total of 600,000, the third such annual decline. That pushed the REO share from 19 percent in 2011 to 14 percent last year.
CoreLogic noted that REOs typically sell at a 20% or greater discount, and such sales also push the price of non-distressed real estate down by 30%.
The current inventory of REO is now at its lowest level since 2007, and is down 54% from its peak in September 2008.
Additionally, an increasing number of foreclosures are being converted to rental units by the investors who buy them, thereby reducing inventory even more.
Fortunately, mortgage delinquencies continue to drop, with serious delinquencies (90 days or more past due or in foreclosure/REO) declining by roughly 300,000 loans in 2012.
That pushed the seriously delinquent rate to 6.9%, down from 7.4% in 2011.
Since they peaked in January 2010, serious delinquencies have fallen by one million loans.
The decrease in REO meant a greater share of non-distressed home sales, which increased 11% from 2011 to 3.2 million units.
While it may sound surprising that so many homeowners would sell at what many believe is the "bottom," most individuals don't make the decision based on price alone.
Homeowners may choose to sell for a variety of reasons, such as job relocation, family expansion, retirement, etc., etc.
New home sales also increased three percent to nearly 300,000 units.
2013 Housing Outlook Positive
CoreLogic expects 2013 to be another solid year for housing, with home prices slated to rise six percent or so.
Last year, the CoreLogic Home Price Index (HPI) enjoyed a 6.3% increase, the best performance since 2006.
However, they warned that policy uncertainty could dampen the recovery if the Qualified Mortgage and Ability-to-Repay rules aren't instituted thoughtfully, the main issues being loan-to-value and debt-to-income ratio limits.
Last year, 45% of all loan originations involved borrowers with less than 20% home equity, and 44% had back-end DTI ratios greater than 35%.
So if the rules are made too stringent, mortgages may become even more difficult to qualify for, which would surely hurt home sales.