Worried about whether you're getting the best deal on your mortgage? You may want to take a look at Better Mortgage Corp., now known simply as Better.com, which is actually encouraging borrowers to shop around.
They're so confident that they've got some of the best interest rates with the lowest fees that they're willing to guarantee it.
Better Mortgage Price Guarantee
Better offers a price guarantee
If they can't beat a competitor's rate and fees
They'll give you $1,000 to close with that lender instead
Of course you have to meet certain requirements and document everything
The NYC-based company, which got its start in 2014 after partnering with Avex Funding and eventually acquiring them, unveiled its "Better Price Guarantee" this week.
In a nutshell, they'll give you $1,000 if they can't beat another competitor's price.
By price, they mean the interest rate you're offered plus the closing costs.
Specifically, if Better's Loan Estimate (LE) isn't at least $1,000 less in closing costs at the same interest rate and for the same loan terms (excluding property taxes and insurance) as the LE from another lender, they'll give you a grand if/when you close with that other lender.
There are some strings. First, the Loan Estimate must be dated within 3 business days from its date of submission to Better. So you've got to act quickly.
Well, you can basically just take any LE that you have that's brand new and send it over to Better just to check.
However, if you're already relatively far along in the process with another lender, it's not going to work.
Secondly, it's only available to customers who don't (or didn't) have a rate lock with Better in the 60 days prior to the date of the loan estimate from the other lender.
If you can pass those two tests, you might be able to get $1,000 on top of the good deal you're getting on your mortgage. Or instead, switch to Better and get an even better rate and/or lower closing costs.
Assuming you stick with your original lender, you'll have to present the Closing Disclosure (CD) and final note within 30 days of closing to get the $1,000, and the approval has to be based on the LE you submitted to Better.
Of course, they're bound to try to make a deal somewhere in between to avoid all that.
Better Doesn't Charge Lender Fees

One thing that gives Better a huge leg up
Is a lack of lender fees thanks to their absence of loan officers
This will make it harder for other lenders to compete with them
They also rely on technology to close home loans faster
Along with this promo, Better separates itself from the crowd by focusing on speed and technology.
They claim to provide industry-leading quotes in just three seconds, and an "initial approval" in three minutes. Additionally, they say the entire application can be filled out online.
They offer two types of pre-approval letters, including a "basic" one and a "verified" one. The basic one is essentially a pre-qual that can be completed in five minutes or so.
The verified one requires the uploading of real documents like tax returns, pay stubs, and bank statements (along with a credit pull) and can be generated in about 24 hours.
With regard to the loan process, you do get assigned a loan officer, but they don't get paid a commission like other banks.
Instead, Better relies upon the fee their investors pay them when they sell off the loan on the secondary market.
To that end, they also don't charge any lender fees, such as origination, application, or underwriting fees. But you'll still be on the hook for third-party fees to cover the appraisal, title, and so on.
Another mortgage startup by the name of Eave also makes money this way.
That means you should get more of a support-oriented experience instead of a salesy one. I'm assuming the staff is still motivated to close your mortgage somehow…
Better Offers Conventional and FHA Mortgages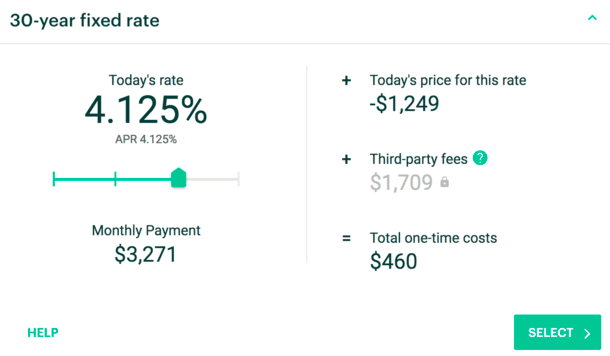 Better only offers conventional and FHA home loans
They do not offer VA loans, USDA loans, or second mortgages
So they won't be the right solution for every home buyer
Their mortgage rates seem to be pretty competitive, especially when you consider the lack of lender fees
When it comes to loan types, Better only dabbles in conventional lending and FHA loans.
That means you can't get a VA loan or a USDA loan with them. They also only offer first mortgages, so no HELOCs or closed-end seconds here.
However, they do offer mortgages for different property and occupancy types, including condos and investment properties.
You can get both a conforming or jumbo loan amount, and a fixed-rate mortgage or an ARM.
Their rates seemed to be on par with what many other banks are offering, which is a good thing, especially once you factor in the lack of lender fees.
They also have a neat slider where you can move the rate up or down to see the associated points it will cost for the given rate.
In terms of closing times, Better says it usually takes 3-6 weeks after the rate is locked, which is fairly standard.
Better is a direct lender, but does not service its loans. They are transferred shortly after closing.
Where Better Operates
They currently lend in 46 states and the District of Columbia, with plans to roll out to other states in the near future.
As it stands now, Better's coverage represents more than 90% of mortgage volume in the United States.
• Alabama
• Alaska
• Arizona
• Arkansas
• California
• Colorado
• Connecticut
• Delaware
• District of Columbia
• Florida
• Georgia
• Idaho
• Illinois
• Indiana
• Iowa
• Kansas
• Kentucky
• Louisiana
• Maine
• Maryland
• Michigan
• Minnesota
• Mississippi
• Missouri
• Montana
• Nebraska
• New Jersey
• New Mexico
• New York
• North Carolina
• North Dakota
• Ohio
• Oklahoma
• Oregon
• Pennsylvania
• Rhode Island
• South Carolina
• South Dakota
• Tennessee
• Texas
• Utah
• Vermont
• Virginia
• Washington
• West Virginia
• Wisconsin
• Wyoming
The states that are missing from the list include Hawaii, Massachusetts, Nevada, and New Hampshire.
In summary, while this all sounds pretty awesome, you have to be careful not to let one lender's promotion discourage you from shopping with others. That is perhaps the irony.
And it's not always about price. Sometimes it's about getting the loan closed, or closing quickly, or doing so with fewer headaches.
Better Partners with Samsung Rewards
Recently, Better announced a partnership with Samsung whereby Samsung Rewards customers will earn points when they hit three different milestones during the mortgage purchase or refinancing process.
Getting pre-approved
Locking in a rate
Funding the transaction
The new Samsung Rewards API is apparently able to track these events and reward the Better customer accordingly. It's unclear how many points are earned for the qualifying activities listed above.
These points can then be redeemed for various items, such as Samsung products or gift cards, including Visa gift cards. Just another perk to take advantage of if you're already interested in this company.
Investment from American Express and Citi
In early 2019, Better received Series C funding from a number of high profile investors, including American Express.
So in a sense, the credit card issuer is now in the mortgage game, albeit indirectly.
A month later, they received similar financing from Citi, which incidentally has its own mortgage division.
But it seems instead of focusing solely on a revamp of their own offerings, they're going the investment route as well.
My assumption is these capital injections will make Better a household name in the mortgage space before long.
Better said if funded $1.3 billion in mortgages during 2018, a near 3X increase from a year earlier as it expanded its services to more than half of the country.