Today we'll check out another one of the newcomers in the mortgage industry that is all about technology and low rates, aptly named "Lower Mortgage."
Similar to Better, which is also a one-word-named mortgage company, they like to keep things simple and make it easy to apply for a home loan.
That means you can get started right on their website, or even begin your home loan process with a text message.
They're also all about things being lower, whether it's mortgage rates, lender fees, monthly payments, or the amount of hassle it takes to get a mortgage.
They even take a subtle jab at Quicken Loans on their website, saying "No rocketry. Just the important stuff—like lower rates."
Let's find out more about this low-loving, techy mortgage lender.
Lower Mortgage Quick Facts
Direct-to-consumer mortgage lender that offers home purchase loans and refinances
Launched in 2018, headquartered in New Albany, Ohio (just outside Columbus)
Originated roughly $5 billion in home loans last year
Licensed in 43 states and the District of Columbia
A top-rated lender on LendingTree that has won several customer satisfaction awards
They have a sister company called Homeside Financial (founded in 2013)
Exclusive mortgage provider for Opendoor
Lower, which actually refers to itself as a technology company, was launched in December 2018.
The main goal of the company is to improve the online mortgage and refinance experience, knowing that the majority of applicants start the process on the Internet.
In a sense, they're kind of like Rocket Mortgage, which is the tech platform backed by parent company Quicken Loans.
Anyway, Lower is located in New Albany, Ohio, which is just outside Columbus and has been around since the end of 2018.
They're currently licensed to do business in 43 states and the District of Columbia.
They don't seem to do business in Hawaii, Nevada, New York, Rhode Island, South Dakota, Vermont, or Wyoming.
Last year, their parent company funded nearly $2 billion in home loans, with about half for home purchases and the remainder refis.
While they're available in most states, the most volume came from states in the Midwest and Mid-Atlantic, notably Illinois and North Carolina, and their home state of Ohio.
It should be noted that Lower Mortgage also has a sister company called Homeside Financial, which was founded back in 2013 by current Lower CEO Dan Snyder.
Applying for a Mortgage at Lower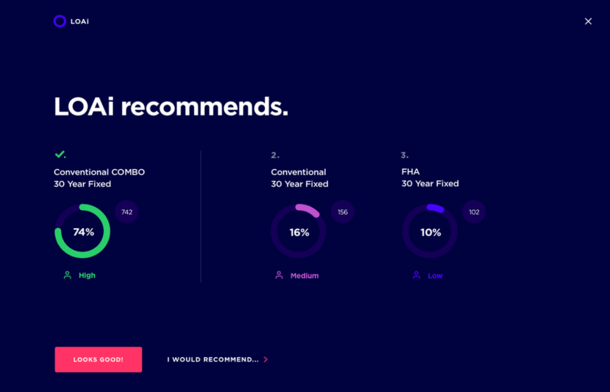 You can apply for a home loan directly from their website without assistance
They utilize a loan recommendation engine that relies upon artificial intelligence (AI)
It's also possible to text or call them to get started on your application if you need help
Lower offers a digital mortgage process with document uploading, eSign technology, and more
Lower is definitely a new-age mortgage lender that relies heavily on tech. And a certain cool factor that differentiates them from the older, stale banks and lenders.
Aside from having a snazzy looking website, they also have a virtual loan assistant known as LOAi. It uses artificial intelligence to help you pick the best home loan for your unique situation.
Data is analyzed from thousands of closed loans and other peer data points to deliver a personal home loan recommendation in real-time.
In terms of applying for a home loan, you can do so right on their website by clicking "Apply Now."
You actually get three options, including a "Jump Start," "Quick Apply," and a simple text to get the ball rolling. Clearly, they are a mortgage lender geared toward Millennials and Gen Z.
Use a Human or Navigate Lower.com on your Own
It's also possible to just call them up if you'd like to speak to a human (they're open Monday through Saturday).
If you choose the Jump Start option, it's probably just a short contact form. This means a loan officer will get in touch after completion.
The Quick Apply Option appears to be sort of like a quick mortgage pre-qualification sans hard credit pull to start the actual loan process.
My assumption is you can complete mostly everything online or via smartphone since they're a so-called "techy" mortgage lender.
This may include linking financial accounts, scanning and uploading paperwork, and eSigning documents along the way.
But humans are also available if and when you need them to discuss loan options, loan rates, or to answer any other mortgage questions you may have.
All in all, they pride themselves on making it quick and easy to get a mortgage, and all operations are conducted under one roof at Lower HQ.
Loan Types Offered by Lower
Home purchase loans
Refinance loans (rate and term and cash out)
Conventional loans backed by Fannie Mae and Freddie Mac
Government-backed loans including FHA loans, USDA loans, VA loans
Jumbo home loans
Home equity lines of credit (HELOCs)
Fixed-rate and adjustable-rate mortgage options available
Lower appears to keep things pretty simple, though they should have loan programs to suit most borrowers.
It is my understanding that you can get financing on all property types, including primary residences, vacation homes, and investment properties, including condos/townhomes.
You can get both a home purchase loan or a refinance, including a cash out refinance. They say you can access up to 95% of your home's equity, which may separate them from other lenders.
This might be accomplished via a combo loan, utilizing a home equity line of credit (HELOC) and a first mortgage.
In any case, if you want to tap into your home equity, Lower might be a good option. But they also make it easy for those purchasing a home as well.
If they're anything like their parent company Homeside Financial, you should be able to get a conforming loan, jumbo loan, or a government-backed loan such as a FHA loan or VA loan.
Both fixed-rate and adjustable-rate options are available, including 30/15 fixed mortgages and hybrid ARMs like the popular 5/1 ARM.
Lower's Free Refi for Life Deal
For a limited time (unclear how long exactly), if you use Lower.com to buy a home or refinance, you won't have to pay lending fees on future refinances, for life.
If you do refinance with Lower again, they'll waive any Lower retained fees. This includes an applicable loan origination fee, underwriting fee, processing fee, or administrative fees.
However, it does not apply to any discount points or any third-party settlement service fees such as title insurance, home appraisal fee, or credit report fee.
You must have closed the previous refinance transaction with Lower at least six months prior to any subsequent application
Lower.com Mortgage Rates
With a name like Lower, you better publicize your mortgage rates, right?
Well, they do, right on their homepage, albeit just one rate, a 30-year fixed, which they refer to as "Today's Lower Rate."
While the rate appeared to be really low, they did disclose that it required 2.25 discount points, which can be pretty expensive.
For example, on a $300,000 loan amount, that's $6,750 in closing costs, not to mention any other fees that must be paid.
They also list three competitors, which at the time of this writing, included Quicken Loans, Wells Fargo, and the Bankrate average.
As you might suspect, they beat all three handily, both on interest rate and mortgage APR, the latter of which factors in lender fees.
Speaking of, they actually have a page dedicated to lender fees on their website, but it only lists possible fees you might be charged, sans any actual dollar amounts.
This makes it a bit unclear as to what they charge and how much it might set you back.
Remember to look beyond mortgage rate alone, and really dig into the closing costs when comparing Lower to other mortgage lenders to ensure you get the best deal.
Lower Is the Exclusive Mortgage Provider for Opendoor
In early 2023, Lower became the exclusive mortgage fulfillment provider for Opendoor.
Opendoor is an iBuyer that helps home buyers an sellers. In order to focus on that business, they are outsourcing their mortgage services to Lower.
So if you work with Opendoor, there's a good chance they'll refer you to Lower for mortgage financing.
However, Opendoor customers are allowed to use any licensed mortgage lender.
Lower refers to it as a "Mortgage as a Service" (MaaS) platform. Simply put, companies can offer mortgage products to their customers via Lower.
Lower Mortgage Reviews
On LendingTree, they've got a 4.9-star rating out of 5 based on more than 2,100 customer reviews, along with a 99% recommendation rate.
They also have seven accolades from LT, including a top-10 for home lending customer satisfaction for Q1, Q2, and Q3 of 2020, along with Q4 of 2019, and similar awards for home equity lending.
On Zillow, they have a 4.92-star rating out of 5 on nearly 3,000 reviews, many of which say the interest rate was lower than expected. I sure hope so with a name like that…
Their parent company Homeside Financial is not Better Business Bureau accredited, but does enjoy an 'A+' rating at the moment based on customer complaint history.
In summary, Lower Mortgage is probably a good pick for someone who wants a low mortgage rate with limited fees that is comfortable applying for a home loan without much help (though it is available).
Lower Mortgage Pros and Cons
The Good
Offer a tech-enabled digital mortgage process
Can apply for a home loan directly from their website or via smartphone
They apparently have low mortgage rates and low lender fees
May be able to access more money because they offer HELOCs
Don't charge lender fees on subsequent refinance transactions for life
Excellent customer reviews
A+ BBB rating
Free mortgage calculators and other tools on site
The Maybe Not
Not licensed in all states
Do not list their lender fees
Would be nice to see more mortgage rates
No brick-and-mortar locations
(photo: Marcin Wichary)